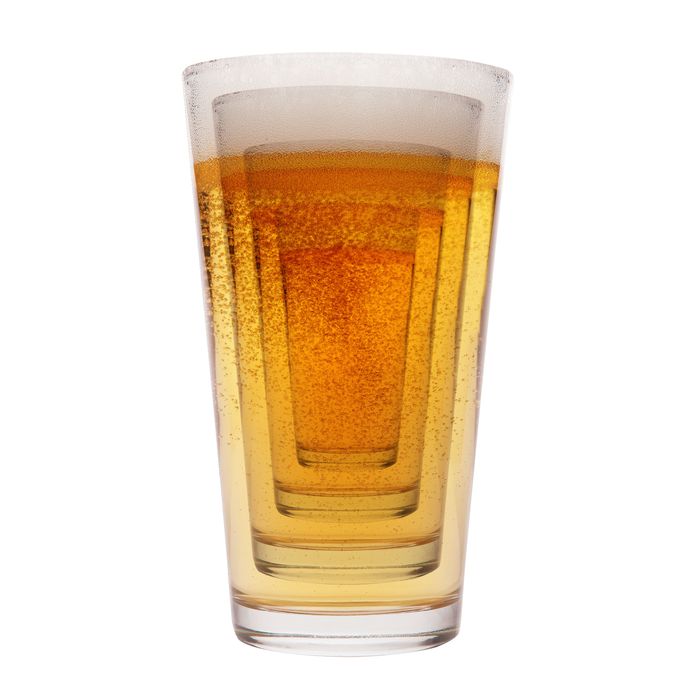 Have you noticed that your beer glass is shrinking? Or is it that your hands are growing? Those were the thoughts that crossed our minds the other night as we were presented with a ration of Sixpoint Crisp pilsner poured from the tap into a diminutive glass at the new West Village restaurant Rosemary's. It might have been eight or nine ounces, ten tops. Three gulps and it was gone.
The good news for those who like their beer served big is that this was not part of some sinister Bloombergian plot to get the thirsty populace to cut back on the suds. It does, however, represent a growing awareness among restaurateurs and craft-beer specialists like Pony Bar and the new Proletariat that not everyone's ideal these days is to have their beer served by the bucket. To wit, at St. Anselm in Williamsburg, the tap beer is sloshed into eight-ounce mugs, a nod to the house style at McSorley's Old Ale House as much as a personal preference of owner Joe Carroll. "It doesn't get warm that way," he says. Temperature, however, is not the concern of the community activists in Prospect Heights who want beer sold at the soon-to-open Barclays Center restricted to twelve-ounce pours: They just don't like the idea of drunken hoops fans prowling their streets. Meanwhile, back in Williamsburg, at the Brooklyn Wok Shop, chef-owner Edric Har has discovered that seven ounces is just the right size for those who want to try more than one beer and remain sober, as well as for customers waiting for a takeout order. And at Jack's Wife Freda in Soho, they offer both pints and half-pints of draft beer, but surely, if co-owner Maya Jankelowitz were to have her way, it would be exclusively the latter. "I think the half-pint glasses are so cute," she says. "It's not that obnoxious sixteen ounces. Who wants to drink sixteen ounces of anything?"
Ms. Jankelowitz has a point. Would you ever think of drinking a pint of whiskey, or a sixteen-ounce pour of, say, Gewürztraminer? How about a Big Gulp Negroni? Of course, beer is more quaffable than gin and Campari, but unless you plow fields by hand, drive a rickshaw, or unload cargo ships for a living, sixteen ounces is a lot. According to our Bavarian-beer-hall mole, in fact, even the German tourists who visit Williamsburg biergarten Radegast balk at the size of the (pint, liter, or pitcher) servings. "We don't really drink beer that way," they say. "Do you have anything smaller?"
This story appeared in the August 20, 2012 issue of New York Magazine.