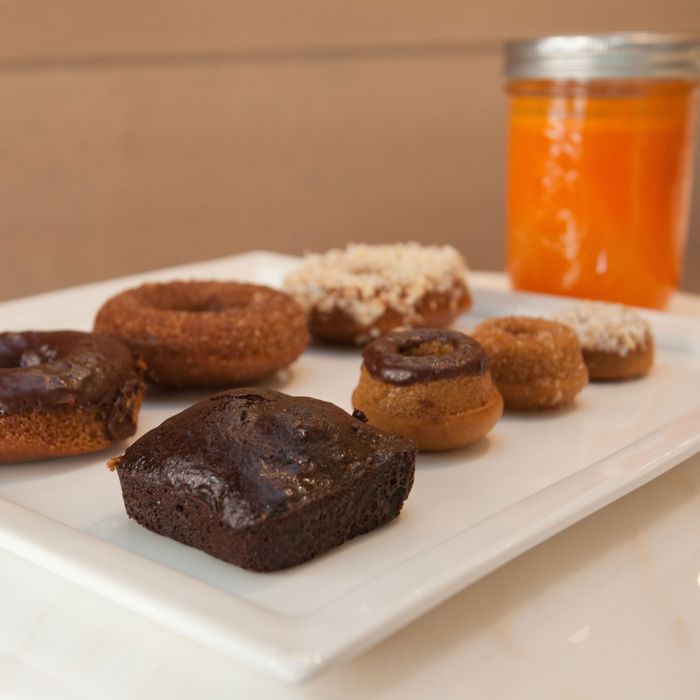 They're made with tofu — seriously.
Photo: Jed Egan
It's the start of another week, which means it's also time for the latest edition of Eat Well, Grub Street's guide to satisfying, virtuous food around town. This week brings us a standout salad in Brooklyn, a new spin on an ancient grain at Hearth, and even a good-for-you burger-and-beer special. Here's where to find it all:
Monday, August 6: Kale Salad at a Ramen Hot Spot
In this week's edition of Eat More Kale, we take you to Prospect Heights' ramen joint Chuko, where the kale salad alone is worth a visit. The salad is a great contrast of textures: Raw and tempura-fried leaves — did we mention you need fat to break down all the nutrients in your greens? — mixed with golden raisins and crispy sweet potato strips in a miso vinaigrette.
Tuesday, August 7: Vegan Pastries with Serious Pedigree
If you were vegan and married to François Payard, what would you do? Open a vegan patisserie, of course. Fernanda Capobianco's Vegan Divas opened last week, gratifying Upper East Siders with maple-syrup-sweetened, coconut-oil-enhanced treats like spelt chocolate brownies, detox trail mix, and the popular baked doughnuts — which are made, amazingly well, with tofu.

Wednesday, August 8: Greenmarket Drinks at Bellwether
A newly revamped dinner menu at Bellwether means you can choose among such wholesome dishes as curried eggplant with homemade whole-wheat flatbread, pickled shrimp with vidalia onions, and raw summer vegetables with pistachio and feta. But if you go on a Wednesday, you'll have $5 Greenmarket Collins (gin, citrus, soda, and a wild-card herb from the farmers' market) to keep you happy while you decide.
Thursday, August 9: First-Rate Freekah at Hearth
This hearty, ancient grain contains more vitamins, minerals, and fiber than other grains because it gets harvested while it's still young. Try it along with olive-oil-poached salmon and summer veg at East Village standby Hearth.
Friday, August 10: Head Uptown for a Wholesome Dinner Special
Community Food is an oasis of sustainable eating in Morningside Heights. Try a bowl of summertime produce, or indulge in the beer-and-burger special, which gets you a grass-fed patty and a draft brew for $16 till 7 p.m. on weeknights.
Kate Lowenstein is the senior features editor at Health Magazine.