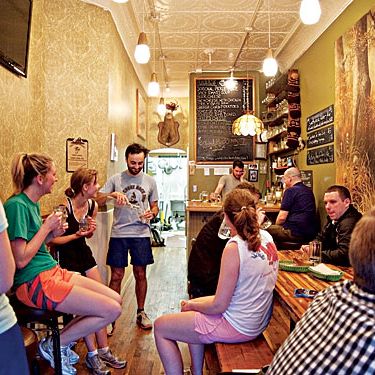 Not a photograph of Brooklyn.
Photo: Danny Kim/New York Magazine
"Uptown restaurant" typically calls to mind the kind of expensive, unexciting spot that appeals to the area's more moneyed residents. But in New York, zip codes cycle through a pattern of death and rebirth every few decades, and lately, the neighborhoods that parallel Central Park — for a while relegated something of a hinterland as buzzy new restaurants spread through Brooklyn and Manhattan's lower reaches — have started to swell with openings of the non-chain variety. Sure, sometimes it's still hard to find a bite between 59th and 110th streets, but in the last few years it's gotten easier. And with players like RedFarm and Morini moving in, uptown is continuing to look up.
Upper East Side
ABV
After bursting-at-the-seams Earl's (pictured above, listed below) proved Carnegie Hill–ers had an appetite for good drinks and creative food, a co-owner opened ABV just around the block. It's a little more refined than Earl's, and more spacious — meaning you have a better chance of enjoying chef Cory Cova's lightly Asian-inflected menu while sitting down.
Earl's Beer & Cheese
Suburban-closet-size Earl's usually has a crowd waiting vulture-like on the sidewalk (the only real way to get a seat is to swoop in as some party is leaving), a testament to the appeal of its craft-beer-and-gonzo-bar-food formula. Most of the menu contains cheese in one form or another — even "Asian gnocchi" gets a cheese-fries topping — but don't miss the classic beer cheese, a house staple of sharp Cheddar mixed with beer, served with hot garlicky toast.
Guthrie Inn
Cementing their mini-empire in Carnegie Hill, the Earl's Beer & Cheese owners opened this next-door cocktail bar with a frosted-glass speakeasy look, vintage chandelier, and a focus on amari drinks.
Jbird
Craft cocktails flew into the neighborhood when Jbird opened early this year, with a drinks menu designed by Death & Co. vet Jason Littrell. A full food menu leans meaty, and the place is spacious enough to accommodate dinner followed by post-meal drinks, a plus when there are relatively few good options nearby.
Jones Wood Foundry
This anglophile's paradise rambles the way a good pub should, offering cozy nooks in cold weather and garden-side seating when it's warm. Drink U.K. and Euros beer on tap while tucking into right capital bar food including meat pies and a choice of haddock or cod fish-and-chips.
Lexington Social
A classy little destination for cocktails and Mediterranean small plates (risotto rice balls, octopus tiradito, oxtail ragu with gargnelli).
London Candy Company
This Brit-branded candy emporium stocks pond-hopping favorites and also offers cupcakes, coffee, and other parental salve.
Penrose
The Wilfie & Nell team left downtown far below them when they colonized the UES this summer with a third spin on their classy gastropub concept. It's hard to go wrong with beer, whiskey, and sausage in a cozy space.

Upper West Side
A.G. Kitchen
Intialed for chef-owner Alex Garcia of Calle Ocho, this newcomer features a sprawling space and equally sprawling menu that draws inspiration from both north and south of the border. Find tableside guac, "samba roast chicken," and toffee pudding for dessert.
Fratelli la Bufala
As the Neopolitan pizza bubble keeps growing, the Upper West Side hasn't been forgotten. This one comes from Italy (via Barcelona, Berlin, and Tokyo, where the trio of brother owners also have locations), topping pies with imported bufala de campana mozzarella.
Gastronomie 491
This epicerie has the usual gleaming counter stocked with treats, plus a cheese menu curated by Martin Johnson of the Joy of Cheese. The classy all-day hang also offers table service morning, noon, and night.
Jacob's Pickles
Housemade pickles, jam, biscuits, matzo ball soup, and everything else Grandma would've loved (plus growlers of beer).
Momofuku Milk Bar
You know a neighborhood's made it when it gets an outpost of Christina Tosi's Crack Pie–specialist bakery. "The prettiest Milk Bar" has its own signature pork bun, with a split top surrounding pork shoulder and optional egg.
Sugar & Plumm
A cheery all-day outpost for Pichet Ong's macarons and other desserts, plus savories along the lines of pulled pork waffles and ham-and-gruyere buckwheat crepes.