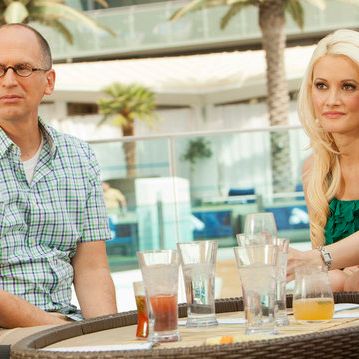 Holly probably doesn't read
Saveur.
Photo: Isabella Vosmikova/Bravo
Just when you start to think Las Vegas is tepid or passé, out come the sorta-nude photos of Prince Harry and an overload of less attractive dudes showing off their bodies on last night's Top Chef Masters. Even worse, there was an inordinate amount of lustful fawning over said dudes. But that comes later; let's start at the beginning. Regrouping in the kitchen, everyone has fond memories of last week's challenge in the Grand Canyon. Thierry, in particular, is riding high after his shared victory with Takashi. "Now I'm going to the end," he predicts. Spoiler alert: His prediction is wrong. Curtis announces that the Indigo Girls are going to judge the Quickfire, and Art gives one of his knowing glances because they're lesbians and he's gay and the only thing he cares more about than southern-style biscuits is making sure you don't forget that.
The challenge this week is to make two versions of the same dish, one without meat for the vegetarian Indigo Girl, in 45 minutes. Patricia thinks that's a generous amount of time, but that doesn't save her and a few other chefs from disaster. Art's too confident while assembling a chicken potpie and a mushroom version — "The crust is a cinch!" — and accidentally puts chicken in the veggie version, which he suspiciously fixes in five minutes. Patricia finishes her two types of pho, but waits too long to add the broth and doesn't get to complete her dishes. Thierry puts together two kinds of basquaise that will soon be denounced as "wedding banquet side dishes." But the Indigo Girls like most of the food, even Art's potpies, but they love Takashi's agedashi tofu more, and he wins the challenge and immunity. My heart grows a little for him because he's come a long way in the past couple of episodes and he makes pretty things I've never heard of.
The Indigo Girls are quickly shuffled off to make way for "Miss Las Vegas herself, Holly Madison," which is certainly one of the kinder ways to describe her.
Art's excited because she's sexy, and Takashi is really excited because she's sexy. "This is a great gift to all of us," he says, momentarily mistaking himself for a millionaire in a smoking jacket. Holly's working on a little get-together for the next day, one of those intimate brunch pool parties for 150 of her "friends." You know, like the ones you have every weekend. Lorena understands, at least, because she does brunch with her girls in the pool every weekend: "I live in Miami Beach. THAT'S WHAT WE DO." So the chefs have to make canapé-size comfort-food dishes for a lot of hungover rejected-reality-show-applicant types with no garlic or onions (Holly hates them!), which is, interestingly enough, the complete opposite of cooking rustic dishes for a humble Native American tribe on the edge of the Grand Canyon. We should all applaud this show's noble effort to capture the peaks and valleys of American culture.
The cheftestants get a couple of hours to prep their dishes (I promise you nothing entertaining happened at Whole Foods), and Patricia is freaking out because brunch is about eggs and you can't have canapés with eggs because eggs are too big and I can't help but remember all the bite-size quiches I've eaten in my lifetime and have "I'm fat" thoughts. Meanwhile, Art's throwing caution to the southern wind and cooking with garlic and onions, Kerry is a literal mess while using a blender, and Chris and Patricia are quietly conferring like they're teammates. Then they have a night out on the town at Blue Ribbon Sushi, which is fine but do we need to see it? They eat artful, expensive platters of sushi, drink too much beer, and talk about the industry. Typical chef shit.
It's time for the pool party, and James, Krista, and Francis are on hand to soak in the douchebaggery. There are lots of tans, bad hairstyles, and an appalling selection of sunglasses — nothing approaching the elegance of Francis's shades. James shifts to creep mode and drools over some buff trolls before peeling the shirt off of one. This appears to be one of his life's high points, because he spends too much time talking about it for the rest of the episode. Fortunately, the parade of food arrives to distract us from this nonsense. Holly's contributions to the serious critical discussion include, "Yum!" "I almost don't want to eat it!" and "This is a really fun skewer!" Thierry's croque madame topped with congealed béchamel and Patricia's pulled pork on overtoasted toast are the low points for this crowd, just as James later doing push-ups for some beefcake is the low point for this entire series.
It doesn't get better, though, because we're subjected to Art in a Speedo. He jumps into the pool while the others awkwardly stare on. There are slow-motion effects and porn-y music that make Baywatch look like high art. Meanwhile, people on Twitter are happy to see Holly on TV again. The combination of these two things is highly demoralizing.
It's time for judgment, and the favorites are Takashi, Kerry, Art, and Lorena. Francis says turkey burgers are "one of the tragedies of American cooking" but Art made them great. James says Takashi's panna cotta was "delicious and creamy and I could have kept eating it." Francis tells Lorena her dish was "really sexy … it made me feel like I'm loved." With praise like that, Lorena easily wins this week. She's in shock and they have a group hug. Side note: Can someone please love Francis so he doesn't have to feel loved by fried dough?
That leaves Chris, Patricia, and Thierry up for elimination, and given the track record of the first two it takes zero effort to know who's going home. James, whose glasses get smaller every week, missed the fried egg on the croque madame, and Chris's watermelon and tuna bacon is criticized for being too complex for a pool party. Francis delivers the line of the season in taking down Patricia's dish: "We're at a party full of beautiful buns, and unfortunately yours was not one of them." The judges sound like they all need to take cold showers, but first they dismiss Thierry for his flawed execution and secretly because he's just not as good as the other two chefs. Au revoir, Thierry. Your hat shall be missed.
Next time: Dita von Teese and sexy talk about food! Lorena snaps!
Odds of Winning
Chris - 
3/4. Sure he was up for elimination this week, but only because his dish was too good for the challenge.
Takashi - 
2/3. Finally, a contender who may be able to take on Chris.
Patricia - 3/5. Not one but two big missteps this week. The judges say she looks tired, and they may be right.
Art - 2/5. His dishes aren't inventive enough, but they almost never fail to please diners.
Lorena - 1/10. She won this week, but it looks like she's due for an implosion in the kitchen next week.
Kerry - 1/100. It looks like this guy makes good food, especially after this week. He's good but never great.