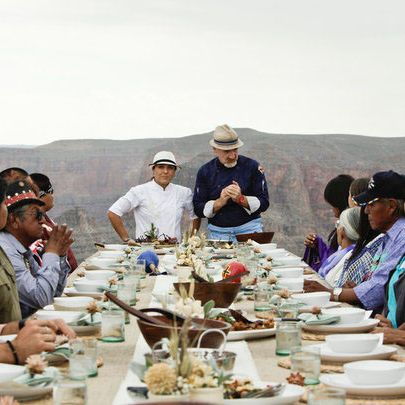 "The canyon air imbues our dishes with love and magic!"
Photo: Nicole Wilder/Bravo
Last week, the cheftestants were stuck indoors slaving over the teppanyaki, trying to entertain the judges while throwing food in the air and not burning their faces off. This week, they were released into the wild to broaden their horizons a bit. But before they can do that, it's time to chat about personal matters. Curtis wonders if Mark's dismissal "settles any household arguments about who's the better chef." Clark isn't "going there," but nice try anyway, Curtis. Time for the Quickfire: Make an amazing salad using any ingredients from the ultra-amazing 52-ingredient Top Chef Masters salad bar. "It's as big as a whale, and you've got eight minutes to make it sail," Curtis says, as if he's tsome sort of Aussie leprechaun. Sadly, he won't be speaking in rhyme for the rest of the episode.
Kerry wants to win this, meaning that, unlike all of us, it hasn't occurred to him that he won't be winning anything but a plane ticket back to New York once he's kicked off. Clark can't believe Art has the audacity to use a blender given the short amount of time they have to cook, but he's still grasping the concept that machines make food preparation go faster. Lorena's grilling cauliflower with two minutes left and Art is concerned: She's crazy, but he loves her!
Another thing Art loves is the band the B-52s, two of whom are inexplicably on hand to judge this challenge. They've been touring for 35 years. Does this make them salad experts? We'll never know. Art made a watermelon soup to go with his salad, and Chris is jealous because the B-52s like it, especially after they call his romaine salad underdressed. They like Kerry's salad, too, giving him a glimmer of hope that will soon be snatched away. Art tells the band members that his favorite songs are "'Love Shack' and 'Rock Lobster,' because those songs came out when I did!" Does he write these lines himself? To everyone's surprise, Lorena wins the challenge with her risky cauliflower, gaining immunity from elimination. There will be more Taco Bell commercials.
Then things get a little weird because the chairwoman of the Hualapai tribe (in Arizona, not Las Vegas) appears and explains that the chefs are going to cook dishes with common ingredients used by her people. Little explanation is given to explain how this is relevant to this season, aside from talk of chefs relying on the land, which is trite. Anyway, they'll be cooking in teams of two on the western edge of the Grand Canyon, so at least we're spared the pain of the weekly Whole Foods segment.
It's time for an inspiring helicopter montage: Lorena wears her Top Gun aviators, there are scenic views, Chris yammers on about the beauty of nature, and everyone is moved, touched, tree-huggy.
Once they arrive, there's a huge problem because they're cooking on a scary platform above the Grand Canyon with a see-through floor and Takashi is terrified of heights. He can't even change a lightbulb! A couple of minutes later he's fine, though (the producers probably drugged him, it's cool). The teams start cooking their dishes and everyone is extremely honored to be there, but they're also having so much fun. But there's tension between Kerry and Clark — they're not clicking, mainly because Clark thinks Kerry is a bad chef (he doesn't say that obviously, but come on) and they're not agreeing on the direction of the dish. "I can't have a fist fight on the rim of the Grand Canyon," says Clark. To which we say, why not?
Meanwhile, Thierry doesn't have a clue what to do with yucca so he throws a lot of it away and fries the rest of it (looks gross, probably tastes great). Art still loves Lorena's sexiness and energy: "If I was straight, I'd marry her!" Then the rain comes and Chris spells it out for us: "Nature is a huge barrier when cooking outdoors."
Defying the elements, the teams manage to get their dishes plated while members of the tribe and the judges take the slowest walk ever down a hill toward the largest table that has even been at the Grand Canyon. Curtis introduces the judges and the Hualapais pretend to care. There's a lot of talk of energy, magic, and spirituality, then the chefs explain their food while it gets cold on the table.
Finally, it's time to eat. "This is the graaaaaaandest place I have ever eaten a meal," says James. Either the dishes are all really good or everyone is being polite, because no withering criticism is uttered. As always, Francis is extremely eloquent when speaking and James is perplexed by/jealous of these pretty sentences.
There is an awkward post-meal ritual in which the chefs dance with the tribe while the judges watch from the table. Chris is possibly crying during all of this.
The judges' favorite pairs are Thierry/Takashi and Chris/Patricia (always). Thierry is congratulated for mastering yucca, and Patricia is weepy for no reason. For once, neither Chris nor Patricia win, and this is starting to look like a real competition again. That leaves Lorena/Art and Kerry/Clark up for elimination. Art's quail was hard to eat, Lorena has immunity, Kerry made soft meat, and Clark put together nothing more than a "bland succotash." Kerry should have gone home, but instead it's Clark, who's clearly not happy even though he gets to be with his lover-twin now. "I've had so much fun with all of you," he intones with a morbid look on his face.
Next time: Mimosas! Hugh Hefner's ex Holly Madison! James does push-ups!
Odds of Winning
Chris - 
3/4. Still the best, but he had an off week.
Patricia - 2/3. Nothing can knock her out of second place.
Takashi - 
1/2. His outlook improves with each challenge.
Thierry - 
1/8. OK, you conquered yucca, now what else do you got?
Art - 1/10. He's up for elimination way too often.
Lorena - 1/20. Sure she can make a good sauce, but she's sloppy every week.
Kerry - 1/1000. Never.