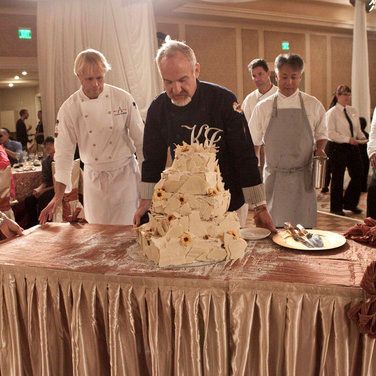 Would you want
that
served at your wedding?
Photo: Isabella Vosmikova/Bravo
Ah, the time-honored tradition of the Vegas wedding: such class, such elegance. If this week's promise of a Sin City nuptial challenge had you hoping for a pit-stop wedding chapel and the chefs catering the meal in the parking lot, you must have been disappointed by the refined ceremony and the accompanying gimmick-free cooking challenge that took place on last night's Top Chef Masters. I'm not complaining, though, because the one thing I've repeatedly wished for in past seasons is for this show to simply let these accomplished and incredibly competent chefs cook with just enough interference to keep things interesting for us. Gone are the days of multi-course meals thrown together in a trailer: This is shaping up to be a high-end kitchen kind of season.
This week's no-nonsense theme started at the beginning: no Quickfire! But Patricia is itching to know what's going on because there's a couple standing next to Curtis (whose hair, BTW, is even spikier this week). We get some dramatic juxtaposition: The couple is getting married (yay!) but they have a tragic past (no!). The maid of honor passed away, they lost their deposit on the venue, and this is now the worst wedding ever. The ceremony, scheduled for the next day incidentally, will be catered by the chefs ("Top Chef Masters to the rescue!" cries Curtis) and I'm left wondering what number to call when my future wedding falls apart and I want Bravo to save the day.
So they've got 24 hours to put a meal for 200 guests together, and because the couple is Filipino, they want an Asian-themed meal. Luckily, more than one of the chefs is Asian! Without asking anyone, Art puts himself in charge of the cake because he's made cakes for Oprah and blah blah blah, establishing his hubris and obviously setting up his subsequent failure.
On the way to Whole Foods, Art and Lorena bond over being Pisces and the fact that his husband is from Venezuela and she is, too! Art sees a man running in the desert and almost faints at the thought of it. Meanwhile, Chris is bragging about how he catered his own wedding and we see that he had blue hair then. Choices, people.
The gang starts shopping and collectively acts the fool. They're all calling each other on phones and failing to communicate and not understanding call waiting and shouting and it's exhausting to watch. As always, they bark at Whole Foods employees a lot — how annoyed must those employees be when these people and their camera crews barge in to take over the store? — and, through the magic of editing, manage to secure two necessary pork bellies in fifteen seconds. But Kerry left an entire cart of canned crab behind, so he pulls out his hair and kicks things. Back in the kitchen, he gnaws on an ear of raw corn to deal with his seething rage.
Once they get to cooking, it's business as usual, except no one needs a skin graft this week. Art and Chris jump right back into the role of bickering couple, turning prep time into a therapy session. "Communicate, don't give me crap!" Chris pleads. (Do these two have a secret past we should know about?) The lovers' quarrel ends in time for Art to tell the bride-to-be that (OMG but not really) her cake is going to be a variation of the one he JUST MADE for Lady Gaga's 25th birthday. Kerry gets a chance to boast that Tom Colicchio was his best man, and Mark talks about wanting to marry Clark after 25 years together moments before Clark has a freak-out because someone moved some lettuce or something and Mark has to deal with it. Ah, love.
Somewhere on a different floor, Art and Lorena are left to their own devices to put together dessert. This is a terrible idea because all they do is giggle and act like spicy Latinas. He recalls his "wedding of the century" with "500 or 600" people and apparently they ran from his restaurant to the Lincoln Memorial and all I can think of is Art's chafing thighs. Is it time for the wedding yet?
The bride walks down the aisle and we spot the judges sitting among the guests (ugh, why?) as things are looking messy in the kitchen. Everyone is rushing and Clark is distracting Mark and things may not turn out well. Finally, the food comes out for the cocktail hour: blood soup (Thierry), barbecued duck (Clark), corn panna cotta (Kerry), pickled mackerel (Patricia), braised pork belly (Takashi). Drinks are flowing freely and the newlyweds like the food.
Believe it or not, dinner doesn't go so smoothly. Art is worried that the icing on the cake is too soft, and he's relying on prayer to keep it all together (it won't). Debbie can barely handle putting a salad together and she has no idea where her grapefruit is, so everyone steps in to save her and she orders someone to grill cabbage to add "acidity" to her dish (not going to work). One of the judges calls her green papaya salad "one of the weirdest things I've ever eaten" and I wish Krista had just ripped it apart with one of her zingers instead. Out comes more food: Mark's sesame-coated Atlantic salmon (mostly raw, unintentionally) and Chris's braised pork (everyone loves it). Children are break-dancing and precociously appraising food nearby.
Back in the kitchen, dessert becomes a disaster when the cake implodes. There's lots of running and swearing and Art still shows no remorse: "I've baked cakes for presidents, I've baked cakes for pop stars." Everyone bands together to make the cake look barely presentable and Ruth is embarrassed for the couple when she sees it rolled out. Lorena serves an overcooked flan and Art presents his "inside-out upside-down pineapple cake," and it seems like he should have spent more time constructing it the right way instead of coming up with a bullshit name for it.
Anyway, the couple liked their wedding but their opinions don't matter in the end, only those of the judges. Unsurprisingly, Patricia, Takashi, and Chris are summoned for making the best dishes. Ruth is way too sensual in describing food as always, and James says Patricia's mackerel was "magic." She wins this week, but please note that she made a one-bite appetizer while Chris made a huge dish that had everyone screaming "Adobo!" As for Takashi, well, of course pork belly tastes good.
Time for the bad news: Mark, Debbie, and Art made the worst food. No surprises there. In HD, the chefs are sweaty and shiny-faced as they await judgment. It seems like Art should go home for ruining the cake, the most important food item at a wedding, but Mark also didn't execute the skills needed to pay the bills and Debbie's salad was a mess. She "likes to grill lettuce a lot" she says in her defense, but the judges aren't having any of it so they send her packing. Lesson learned: If you're gonna serve burnt cabbage, be willing to admit it's gross or your charity will suffer.
Next time: Chris is going to kill someone! Benihana action! Art pisses off Chris again!
Odds of Winning
Chris - 4/5. His food is far and away the best, but his former boss Patricia is a serious competitor.
Patricia - 4/5. There's no way she's not making it to the finale.
Takashi - 2/3. After last week's Indian disaster, he recovered nicely.
Kerry - 1/2. He makes solid dishes, but they don't rise to the level set by others.
Thierry - 1/3. He just doesn't stand out in this crowded kitchen.
Lorena - 1/8. You messed up the one dessert you know how to make? Get it together, girl.
Art - 1/20. He prefers the company of pop stars and presidents, so this competition's going to snuff him out once the producers have extracted his entertainment value.
Clark - 1/40. Badly barbecued duck and a worse attitude don't spell success.
Mark - 1/60. He's got his mind on his man, not on his food.