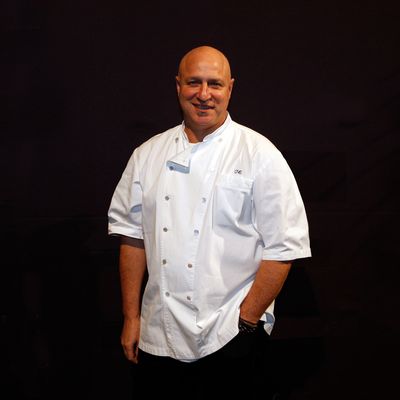 Just the local village innkeeper.
Photo: Chris Graythen/Getty Images
It's the beginning of Labor Day weekend, and many Hamptons restaurants are closing up for the season. But Tom Colicchio is actually getting ready to open one: Topping Rose House, a restaurant and inn that occupies a prime corner in Bridgehampton. We sat down with the chef to talk about the new project, his plans for a TV career beyond Top Chef, and why he's finished building more Craft restaurants.
So why open after Labor Day? Aren't you kind of missing the season?
You open when you can. It's a moving target because of the C of O, but as soon as you get that, you are in business. Under the best circumstances, we would have opened in the spring.
How will this be different from any other restaurant you have created?
The fact that it's an inn makes it very different, and it's probably the smallest place I've ever done — 50 seats in the dining room and 25 in the bar area — a little jewel box. And, except for Craftsteak in Connecticut, this is the only one out of the city. Also, proteins will take a secondary role. At Craft, even though there are a lot of vegetables, you order them on the side. Here, if there is a dish with fish, it won't have eight ounces of fish.
You have an acre of farmland. Have you started growing vegetables?
Yes! Arugula is poking up, and there are carrots, beets, radishes, and lettuce.
Are you doing anything new and exciting with the local produce?
I have kind of a weird technique with zucchini. I cut it into small cubes; sweat it in olive oil, adding just a little oil at time so it crisps. Then I cover it with boiling water, not stock, which really brings out the flavor of the zucchini, add lemon, thyme, and serve it with burrata and a fried zucchini flower.
I've also been marinating watermelon with fish sauce, Thai basil, lime, vinegar and oil, and serving it with fluke. I'm doing some interesting new pastas: corn agnolotti with leek fondue and summer truffles; and something I saw in Genoa — a sheet of pasta, coated in pesto and parmesan, and then folded like a free-form lasagna. I'm also messing around with stewed cherry tomatoes that I add fresh squid to, then finish with basil oil and serve over squid-ink linguine.
And for non-vegetarians?
There will be organic meats; parmesan broth with bone marrow, beans, summer vegetables, and farm poached eggs; and roast lobster with coriander, fennel seed, and fennel pollen, served in bouillon with braised fennel and green onion.
Because it's small and so much is organic, what are the prices going to be like?
For now, particularly since it will be off-season, we are trying to keep all the entrees under $40, which is tough since grain has gone through the roof.
How did you decide to become basically a country innkeeper?
The owner of the property was introduced to me, and he wanted me to do a restaurant. I liked the idea of doing the entire property because it's different for me and could turn into another business. There is a sitting room on each floor and we do the room service. I could see a single person taking a room for an entire month instead of renting a house.
You were never a Hamptons guy. How much time will you spend here now?
Right, I have a place on the North Fork, but this was a great opportunity. I will be out here straight for the next couple of months.
You are becoming acquainted with the area; you just did a big fund-raiser out here for United Way.
When I was sharing a room with two brothers in Elizabeth, New Jersey, I never would have imagined that I could give back like that.
Craft is over ten years old, but it is more popular than ever. How do you stay relevant?
We focus on staying relevant a lot and talk about it all the time. We have meetings every day. We don't try to make it the same; we try to make it better. We are always pushing it, and if there is something that doesn't work, it stops.
Any more Crafts in the works?
No more Crafts. We are closing Dallas; the deal kind of went sideways. We made a mistake by trying to do others. I don't want to take away from how special [the original] is.
Are you planning on rolling out any of the other concepts?
If I were to roll out one it would be Craftbar or Craftsteak. But I'd actually like to find a way to retire. I'm dealing with a 1-year-old and a 3-year-old.
Are you still enjoying life as a Top Chef personality?
Last season was funny. People said I looked annoyed, but I was actually in agony from a pinched nerve and I wound up having surgery and three epidurals. We are not really privy to all that crazy stuff that goes on in the show. I go to work, eat, and talk about food. The wild things happen when we aren't around. I expected Top Chef to last three or four seasons and we are now shooting season ten.
What about a new show?
Right now I am kicking around an idea to do a web talk show on a boat. Guests would come on and go fishing with me. I would like to take people who have never fished: You get them out on the water and they really open up.
Who would be your dream guests?
I would have some chefs, but I would also love to have Keith Richards or Bill Clinton. They were both recently at Craft.
Sounds like fun. But today it's back to training staff in Bridgehampton.
Yes, the first day the waiter takes an order, then literally doesn't know where to go or what direction to turn. Then the first order in the kitchen is pandemonium, and inevitably a fire alarm goes off that night. That's why we start with friends and family!