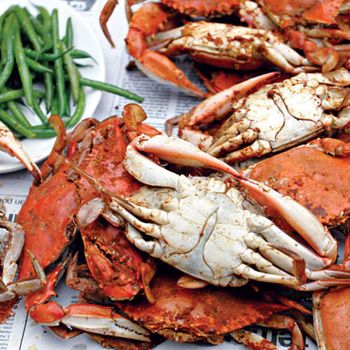 Just call it crack of the sea.
Photo: Michael Harlan Turkell
As September looms, everyone we know is frantically grilling and clam-baking as though the warm months will never return. And that includes chefs and restaurants: A number of notables around town are celebrating the season's seafood bounty with some cracking good feasts. At Back Forty, home of the Tuesday-night summer crab boil, the next four nights are part of Crabapalooza, marking the end of the season. As usual, $45 buys a mountain of crabs, corn, and other veggies, with fruit cobbler for dessert, and optional pitchers of beer to wash it down; reservations here.
Meanwhile, Josh Morgan's (Choptank) second annual Hammer & Claws is approaching in a couple of weekends. Grub went last year and stuffed ourselves delightfully on unlimited Maryland blue crabs, sides, and free-flowing beer; buy tickets for $89 ($45 for kids) here. And "wine studio" Corkbuzz has Surf & Turf suppers happening throughout September. Gather up to six friends, and for $525 (including tax and tip) get a five-course dinner with dishes like scallops with bacon-chorizo marmalade and monkfish with sweetbreads, plus four bottles of wine; call or go here for reservations.
Update: A rep for Corkbuzz informs us they've decided to change the theme of their September large-format dinners — it will no longer be Surf & Turf.