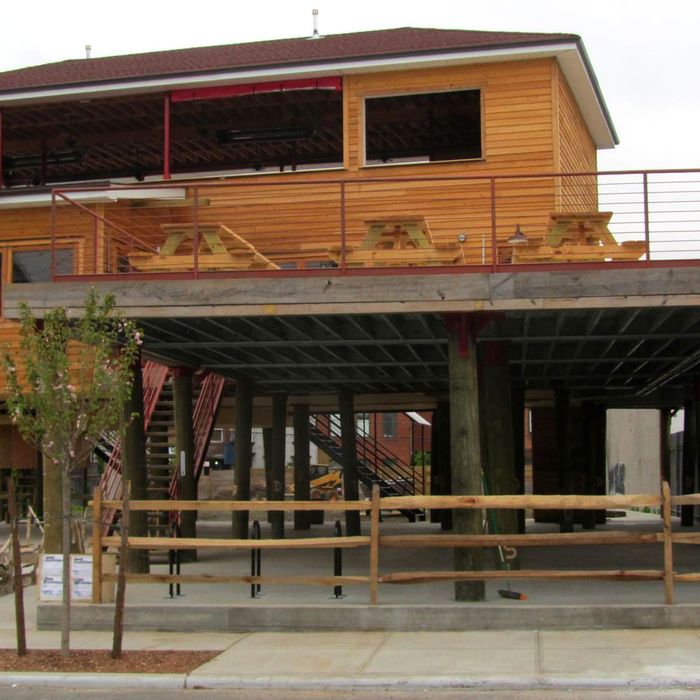 Brooklyn Crab: Finally some positive press.
Photo: Cooper Bohner/Facebook
This week, our critics sat out the restaurant reviewing to drop an awesome Fall Preview package instead — but don't worry, we still have a way for you to find the best eats in the city. What did the rest of New York's professional eaters think of the city's restaurants this week? Read all about it, straight ahead.
At La Vara in Cobble Hill, the presentation is nothing special, but the method of frying artichokes served with anchovy aioli had Pete Wells trying to divert his friends' attention so he could swipe them all. He awards two stars.
At Neta in the West Village, Masa alums create "cool fish" dishes sometimes topped with things like bonito flakes and usually dancing to the groove of the old funk playing in the restaurant. And while it's not an expensive "temple" of fish like Masa, Tejal Rao says ordering a tasting menu ($95 or $135) isn't a mistake. Also not a mistake: starting off with a shot of tequila that's poured over yuzu-flavored ice and sprinkled with smoked salt — or as Rao calls it, "a high five from the universe."
Robert Sietsema calls Tacos Cachanilla in Sunset Park one of New York's most evolved taquerias. The giant flatbreads they use are too big to be called tortillas, he says, and inside you'll find yellow rice, fried chile strips, onions, and skin-on French fries. Other varieties have the giant tortilla enfolding a chile relleno stuffed with Brooklyn-made Oaxacan cheese or boiled eggs. But Sietsema suggests trying vegetarian here, as the veggie options often surpass their meaty brethren.
As far as Brooklyn Crab in Red Hook goes, The New Yorker says haters gonna hate. Yelpers tried to kill the restaurant's buzz early on, but nowhere else provides the opportunities to drink beer, play mini golf, and eat seafood outside while gazing at the New York Harbor. An advertisement of the Sunday football special indicates its outdoor compartments will be enclosed and heated as summer wanes.
Cómodo in the West Village has all the spice of a Latin-fusion atmosphere — except the spice. The Daily News's Stan Stagner says the friendly restaurant needs to add some salt, but he nonetheless recommends the duck breast, pao de queijo lamb sliders, and the hibiscus spring rolls.
Ryan Sutton writes that Crave Fishbar in Turtle Bay seems to have recovered from a fatal crane accident in 2009 that destroyed the old venue. Now, across the street it's bustling, serving good raw fish dishes (albeit at times overwrought with too many ingredients). He even likes the fried chicken, served with vinegar sauce, American cheddar, and Israeli couscous. He only complains about one price (the $31 lobster curry) and awards one and a half stars.