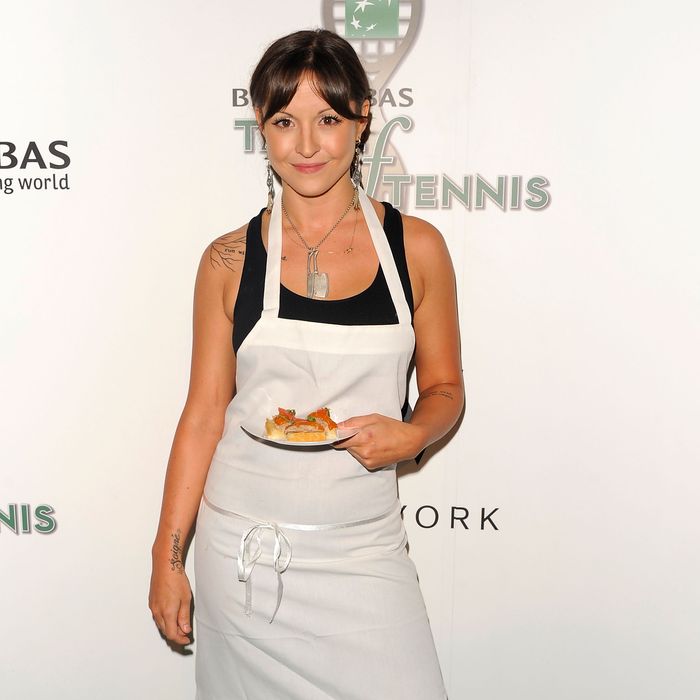 Chef Hearst, no doubt about to do something badass.
Photo: Andrew H. Walker/Getty Images
Roberta's chef de cusine Max Sussman was a James Beard Award semifinalist this year and placed on both Forbes's and Zagat's 30 Under 30 lists. Not content to slow-roast pork over his laurels, Max and his brother Eli (who cooks at Mile End and also pops up on some exclusive lists) have written a manual of sorts, called This Is a Cookbook: Recipes for Real Life, which comes out next month. The brothers Sussman have reorganized life's essential meal times into more functional categories, such as "lazy brunches," and for those lovebirds out there in food land, the "night in." That is the time of day you cook dinner for your date, and hopefully later, you're replenishing your electrolytes making sexy snacks by the light of the open refrigerator door.
Meanwhile, another illustrious Forbes "30 under 30" and Beard Award semifinalist has book news of her own. Publishers Marketplace (subscription required) says that the 'sisters' of Sorella are releasing their first cookbook next fall. Qualcosina: A Little Something from Sorella, by owners Emma Hearst (also on the Forbes list and a Beard semifinalist) and Sarah Krathen, will consist of "personal stories, 100 recipes, and their love of Piedmontese fare" and will also be published by Olive Press. And if recipe for the restaurant's duck-fat English muffins with chicken liver and candied bacon is in there, we're likely looking at the sexiest cookbook season on record this fall.
Deals [Publishers Marketplace]
This is a Cookbook [Scribd]
Earlier: Emma Hearst Clarifies That Steak House Rumor