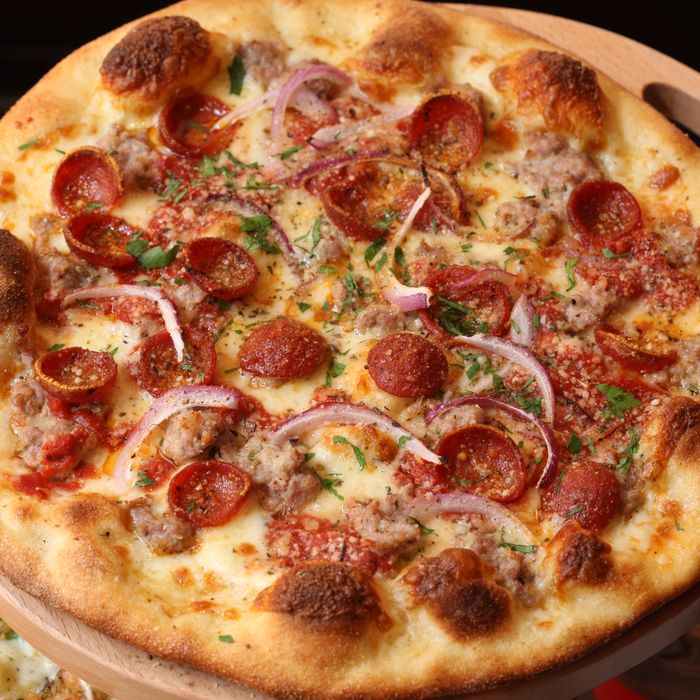 Lots of opinions this week about Nicoletta's pies.
Photo: Melissa Hom
New York's critics sat this week out, but most of the rest of the reviewer gang dropped an opinion or two. Read about what they ate and what they thought of it, straight ahead.
Stan Sagner paid a visit to Daniel Humm's the NoMad, granting it three of five stars. He was charmed by the confidence that the restaurant "is the place to be," enjoyed the salmon rillettes, and deemed the tagliatelle with king crab "consistently delicious." He was less impressed with the signature whole chicken, calling it inconsistent, and mocking the "Portlandia-level kabuki" of the presentation.
Both Pete Wells and Jay Cheshes found themselves less than impressed with Michael White's East Village pizza Nicoletta: Wells gave the restaurant no stars, describing the pizza as "stiff and bland," and recommending only the pickles, suppli, and gelato. Cheshes was hardly kinder, saying even the best pies "feel like lead going down."
Hazar in Bay Ridge has the city's best falafel, according to Robert Sietsema. Though he deemed the doner a "fail," the quality of other carnivorous offerings like adana kebab (a lamb skewer) make the restaurant an appealing compromise for vegetarians and meat-eaters alike.
Tejal Rao can scarcely contain her irritation at Ken & Cook, rolling her eyes at the Kenmare Street brasserie and its clientele alike. While she recommends the linguine with clams and the oysters Rockefeller, she finds the service pushy, the biscuits "inedible," and desserts "miserable."
Writing in the New Yorker, Lizzie Widdicombe recommends the trek to Flushing for Biang!, the full service offshoot of the Xi'an Famous Foods "hipster Asian" empire. Though it's "still working out its kinks" and is yet to receive a liquor license, she found the lamb cheeks delicious even though the eyeballs are included, simply taking it as evidence that Biang! "has mass appeal, but hasn't sold out."