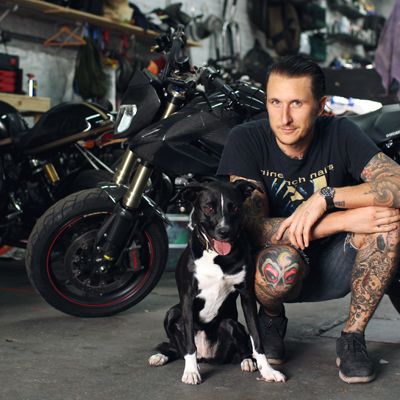 "I've never used my oven for anything other than drying paintings … "
Photo: Melissa Hom
He's one of the best tattoo artists in the world (ask Marc Jacobs, Courtney Love, or Kanye), a proper art-world civilian, and the kind of charming and intelligent non-dirtbag dirtbag who moved to Williamsburg way before everybody else. But when it comes to food, Scott Campbell is no punk. "I was nervous at first that I might have to divulge all my weirdo dietary eccentricities," he told Grub Street. "But then I read some really wacky ones and realized I'm safe saying anything." Read about Campbell's dismissal of all things breakfast, many meals at the Smile, and the s'mores ice-cream cake that slipped away in this week's New York Diet.
Friday, August 3
Breakfast was on a fucking island! It was one year ago that I took Lake out on our first date. A very generous friend of mine loaned me his private island for a few days to celebrate the occasion. Conch fritters, tomatilla salsa, fresh fruit and rum punch.
Lunch was infinitely less cool: A "shape up" box on JetBlue. This included hummus and crackers, raisins, and a gingersnap cookie, which was a big thrill.
Dinner was at Marlow & Sons … kale salad with brick chicken. I'll try a new spot about once a week, but I have my regular haunts and this is one of them. If it ain't broke …
Saturday, August 4
Breakfast is for the lazy.
Ate lunch at the Smile — the best fucking granola. Really, the best thing to happen to granola since the invention of oats. Melia, their chef, can do no wrong in my book. She's not trying to reinvent the wheel by cooking quail eggs with laser beams, or freezing zucchini flowers with liquid nitrogen. She makes straight-forward, consistently perfect food for people who are hungry.
Dinner at Parm! Charred corn, chickpeas, broccoli rabe, meatball platter, and a side salad. I didn't go there, but I really enjoyed watching the guy next to me devour some s'mores ice-cream cake. I should have gone there.
Sunday, August 5
Breakfast? Not ever on Sunday.
Lunch was at Five Leaves. Started off with a kale salad with squash and feta. And then a burger. But "burger" really isn't strong enough a word for what they give you there. I have lunch meetings at Five Leaves all the time; today I was meeting with Maharam people about a wallpaper project I'm working on. It's a good gauge of how serious people are about working together if they're willing to come all the way to Greenpoint for lunch.
Had some Sunday ribs at the Smile for dinner. Braised ribs, Greek yogurt cole slaw, and homemade corn bread.
Monday, August 6
Breakfast equals 6 a.m. running sesh. I'm not good at gyms, but I run like a motherfucker — usually three to four marathons a year, so I'm always training for something. I was definitely the fat kid in high school, so I guess I started running to try to get as far away from that kid as possible. I don't really talk about it much. I'm sort of a closet runner.
Lunch was from Carino: veggie tacos, plantains, and a salad.
Dinner at Vinegar Hill House: garganelli pasta, chantrelles and corn, and roasted beets with avocado and hazelnuts. You cannot go wrong there.
Tuesday, August 7
Had some work ethic for breakfast.
Took my lunch date to Reynard at Wythe Hotel. Scrambled eggs with greens on the side, with chilled summer squash soup, then yogurt and a plum. I heard about that wine controversy but I've never ordered wine there. Maybe for fear of mispronouncing the names.
Dinner was at Roberta's, carrots with smoked ricotta. Fuck yes. Then romaine salad with walnuts and mints. Duck Hunt pizza, which is made with duck prosciutto, sweet potato, leek onion, and chile flake. There's a whole fresh crop of Brooklyn tattooed kids everywhere I go. I'm Williamsburg alumni at ripe old 35. Carlo, the chef, races motorcycles at the same track I do, so he and I get nerdy with bike talk a lot. Oh, and he's a culinary genius.
Wednesday, August 8
Breakfast. No one has time for breakfast.
Lunch was at the Smile, the Bibb lettuce salad with chicken and avocado. It's the most perfect salad this side of 34th Street. Sweet potato biscuits.
Had a big group dinner with a bunch of food lovers at Corton. Paul knew what we were all about, so he laced us with a crazy tasting menu. Twelve courses of food that scored better on the SAT than I did.
I guess it sounds pretty indulgent now that I read over my week of eating out every night. But even though I've got a girl, I still have the refrigerator of a New York bachelor. Empty, save a bottle of Veuve and a half-full jar of mustard. I've never used my oven for anything other than drying paintings, so I just treat New York as my dining room.