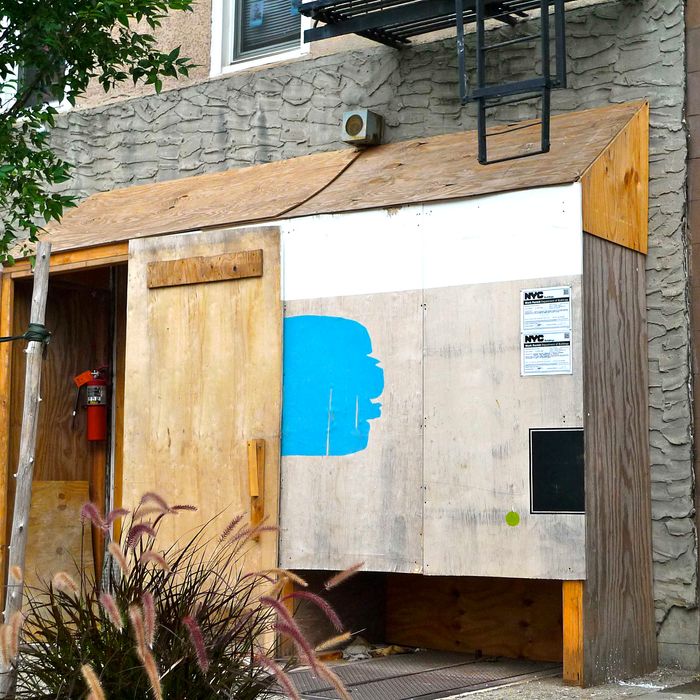 Nine new burgers for the Slope.
Photo: Hugh Merwin
Adjust your charbroil trifocals ever so slightly and you may be able to make out the roughest silhouette of a stacked hamburger here in the center of this Brooklyn plywood, at 256 Fourth Avenue. Do the eyes deceive? Not at all. Park Slope's pastry and coffee geek central Root Hill Café will open the full-service Root Hill Burger next month along its particularly grill-bereft industrial stretch of Park Slope. Co-owner Stephen Kelley tells us the restaurant will serve nine signature burgers, made from a Los Paisanos Meat Market blend, with toppings and sauces that reflect the owners' different backgrounds. Cali Rivera, who cooked at Gramercy Tavern, Seersucker, and Prune, is the restaurant's chef.
Kelley, an architect by trade, tells us the restaurant has been in the works since last year, and its design reflects a pop-ish, "early sixties sensibility." The build-out includes many reclaimed materials and will feature a large backyard garden for dining in the warmer months. On the menu, expect a classic burger with crisped fontina cheese and caramelized onions; lamb and veggie burgers will be offered, and a sausage blend makes up the patty of another, to be served on an English muffin with a fried egg, with roasted root-vegetable batons. The prosciutto-ball legacy of Joe's Suprette — paid homage to in new restaurants so often these days that the snack looms like Brooklyn's version of Nobu's black cod with miso — will take another conceptual spin here in the form of fried mashed-potato balls. Other sides and appetizers include honey-glazed fried chickpeas, a beet salad, roasted corn, and an iceberg wedge salad. Beer, wine, and kombucha will be on draught. Root Hill Burger opens September 14.
256 Fourth Ave., nr. Carroll St., Park Slope; no phone yet