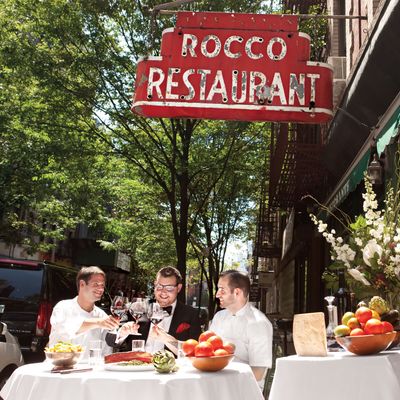 From left, Carbone's Rich Torrisi, Jeff Zalaznick, and Mario Carbone.
Photo: Mete Ozeren
For two very busy chef-restaurateurs, Mario Carbone and Rich Torrisi have been spending a lot of time dining out lately, all in the name of research. After exploring the legacy of the Italian-American table, both low (at Parm) and high (Torrisi Italian Specialties), the avid students of their oft-maligned ancestral cuisine, along with partner Jeff ­Zalaznick, have zeroed in on another underrated archetype—the slightly upscale mid-century Italian-American restaurant—and taken on the task of reinvigorating it. Call it their latest red-sauce revival, and expect to see it late this fall at Carbone, the trio's remake of the 90-year-old Rocco Restaurant on Thompson Street.

For Torrisi and Carbone, Rocco, and a handful of old-school relics still scattered around the boroughs, represents a vanishing breed of Italian restaurant: one sanctified by its regulars, and cherished not so much for its dated food as for a certain ambience and a distinctive style of participatory service. "We're paying tribute to what we call 'moves,' " says Carbone. What's a move? When the waiter at Il Mulino in the Village attacks your table with freebie plates of sautéed zucchini, chunks of Parmesan, slices of salami, and garlicky bruschetta practically before you've had a chance to sit down, that is a move. Certain tableside maneuvers like presenting the customer with a raw T-bone for inspection before it's grilled is considered a pretty good move. The Scalinatella waiter who stands majestically before the table and rattles off 25 specials without breaking a sweat? Classic move. And the guy at menuless Rao's who pulls up a chair, turns it around backward, sits down, and says, "Okay, let's talk about what's for dinner"? That guy is a move genius. "He's really the one creating, orchestrating, and improvising your particular experience," explains Carbone. All great Italian restaurants of this ilk have a signature move.
To learn from the masters, the trio ate every­where from East Harlem to Ozone Park. "We took some things from all of them," says Zalaznick. Other than linguine with clams or chicken scarpariello (both of which you'll find at Carbone, along with foie gras Veneziana, octopus pizzaiola, and whole ­maraschino duck), the common denominator has to be the patter, that lyrical recitation of specials and customizable options that makes the customer feel like Tony Soprano celebrating an acquittal. "There's a word for it," says Carbone. "A piacere, which means as you like it, or to your taste or pleasure." ­Zalaznick demonstrates: "We can do lobster—we can do it grilled, we can do it stuffed, we can do it fra diavola." This is not wholly intended as shtick. "The idea of a piacere is fundamental to this concept," he says. So, too, are nostalgic trappings like captains in bow ties and dinner jackets, tablecloths (perhaps checkered), and, yes, lots and lots of red sauce. "We're canning a thousand pounds of tomatoes for the cellar right now," says Carbone.
Carbone, 181 Thompson St., nr. Bleecker St.; no phone yet; November.
This story appeared in the August 27, 2012 issue of New York Magazine