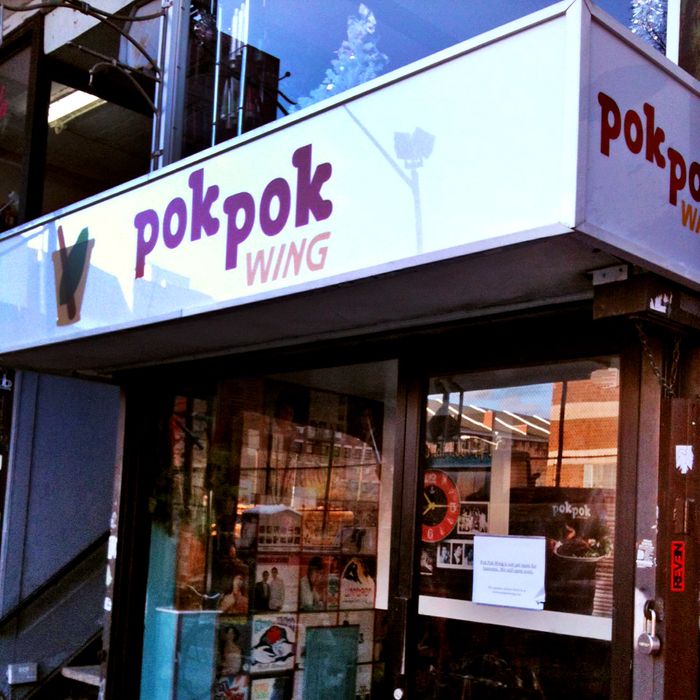 Soon to be très Bangkok.
Photo: Jenny Miller
If you joined us in staging a chicken-wing-fest wake this weekend for the now-shuttered Pok Pok Wing, here's some news to cheer things up. We've gotten our hands on the menu for Pok Pok Phat Thai, which opens in the space on Friday. As expected, there's authentic-style pad Thai with pork, shrimp, or veggies only, plus the option to order it haw khai style, wrapped in a thin omelet. Also on offer is Khuatiaw Khua Kai, a wide-rice-noodle dish you find in Bangkok's Chinatown, stir-fried with chicken, duck egg, cuttlefish, and green onions. And another Bangkok street snack — a "broken" crepe made with mussels, eggs, garlic chives, and bean sprouts. Depending how you count, that's about six dishes, which is twice as many as Wing served, so no more sniffles.
POK POK PHAT THAI

Phat Thai Thamadaa (Regular)
Thin rice noodles cooked in rendered pork fat with tamarind, fish sauce, palm sugar, peanuts, dried tofu, dried shrimp, preserved radish, egg, garlic chives, bean sprouts, and chili powder.
Sorry, no chicken Phat Thai!

Phat Thai Muu Sap
Regular with ground pork

Phat Thai Kung Sot
Regular with fresh prawns

Phat Thai Ruam
Regular with prawns and ground pork

Phat Thai Jay
Regular but vegan, no animal products, no garlic chives

Haw Khai (add two dollars)
Any of the above, wrapped in a thin omlette

Wun Sen (n.c)
Any of the above, sub glass noodles for rice noodles

Kuaytiaw Khua Kai
Fresh wide rice noodles stir-fried in rendered pork fat with chicken, cuttlefish, duck egg and green onions, served on chopped lettuce.
A Bangkok Chinatown specialty.

Hoi Thawt
Crispy broken crepe with steamed fresh mussels, eggs, garlic chives and bean sprouts, served with Shark Sri Racha sauce.
Thai street vendor's specialty, popular in night markets.

DRINKS

Pok Pok Som Drinking Vinegars
Tamarind, Honey, Apple, Pomegranate, Pineapple, Raspberry.
Mild, sweet and tart fruit drinking vinegar, mixed with soda water.
Really good. Big in Japan. Made in Portland, Oregon.

Cha Manao
Thai iced tea with fresh lime juice
Cha Yen
Thai ices tea served with evaporated milk

Naam Manao
Fresh squeezed limeade

Kafae Boran (iced or hot)
Thai-style sock brewed Stumptown Cold Brew with condensed milk, evap milk, sugar.
An upgrade from the original old school Thai coffee.

Stumptown Cold Brew Stubby (10.5oz)
Best coffee in town, roasted and brewed in Red Hook.

Whole Roasted Red Peanuts (1/4 pound)
With chilles, garlic, sea salt, and lime leaf.

PLEASE NOTE:
We use peanuts, shrimp, meat, sugar, salt, wheat & occasionally dairy products in our preparations. We do not use MSG. If you have allergies or fears, ask for a list of ingredients. Vegetarian options are noted on the menu. Please, no substitutions.