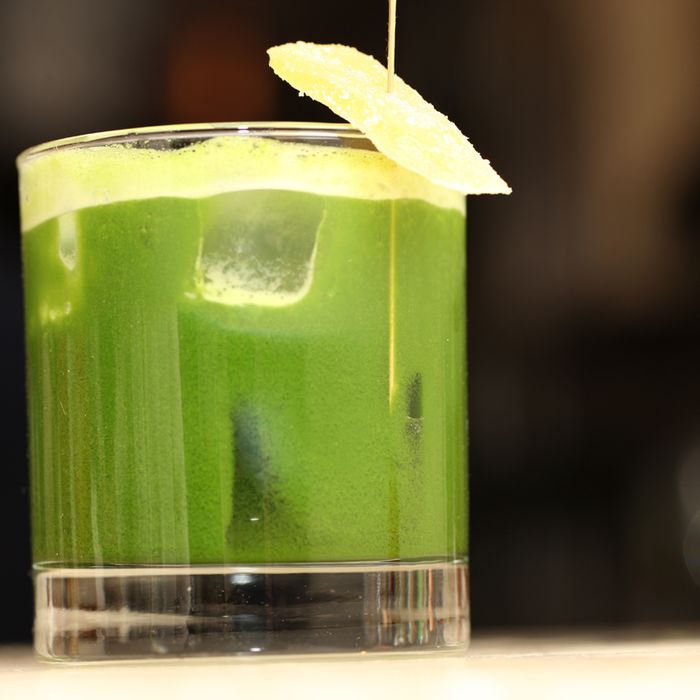 More serious cocktails (like this Garden Variety margarita from the Wayland) hitting Murray Hill.
Photo: Melissa Hom
Sam Anderson is the mixology talent behind drinks at some of our favorite Brooklyn and downtown watering holes — Hotel Delmano, Freemans, Fig. 19 — and now we hear he's bringing his magic touch to Murray Hill. The Pod 39 hotel is rolling out a rooftop in September featuring a selection of Anderson's quaffs. Cocktails like Sandita Trio (silver tequila, sangrita verde, watermelon cubes, and chile salt) sound a whole lot better than most of the midtown-hotel drinking we're used to. See an extended drinks lineup below.
Signature Cocktails



–‐Sandita Trio –‐

Silver Tequila, Sangrita Verde, Watermelon Cubes and Chili Salt.





–‐Vanishing Point–‐

Gin, Cinnamon & Vanilla bean, fresh lemon juice, orange blossom, sea salt.



–‐Weathervane–‐

Rye Whiskey, Rosemary, Ginger, Campari, Fresh Lemon Juice.



–‐South By Southeast–‐

Mezcal, Damiana, Sake, Yuzu, Japanese Pepper, Fresh Lime Juice.



–‐Red Right Hand–‐

Silver Tequila, Campari, Sweet Vermouth, Cinnamon & Vanilla bean, Sea Salt.



–‐Sonora Old Fashioned–‐

Bacanora, Pepper–‐Spiced Honey, Grapefruit bitters.

Cocktails To Share:



Sandia Fresca–‐

Silver Tequila, Fresh Watermelon Juice, Mint, Fresh Lime Juice, Agave Nectar. Served in a baby watermelon.



Five Island Colada–‐

Five Island Rum, Pineapple and Coconut milk, Fernet Branca, Fresh Lime Juice, Angostura bitters.
Pod Rooftop Lounge, Pod 39, 145 East 39th St., nr. Lexington Ave.; 212-355-0300