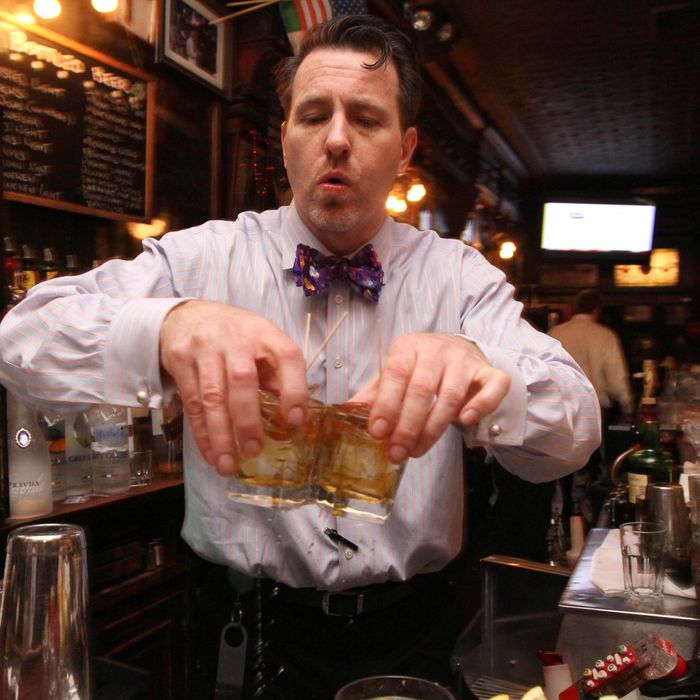 Quinn, doing what he does best.
Photo: Tina Fineberg/AP
Back in June, P.J. Clarke's regulars reacted with sadness and outrage when the restaurant let go its most beloved bartender (and a near-ten-year veteran of the burger spot), Doug Quinn. Back then, he told Robert Simonson that he'd be back with "a real New York saloon," and now it seems plans for that are shaping up. Quinn tells us he's very close to signing a lease on an undisclosed location in midtown east — not far from Clarke's, in fact — and that if things go according to plan, he hopes to open the yet-unnamed restaurant and bar by "end of fall … or definitely by January 1st."
As for the concept, the barman promises "a real New York saloon. … As soon as people come in, it's going to become their home. …There aren't so many New York joints left." Quinn tells us he's passionate about food and cooking, and the dinner menu should reflect that. "It's going to be the kind of place you can eat at three or four times a week," he envisions, saying that he has a few chefs in mind but hasn't nailed anyone down yet.
At Clarke's, Quinn was best known for his rapport with patrons and ability to anticipate their needs (do read, if you haven't, Frank Bruni's loving profile of the bow-tied bartender from 2010). It's fitting, then, to hear that his own joint will have some "house rules." He explains, "I have a bunch of sayings called 'Quinn's Laws' … "It's a throwback to saloon culture, where people knew how to behave. (Quinn's firing reportedly had something to do with his admonishing a male patron who was groping women.) Practically, "There very well might be a no-cellphone clause." Lest that conjure images of some of this city's more draconian chefs, rest assured that's not what Quinn has in mind. "Restaurants are … " he pauses, locating the words, "you're coming to my home. It's really a magical thing."