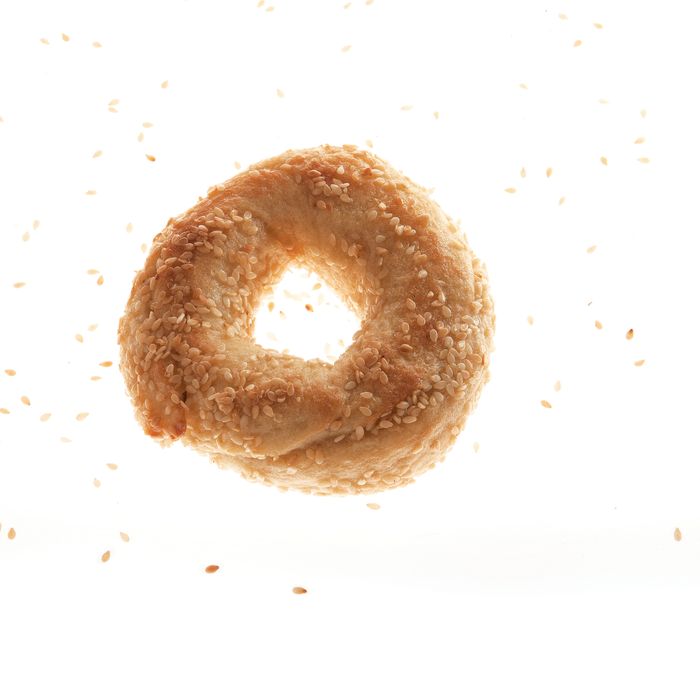 Mile End's new bagel.
Photo: Mete Ozeren/New York Magazine
Say what you will about the never-ending H&H; debacle, the good news is that it's got everyone talking about bagels. The bad news: When everyone starts talking about bagels, the consensus is that they suck. Or rather the comparatively titanic, squishy-soft impostors commonly known as bagels suck. The true bagel (hand-shaped dough made from high-gluten flour, yeast, salt, and malt syrup that's poached in a kettle of boiling alkalized water before being baked into a dense and chewy puck) has pretty much gone the way of the woolly mammoth. Sightings are rare. Hope for a revival does not readily spring.
If you believe Mimi Sheraton, it's worse than that. "Their like will not come this way again … ," she wrote in the Times a few weeks ago. You'd think that such a dismal state of affairs would only spur the industrious townsfolk of Artisanal Brooklyn into action—that each and every member of the community would roll up his flannel sleeves and begin boiling kettles of alkalized bagel water. Hasn't happened. But just when all seems lost on the cream-cheese-and-Nova front, into the breach step Noah Bernamoff and Rae Cohen of Mile End. They've been gearing up to launch a bagel-making operation out of their Red Hook commissary, with a post-Labor Day push at their Noho sandwich shop. Last month, they test-drove several sesame-seeded batches at Paper magazine's Super Duper Market. (Up until now, they've imported their bagels, somewhat controversially, from St. Viateur in Montreal.) New York-bagel chauvinists should know that Mile End's, while hand-rolled and properly smallish, are made in the Montreal style­—with eggs in the dough and honey in the water. Not that there's anything wrong with that. Even so, the Montreal-versus-New York debate doesn't interest Bernamoff. "I just want to make old-fashioned bagels," he says. Tradition is also paramount to Josh Russ Tupper and Niki Russ Federman, fourth generation owners of Russ & Daughters, Manhattan's preeminent appetizing shop, and although their wholesale supplier has its fans (even Mimi Sheraton admits the mini bagels aren't bad), it's always been the shop's ambition to make its own. Finally, it's happening: Testing has begun; kettle water is boiling. Better bagels may be on their way.
Mile End Sandwich, 53 Bond St., nr. Bowery; 212-529-2990
Russ & Daughters, 179 E. Houston St., nr. Orchard St.; 212-475-4880
This story appeared in the August 27, 2012 issue of New York Magazine.