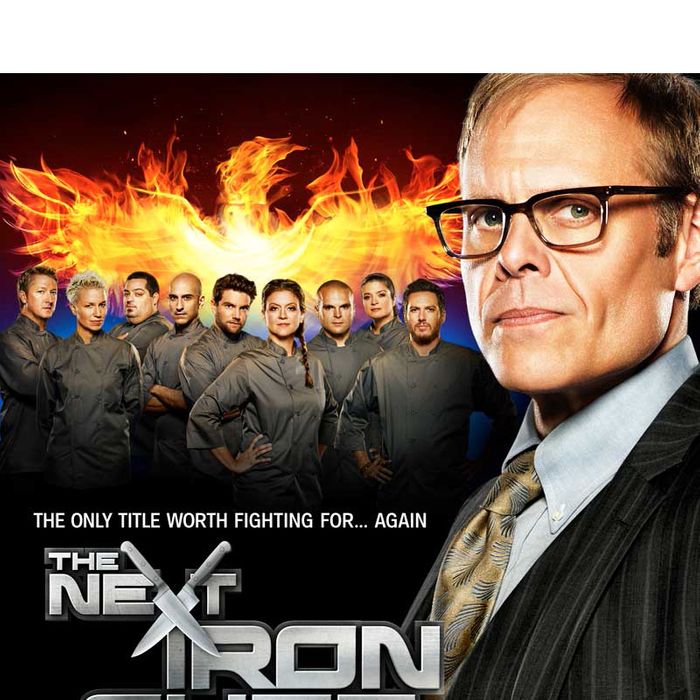 Familiar faces.
Photo: Courtesy of Food Network
Between Top Chef, Top Chef Masters, Chopped, Iron Chef, Next Iron Chef, or even that new Anthony Bourdain cooking show on ABC, you would think the well of potential chef-contestants would have long since dried up. But until now, casting directors have, for the most part, kept a steadily rotating group of new faces in the mix. Those days of bounty are over — it's now clear that there simply aren't enough chefs in the country to cast for all the cooking-competition shows out there.
How else to explain the concept for the next season of Next Iron Chef? Called The Next Iron Chef Redemption, the entire show is comprised of contestants who already lost the show their first times around. You can read the full release below, but take note that even the marketing slogan is, "The only title worth fighting for … again." Combine that with the fact that some new show called Time Machine Chefs is pulling familair TV faces like Chris Cosentino, Ilan Hall, and Art Smith into its own cast, and it becomes obvious that the country's supply of camera-ready chefs is as depleted as our supply of edible corn — both equally dire shortages.
FOOD NETWORK REVEALS CAST FOR UPCOMING
THE NEXT IRON CHEF: REDEMPTION
Chefs Get Second Chance at the Ultimate Culinary Title
Premiering Sunday, November 4th at 9pm ET/PT

NEW YORK - August 7, 2012 - Food Network reveals the cast for returning primetime competition series The Next Iron Chef: Redemption with a roster of elite competitors, most returning for a second chance at the ultimate culinary title. The fifth season is all about redemption, with many cast members taking another shot to prove their skills are Iron Chef-worthy, along with some newcomers who have their own redemption stories. The cast includes: Nate Appleman, Amanda Freitag, Eric Greenspan, and Jehangir Mehta from The Next Iron Chef: Season Two; Elizabeth Falkner, Alex Guarnaschelli and Spike Mendelsohn from the cast of The Next Iron Chef: Super Chefs; and first-time Next Iron Chef competitors Tim Love and Marcel Vigneron. Premiering on Sunday, November 4th at 9pm ET/PT, Alton Brown will again host this 8-episode, top-rated series, which recently completed production in Los Angeles and Las Vegas.
 
The tenth slot will go to the winner of a web-exclusive competition taking place on FoodNetwork.com, the four chefs taking part in the web battle are: Duskie Estes and Robert Trevino, who have previously competed on The Next Iron Chef, and newcomers Lee Anne Wong and Madison Cowan.
 
In The Next Iron Chef, the contestants bet on their culinary skills and put their reputations on the line for the chance to compete in legendary Kitchen Stadium. The winner will join the ranks of chefs including Bobby Flay, Marc Forgione, Jose Garces, Masaharu Morimoto, Michael Symon and Geoffrey Zakarian as a member of the Chairman's team on Iron Chef America.   
 
The Next Iron Chef is produced by Triage Entertainment in conjunction with Food Network and is based partially on the format Iron Chef owned by Fuji Television Network, Inc.