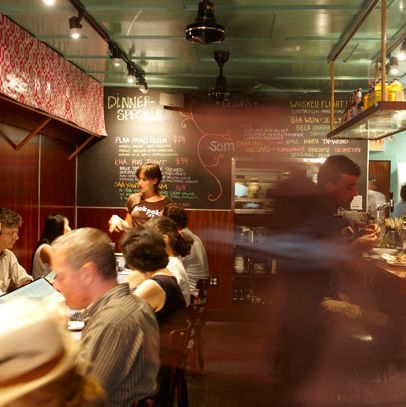 Pok Pok Ny: So foreign!
Photo: Jonathan Nesteruk
Last week, Bon Appétit released its list of the country's 50 best new restaurants and today they released the narrowed-down list of the 10 best. (You can see that below.)* And the Post is shocked —shocked — that Brooklyn spots Blanca and Battersby both made the cut while a fine Manhattan restaurant like the NoMad was left off the final list. In fact, they're so aghast at the choices that they tracked down some of the biggest Manhattanphiles they could find, just to really drive home the point that Brooklyn is, like, really far away and the restaurants barely take reservations!
"Of course it's very bohemian, for people who live in Brooklyn it's fine, but I'm sorry, I don't think it's a destination yet," says The Four Seasons' Julian Niccolini. Then, he adds, "I don't think I'm willing to spend $25 to go to Brooklyn to have lunch or dinner. This is only for Brooklyn people, end of story." End of story.
Gael Greene chimes in, too, to let the world know that she refuses to go to Brooklyn, since "many Brooklyn restaurants don't take reservations." (As opposed to the popular Manhattan restaurants that barely have any waits at all.)
But this isn't actually a thing other people are still talking about, is it? Discussing "Brooklyn" as if it's some crazy land with all these rough and tumble restaurants, lines of hungry hippies stretching for blocks, is like lamenting the loss of tablecloths at most restaurants — it's fine for holdouts who miss the old days, but everyone else has moved on. GQ's Jim Nelson hit the nail on the head a few months ago when he explained that he lives in Manhattan but often heads out to Brooklyn restaurants: "I'm the new the new bridge and tunnel."
In the meantime, here's the full top 10 list for everyone to debate:
1. State Bird Provisions, San Francisco, CA
2. Blanca, Brooklyn, NY
3. Battersby, Brooklyn, NY
4. Luce, Portland, OR
5. The Catbird Seat, Nashville, TN
6. The Bachelor Farmer & Marvel Bar, Minneapolis, MN
7. Little Serow, Washington, D.C.
8. Oxheart, Houston, TX
9. Bäco Mercat, Los Angeles, CA
10. Cakes & Ale, Decatur, GA
*This posted has been updated to include the full list from Bon Appétit.
Brook-win! [NYP]
The Hot 10: America's Best New Restaurants [BA]
Earlier: Bon Appétit's 50 Best New Restaurants List Is Out