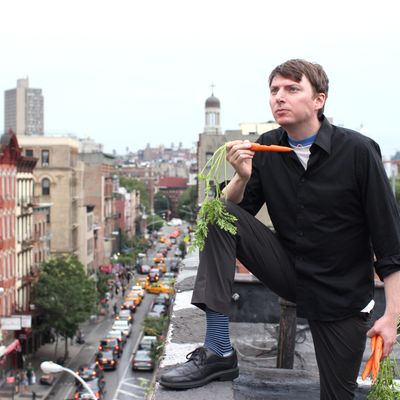 "Do I have some kind of sugar imbalance? Dont answer. I want it to be a surprise when I find out from a doctor."
Photo: Melissa Hom
"I'd love to see someone have to list all the porn they've watched for a week. You'd get reports of a lot of black and white French films with brief glimpses of toplessness," says Mike O'Brien, SNL writer and host of "7 Minutes in Heaven" who took the New York Diet so seriously that he was actually stunted by it. It's true — while roaming around the city craving red meat, O'Brien "stood on the sidewalk, staring blankly for fifteen minutes because I had to find a Grub Street–worthy steak!" Luckily his insecurities didn't prevent him from eating 80 M&M;'s and several meatball subs from Pret A Manger. "I think it's crazy telling you what I ate in an effort to reveal who I am. You see me as you want to see me. In the simplest terms, I'm a brain, an athlete, a basket case, a princess and a criminal." (He also might have colitis … he'll explain.) Read about his contemplation of women at Daddy-O and imaginary tilapia at dell'anima in this week's New York Diet.

Friday, July 27
I was editing my comedy album at 30 Rock, and any trip to that building means grabbing food from the restaurants … in the basement. I got a New York meatball wrap and salt-and-vinegar chips from Pret. The establishment's full name is Pret A Manger but let's pretend it's not.
For dinner I ordered Alpha Sushi because they slid their menu under my door a few months ago. I hate when they do that because I see it as a form of trespassing. And because it always works on me 100 percent of the time. I ordered miso soup, veggie spring rolls as a joke, and a golden dragon roll. I order from Alpha a lot. Enough that I may make some small talk with the delivery guy next time. Not gonna rush it, but I think we're ready for a new level of commitment.
I went over to a friend's and she put a bowl of M&M;'s out on the coffee table and I probably had twenty of them. I also had a couple beers and thoroughly enjoyed an evening of Olympics and Beyond Balderdash.
Around 4 a.m. that night, watching a White Sox game, I started to have a watermelon Jolly Rancher and was like, what am I doing with my life? I spat it out. A straight up diss to that weak-ass candy.
Saturday, July 28
At noon I met with a man who works in Hollywood. He was passing through NYC and wanted to have lunch. I had to pick the place which is always hard but I love a café at 551 Hudson that honestly seems to just be named Café. The Hollywood guy probably thought he was more Jewish than someone named O'Brien, but I ordered the lox and bagel and complained about my feet a lot to throw him off.
Hey, we should get something out of the way … remember earlier when I said I had twenty M&M;'s? Let's be realistic. I probably had 80.
So I've got a Saturday night at my disposal and know that everything I ingest will be recorded. Turns out that's a ton of pressure. I decide to take my Ed McBain procedural cop novel to Tavern on Jane for a steak and a beer. But some couple was sitting at the corner of the bar with the good light so I walked right back out. I realized that I'm way too thrown by this assignment. I scoped out Old Homestead and was not into it. This food diary had me overthinking everything.
I headed to dell'anima on Eighth Avenue. Quick story about this place: I had my favorite bite of food ever in my life here about a month after moving to NYC. It was a tilapia appetizer and it melted in my mouth like fish cotton candy. I've never since been that food-happy and whenever I'm in this restaurant I ask the wait staff about the tilapia and they say that they never, ever have had tilapia.
I sat at the bar that faces the chef. I got my Ed McBain novel out. I once sat next to Malcolm Gladwell while he read an advance copy of Soccernomics at this very bar so I feel very New York and worthy right now. I have the octopus appetizer and hangar steak entrée. It ruled.
Afterwards, I went to McKenna's on 14th to play their CSI pinball game and have a Dogfish IPA. I didn't play well but I knew that there would be better pinball nights for me ahead and at least it's not like a bunch of men are putting stuff into my butthole. Perspectives …
Sunday, July 29
I ate a lox and bagel from Café to start this day. I'm a man of ritual.
I went to dinner that night with my best friend Shelly, her fiancé Ben, the director of "7 Minutes in Heaven," Rob Klein, and his fiancé Lucy. Okay, so Rob and Lucy aren't engaged but I'm all for it! We ate at Parm in Soho. I got a dish called the Chinese, which is way too general a name. Ribs on top of fried rice. We also had pizza rolls as an appetizer and everything across the board was good that night in this little town on the east coast.
Monday, July 30
Back to editing the comedy album at 30 Rock, so that meant Pret from the basement, then a Chipotle sandwich and a Coke. Classic, not New Coke. Call me old-fashioned.
By the way, I have not mentioned this, but picture an almost steady intake of hot black teas all day every day. They go into me a lot. Am I a bad boy, mama? I no get breast-feed tonight? But mama I such a good baby boy and even started washing the bad place like you said to!!!!
Sorry.
Okay, so when I finished my day of editing audio sketches and entered my apartment, I was furious and thrilled to find a new menu in the foyer — to be fair, it could be said that my apartment is 76 percent foyer. It was from a sushi place named Amber. I stared at the menu. Who is this mysterious Amber? The new girl in school had my full attention. I tickled the menu a little. Then I noticed my blinds were open. I closed them and then tickled Amber until she was laughing uncontrollably and then I kissed her neck and got a paper cut. Anyway, I asked Amber to bring me Spiced Filet Mignon Mini Burgers and a Golden Buddha roll. The food arrived insanely fast. Too fast. Like eight minutes.
I didn't finish my food cause I was nervous for some tattoo work being done the next day. But as nervous as I was, I focused on the fact that a tattoo is nothing like a bunch of guys putting stuff in your butt. All of a sudden the tattoo pain was manageable.

Tuesday, July 31
I decided to work out on this day. I belong to an awkward gym in 30 Rock itself. After that, I hit Potbelly's in the 30 Rock basement, which reminds me of Chicago. I ordered a "Skinny Wreck."
That night I had dinner with my favorite teacher from college! How often do you get to do that? We met at Daddy-O on Leroy. My order: burger, tater tots, beer. America. He had two PBR's (also America!) and we tried to figure out "women."
At 4 a.m. I was watching the White Sox and popped in a jolly rancher. Yucko. It's like, why?? Do I have some kind of sugar imbalance? Don't answer. I want it to be a surprise when I find out from a doctor…

Wednesday, August 1
I was editing the comedy album at 30 Rock so I had another freaking New York meatball wrap from Pret.
A few hours later I was hungry again and on the prowl for that special gal. And right now it's Amber for me. Amber Sushi. At least for the moment, until I see a spider vein in her legs (ladies, get the surgery!!).
I had a Corona Light and that'll be it until 3 p.m. tomorrow. And then IT happens. A bunch of men will put a camera and maybe other things into my butthole. I've been a good boy but it's happening.
They say they need to look there, the final frontier After space and the oceans, the last place we haven't really snooped around enough is my butthole. Well there'll be one small step for man tomorrow, into my butthole. It's to check for colitis. Most likely I just have a nervous stomach caused by the thought that there are men out there that would just as soon put machines in your butthole as slip a menu under your door. Perhaps that's the euphemism I'll use: "This morning wasn't fun. Some men shoved a menu way up under my door!"
Maybe there's something good up there. Maybe there's a girl up there that's kind of charming. And maybe she's my daughter. I've never dated anyone long enough to have a daughter, but I know I'd do a good job if they find one up there and I get to raise her.
Anyway that's what I ate my final five days before the men went up there.