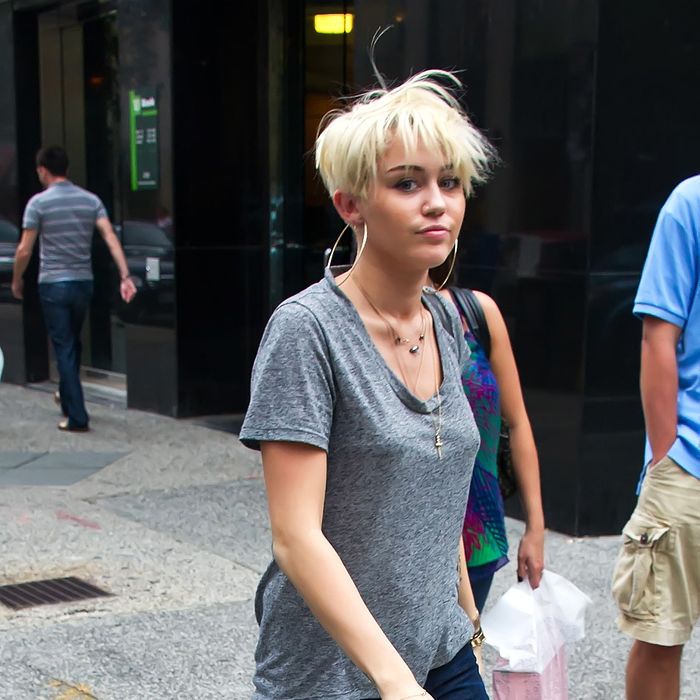 Miley and her haircut hit the town.
Photo: Ouzounova/Splash News
This week, New York was a celebrity playground. The Mayor gave a ringing review to Alobar in Long Island City, Ed Westwick talked himself out of a fist fight in French at No. 8, Lindsay Lohan partied at Electric Room, and Miley Cyrus (and her haircut) kissed a girl at the Darby. Plus, Blake and Ryan shared some high-cal treats at Serendipity 3, the real-life Social Network twins had two birthday cakes at Jezebel, and Sofia Vergara pitted her first lady admirers against each other at Old Homestead Steakhouse. All the deets and eats straight ahead, in our weekly roundup of celebrity dining.
Alobar: Now we know how Mayor Bloomberg lets loose after a long meeting. The mayor's beefy bodyguards informed management at the Long Island City restaurant that he'd be arriving in ten minutes, and he and a female friend showed up famished. Apparently dining on a suggestion from Councilman Jimmy Van Bramer, Bloomberg had the popcorn and meatloaf, while his friend ate beet salad and salmon; both had two glasses of white wine. Before leaving, he proclaimed to the bar that he'd had a great meal, then tipped 30 percent. [Grub Street]
Ava Lounge: Raven Symoné and her Sister Act castmates stopped by the rooftop bar after the show's Broadway close on Sunday, and owner Ric Addison sent over four bottles of Moët & Chandon Rose to toast them. [NYDN]
Dorrian's Red Hand: To prep for her upcoming move to New York, LiLo has been diving into the city's nightlife. Tuesday night she sang karaoke to Lady Gaga with vodka sodas in hand at the preppy UES joint before heading down to Electric Room to occupy the center booth with friends. [NYDN]
Dream Downtown: Former footballer Plaxico Burress drank Sauvignon Blanc poolside on Tuesday. [NYDN]
Isola Trattoria & Crudo Bar: Jonah Hill sipped a Coke while his friends had pizza at the restaurant inside the Mondrian SoHo. [Page Six/NYP]
Jezebel: The real-life Winklevoss twins, portrayed in The Social Network, celebrated their 31st birthdays at the glamorous kosher spot with fifteen friends. There was a communal rendition of "Happy Birthday" before the group ate warm olive-oil cake and chocolate cake and partied until 1 a.m. [Page Six/NYP]
KTCHN: After she filmed a scene for Smash at the home of Ian Reisner and Mati Weiderpass, Jennifer Hudson dined at the restaurant in their resort — The Out NYC — with former French Vogue editor Joan Buck. [Page Six/NYP]
La Esquina: Miley Cyrus took her new haircut out to dinner before a night of partying at The Darby (where she playfully kissed a girlfriend) and then 1Oak, where she met up with fiancé Liam Hemsworth. [Page Six/NYP]
No. 8: Oh la la, Ed Westwick avoided a brawl outside the meatpacking club by talking it out, en Francais. [Page Six/NYP]
Old Homestead Steakhouse: Sofia Vergara was overheard Tuesday saying Ann Romney's comment about Modern Family being her favorite show caused some amusing publicity for the actress. She also chatted about Michelle Obama inviting her to the White House because she also loves the series. Vergara accompanied her man Nick Loeb to the meatpacking spot where he was previewing an onion-crunch-topped burger that'll appear at the New York Wine & Food Festival. [NYP]
Serendipity 3: Hat-clad Blake Lively and Ryan Reynolds shared a Peanut Butter Frrrozen Hot Chocolate and some hot fudge sundaes with sides of peanut butter. [People]
Splash: Kathy Griffin performed a dance (and autotuned) version of "I'll Say It" — the theme song for her show Kathy — in a J. Lo–esque lime green Michael Kors, flanked by men in Speedos. [Page Six/NYP]
The Standard: Rebecca Minkoff, Olivia Palermo (with boyfriend Johannes Huebl), and Julie Henderson played some tennis at the Tiny Tennis Invitational atop the hotel celebrating the start of the U.S. Open. Palermo beat Ludovic du Plessis, who later entertained Amanda Seyfried at the Moët suite at Arthur Ashe. [Grub Street]
Super Linda: Sanaa Lathan had dinner at the Tribeca spot. [Page Six/NYP]