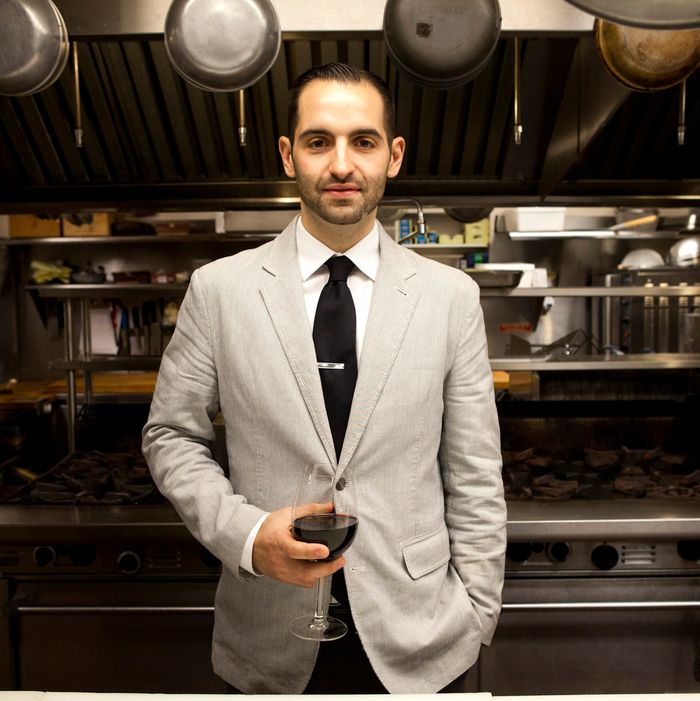 "You get handed a rifle by an old man, then you go have dessert," says Carbone, at Tiro A Segno.
Photo: Nicole Franzen
New Yorkers know all about Mario Carbone and Rich Torrisi's turkey sandwiches, sacred tasting menu, and San Gennaro spirit, but the boys behind Torrisi Italian Specialties, Parm, and the upcoming Carbone, are actually very private people. Which is why Grub Street was thrilled when Mario Carbone — who might be press-shy, but isn't gun-shy (you'll see … ) — agreed to give up all the dirty details on everything he eats. Read all about Mario's chicken legs, cheese melts, and once-a-month chivalry in this week's New York Diet.
Friday, August 26th
I've lived in the same apartment for eleven years. It's right off Washington Square Park, and there's a little electric, dormlike kitchen that hasn't been used since before I owned Torrisi. Rich [Torrisi] lives one floor directly above me. We call my apartment: Global headquarters.
My day always starts with a small iced coffee with soy from Oren's. Then I had a mixed fruit cup from my local bodega, where ALL of my groceries come from. I started to take my health more seriously recently, because I've just been so worn down, so out of whack. So, ideally, I'd start my day with a run. Just not today.
Drank a piña colada juice from the Juice Press on Mott. I think chefs like juicing because it's a nice, clean product.
Family meal at Torrisi is always chicken legs because the menu there is so streamlined that there's never anything extra leftover. So we buy chicken legs for the staff. Every. Single. Night. Parm has more to play with; but as we prepare for Carbone, I'm spending more time at Torrisi. Stylistically, it's easier for me to gear up there.
The night ended shoving a piece of a random "melt" that one of my guys named Panama makes nightly. Tonight's experiment had deli meats, provolone, and mustard with a thousand-island dipping sauce. Yeah, very healthy at 11 p.m. Why did you eat that, dumbass!
Saturday, August 25th
I mixed Kashi cereals for some excitement — Cinnamon Harvest and Berry Blossoms.
Went on a run. I listen to Pandora because I like not knowing what the next song is. I do a couple laps around Washington Square Park. Don't overestimate my running skills.
At work, I was starving, so I made myself a salad of everything sitting out on the garde-manger station at Parm: a little lettuce, some chickpeas. The cook on garde-manger fucking hates me!
I popped into Torrisi to see what their chicken leg du jour was. Turned out to be a pretty tasty braise of tomato, mushrooms and … is that wine?? Wow, the new guy downstairs really went the extra mile on this one!!
Walking home after service, I snacked on some delicious dried pineapples I had bought at Juice Press. By this point, on most nights, I'm a shell of human being; I'm a babbling idiot. I put my head down, get home, turn on the TV for a couple minutes, and pass out wherever I can.

Sunday, August 26
My day off.
I slept in, drank coffee, then got a text from one of my sous chefs at Torrisi: "Come check out this cous cous for Carbone." So I told myself that I'd be a good, responsible chef and go. I encourage all my guys to communicate with me, but of course, I'm like, "I can't even believe I'm walking to work right now."
I hit up Organic Avenue and bought a chai shake thing that had cashews in it. Very good! And a salad of kale, olives, and raisins that was lousy. Not gonna lie.
Went on a run. Running makes me feel normal.
Dinner was at Tiro A Segno — which means "shoot at the target," with Jeff, my partner, and his father-in-law. It's the oldest Italian American society in the U.S.; you have to be referred to someone to be a member and there's a jacket-required policy. I'm definitely going to become a member. We started with cold antipasto, then hot antipasto. We shared a couple of pastas … and I had veal capricciosa for my entrée. Before dessert, we hit the shooting range downstairs and then finished with cheesecake, cognac, and a cigar. I love this place. It's the basis of everything we want to do at Carbone — you know, the old, formal, Italian-American, even gaudy at times thing. There are only two rules: You can't bring in your own weapon, and you cannot bring your glass of wine downstairs. You get handed a rifle by an old man, then you go have dessert.
Monday, August 27
Coffee. Bodega run for breakfast.
Ate two fish tacos while walking to work from Fonda Nolita. They don't know me there, but that's because I'm not very friendly. Jeff walks into Fonda Nolita like he's Mayor Bloomberg. But that's not me. And it's definitely not Rich.
Family meal at Parm was pizzas, sadly not cooked enough. It sucked. I had salad with extra croutons instead.
That night, we had a company party at the Jane rooftop. It was a very late, very drunk night. A rarity for me. Late-night eats were at Mothers Ruin. I had a grilled-cheese sandwich there. Ridiculous. It came with onion soup to dip in. Ridiculous.
Tuesday, August 28
I woke up not feeling so fly. Coffee gods help me!!
I hit Juice Press for their gazpacho drink called Spanish Fly, then nothing else until late.
There's a female in my life who lives in L.A., and I only get to see her once or twice a month. We always go to Minetta Tavern at midnight when she flies in. That night we had a dozen oysters, smoked salmon, and turbot for two … sides of carrots, always, and their irresistible pomme puree. Someone sent us chocolate soufflé … I didn't need it, but killed it with no problem.
Wednesday, August 29
Skipped breakfast. Felt really gross from the last couple late nights.
We had our weekly team menu meeting at Torrisi. The whole team is present and we always elect one person to make something for everyone else. This week chef Sam Yoo made us a traditional breakfast from his childhood: fried spam, white rice, and kimchee. Yes, please! It's good in all the wrong ways.
Chicken leg à la barbeque for the family meal.
I have a real sweet tooth and am notorious for stealing chocolate coins out of the walk in; my pastry chef hates me as well! Then I sat with a couple of my best friends who came into Parm for a late dinner. Luckily, I dodged Panama's melt on the way out. I had eaten like crazy all week, so there was no need to go there. I was like, "Go home, Mario, eat a dried pineapple."