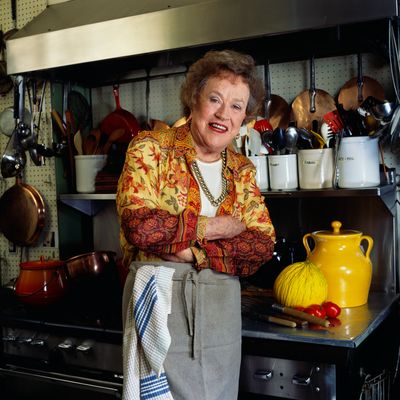 Still a hot commodity.
Photo: Nora Feller/Corbis
Happy belated birthday, Jules; here's a lawsuit! BSH Home Appliances, which makes Thermador ovens, is suing the Julia Child Foundation for Gastronomy and the Culinary Arts over controversial photos. Boston's Universal Hub reports that the Foundation was threatening to sue BHS over shots of Child using the oven in question, but BSH struck the first blow. To paraphrase the lawsuit, Thermador says it can use whatever the hell photos it wants.
Thermador insists it used one innocent photo of Child on their company timeline to note she used their oven when The French Chef first went on the air, and then another pic showing her tricked-out, Thermador-equipped home kitchen. Pretty harmless, right?
In the meantime, the photos have been taken down per the Foundation's request. Fortunately, nobody has sued PBS over this amazing auto-tune remix.
Oven Maker Heats up Copyright Dispute with Julia Child's Foundation [UH]
Related: Watch an Awesome Auto-Tune Remix of Julia Child's Cooking Philosophy
Happy 100th Birthday, Julia Child