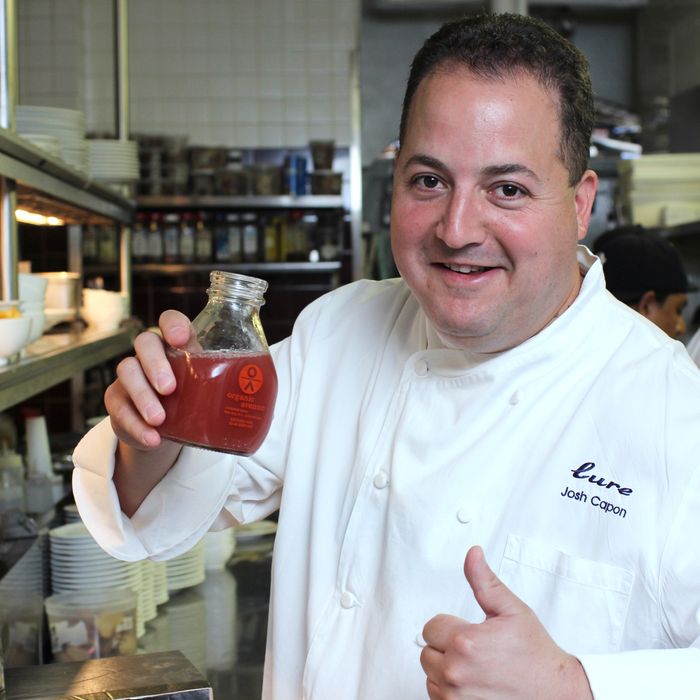 "Wouldn't it have been ironic if I did die after cleansing for three days?"
Photo: Melissa Hom
Today, Grub Street puts three "three-day juice cleanses" to the test via three stubborn, food-obsessed chefs. Not only did Lure Fishbar and Burger & Barrel's Josh Capon take the assignment seriously, but it propelled him into an entirely new state of mind. There were bumps in the road (and problems in the bathroom), but did he succeed? Read all about Capon's impassioned experience with Organic Avenue's "LOVE*fast."
Day No. 1
I often say if there is one thing I could change about my life it would be my weight. Don't get me wrong, I am 39 years old, married with two beautiful kids, and very comfortable in my own skin … but I could definitely lose a solid 20 to 30 pounds and I know I would feel better if I did.
I started with a chlorophyll shot followed by my watermelon juice. The green shot tasted like seaweed but the watermelon juice was deeelicious. And I love watermelon! I had to beg to do the beginner's cleanse, which includes some raw food with the daily deliveries. No way could I do this cleanse with zero food.
I feel good through the afternoon, obviously a little hungry but that's the story of my life. Time for the detox solution with cayenne. As hungry as I am, I'm having a tough time getting this down. A touch of heat up front, then an acidic, citrusy finish. I am hungry but this ain't doing it for me. The Greek salad is looking very good, but I have to pace myself.
Ugh. Just walked by the prep guys cutting up five watermelons. Usually I would eat about a half a watermelon. Not today.
Back at Lure for dinner and I am enjoying a carrot juice. Either I am starving to death or this is a really good carrot juice! Time for the raw Greek salad. Quite nice. But that definitely wasn't feta. According to the ingredients, it was cashews, macadamia nuts, and miso paste. Obviously I would have loved some grilled chicken or shrimp, but not today!
It's late and I just started the avocado-tomato-basil soup. I was really looking forward to it, but to be honest I am having a tough time getting it down. I am actually not that hungry and it's pretty rich. Tasty and very well seasoned. Still, I am getting a little nauseous.
Surprisingly not that hungry at the end of the day. The middle of the day was the toughest. I am enjoying a delicious cashew hemp mylk, thick and rich and delicious, before bed. My dessert for the day! I usually go home and eat a tub of watermelon but I guess not tonight.
Overall good day. Peed a lot and drank lots of water. No "No. 2s," in case you're wondering, but I usually do that when I go home and in the morning.
Day No. 2
I was concerned about being hungry before bed last night. But I must say I felt terrific as I tried to fall asleep. Almost euphoric if you will — and as if I was floating above the mattress. As a 220-pound guy I don't feel that way very often. It's usually more like a dead weight sinking into the mattress.
Woke up feeling good. Solid No. 2, but was expecting more of a "cleanse."
Started with an aloe shot. Kinda nasty but sucked it back. Hey, Jagermeister never tasted good but I used to suck them back too! I am following it up with a pear juice. DEEELICIOUS! Not sure where they find these pears but they are TASTY!
Was a little hungry in the afternoon but I feel good. Looking forward to my kale salad later. Wait, did I just say I am looking forward to my kale salad?? Who am I?? I must say Organic Avenue makes it interesting even for a fat guy at heart.
Not looking forward to the Turmeric Tonic. Guess those are the ones that do the dirty work. Drank it. Took a bit to get down. Much better then the cayenne one.
It's dinnertime and I am officially starving. Kale salad is calling my name. Never thought I would say that. Okay, ready for this? HOLY CRAP — that was not only the best kale salad I ever had, again, never thought I would say that, but just a great salad in general. Still a little hungry so I am drinking the Green LOVE. Tastes healthy, pretty good. Must say, I feel good, no headaches or any issues. Wish I was going No. 2 more.
End of the day almond mylk time! Cold and refreshing but not very tasty. Kinda nice and light actually. I think I feel a little euphoric, in a good way. Light on my feet, skip to my step. And ready for this? I am going SPINNING tomorrow with the Wifey. Boy, is she happy.
Day No. 3
Woke up at 9:30, went to the bathroom, not as much as I would have liked but hey, I ain't eating, so what exactly am I expecting to come out? I guess everything from the last ten years!
Wait for it … I WENT SPINNING today at Flywheel and I feel great! They play the music really loud, so I was cursing at the instructor every time she would tell us to "turn it up" and "give me all you got" and "can I get a AMEN" and I was like F.U.! And nobody could hear me. But I actually loved it! Instructor Jamie, I will never forget you.
Let's just say after spinning and cleansing for three days, I was walking back home and was delirious. Nothing looked familiar and I was literally stumbling. Almost got hit by a car. Quite a wake-up call. Wouldn't it have been ironic if I did died after cleansing for three days and my first real work out in three years?
Had an e3 shot — no idea what that was, but it's nasty. I figure the nastier they are the better they are for you. I followed that up with the watermelon juice as I needed something good to get me going. Delicious.
Around lunch, I am HUNGRY. Midday is the toughest. I drank the ginger lemonade. Kinda tough on such an empty stomach but I got it down. Seems to kill the appetite but I am still hungry. The toughest thing, just like every day of my life, is being around food all the time and saying no.
Then arugula-sprout salad time. Gotta say, their salads are really satisfying, I keep thinking I might incorporate them into my daily diet and maybe just add some grilled chicken.
It's the home stretch now. I have been working the room and I am on fire! I am telling my regulars about the cleanse and they are thoroughly entertained. I'm not sure where my energy is coming from. I think it's a combination of feeling good and light and a sense of accomplishment. I am delirious, hungry, and a bit emotional.
This is a big deal to me that I pulled this off. I am counting on myself to continue what I have started towards a healthier lifestyle. I plan on spinning twice a week at Flywheel and paying more attention to what I put in my body. I am going to be 40 this year and I have two beautiful kids and the best wife in the world, it isn't just about me. "The only thing you have to remember is how fortunate you are."
P.S. I lost six pounds!
Earlier: Alex Stupak's Exhaustion, Depression, and Exhilaration
Earlier: Michael White is Devoted to His Juices, Derailed By Reality