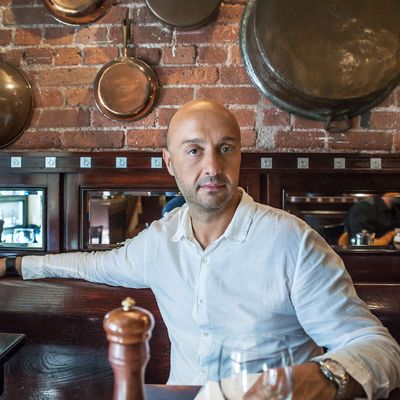 Bastianich, at Becco.
Photo: Noah Fecks
No matter what you think of the Food Network, it's arguably the most influential and certainly the loudest voice in today's food-media landscape. With that in mind, we wondered what some of the country's most prominent food lovers thought of the TV juggernaut. From time to time, we'll invite those people to watch a random, midweek afternoon hour of programming, and record their thoughts in the process. Today, a man who is very familiar with food television: restaurateur Joe Bastianich.
The opening sequence of Giada De Laurentiis's "Sunday Brunch" episode of Giada at Home alternates between shots of the host's signature teeth-and-boobs-by-the-counter and one of her on a paddleboard, clad in bikini bottoms and a long-sleeved surfer's shirt.
"Why wouldn't she do the full bikini?" Joe Bastianich says to nobody in particular. "She's got big boobs, a great body, and she's what? 40 years old?"
We're in the apartment that Bastianich keeps upstairs at his restaurant Becco, which he opened in 1993. Bastianich, of course, is no stranger to food television. His mother is Lidia Bastianich, his business partner is Mario Batali, and he serves as a judge on the Italian and American versions of MasterChef. He's also planning to head out to L.A. later this summer to work on a scripted show based on his recent memoir, Restaurant Man. (His dream pick to play the title character: "Ryan Gosling," he says, without missing a beat. Then: "Well, I used to be fat. Maybe Stanley Tucci.")
Given his experience with the medium and his tendency to let loose with insults, we sit down to watch the show with Bastianich prepared for a torrent of negativity. But, at first, Bastianich surpises us.
"For cooking voyeur television, she's really good," he says of De Laurentiis. "She can actually cook, she looks good, she speaks clearly."
But, one second later: "She's making a frittata with vegetable oil — what the fuck?"
The thing that seems to displease him most about the show isn't the host, it's her take on Italian food designed to appeal to the masses.
"No self-respecting Italian would ever make a frittata with vegetable oil," he continues. "Vegetable oil you put in your car. It's a low-class lipid, one degree above lamp oil. The rule on olive oil is, you find the most expensive bottle you can afford…and then spend $10 more."
When De Laurentiis adds fruit to her frittata, Bastianich can't take it. "Spinach, zucchini, ricotta, okay," he says. "But peaches and cherries in a frittata? I'm telling you she wants to be making a pancake, she just forgot the flour." As she drizzles maple syrup on top, he groans.
He's also not a fan of the tongs she uses to toss a salad ("I think anytime you can not touch food with sharp, metallic objects, it's better") and curls his lip when she spoons extra salad dressing on smoked salmon she used to top the salad. "What you need on that salmon is two squirts of lemon, olive oil and salt."
Even still, as the episode winds down, Bastianich renders the show "classy" and says he'd eat most of what she made on the episode — that fruit frittata didn't sit as well with him, though.
Bastianich reveals that he doesn't watch too much food television anymore, but when he does he sticks to the classics like his mom's show, which he calls "the last remnant of intelligent food television," and "old Julia reruns."
What about Julia Child's frequent collaborator, Jacques Pépin?
"Jacques is good," Bastianich says, "but I can't understand what the fuck he's saying."
Next on the schedule is Guy Fieri, headed to Baltimore on an episode of Diners, Drive-Ins and Dives. But Bastianich has picked up a nearby guitar and is strumming, absent-mindedly. He appears more involved in the guitar than Fieri until a waitress on the show plops a Cap'n Crunch–coated pile of French toast in front of a young, grinning customer.
"In cooking shows, they show 12-year-old boys eating plates of food with 4,000 calories on them," he laments. "It's not good for anyone. I'm not saying it doesn't make good TV, and that it's not part of Americana. You can have it once in a while, but as a lifestyle it's just not sensible."
Of course, anyone familiar with Bastianich's history — he stopped smoking, cut down on drinking, and began competing in marathons and Ironman competitions — knows that indulgence was once a familiar theme in his life. "My downfall was, me and Mario would go to Balthazar every night at one o'clock," he says. "A magnum of Bourdeaux, a Côte de Boeuf for two, and French fries until five in the morning — literally, every night."
Earlier: Couch Potatoes: Watching an Hour of Food Network With Mimi Sheraton