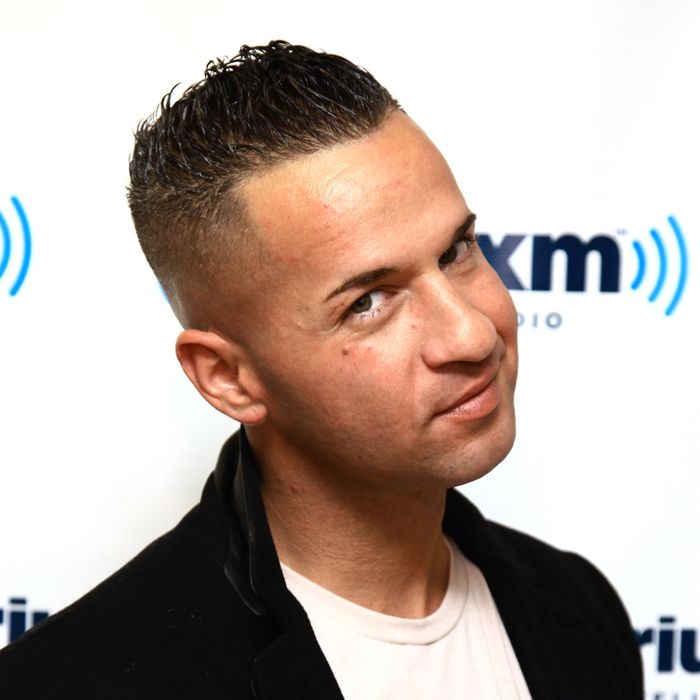 The Sitch: eschewing booze.
Photo: Neilson Barnard/Getty Images
This week, the Bachelorette's Emily and Jef moved their canoodling to another locale — Marble Lane — and Derek Jeter secretly canoodled Ralph Lauren model Hannah Davis at Double Seven. "The Situation" sipped virgin cocktails at Hurricane Club (yep, you read that right), and Demi Moore partied with the cast of Bourne Legacy at No. 8 and needed a Red Bull to make it through lunch the next day. All this and Moore — er, more — in our weekly roundup of celebrity dining.
Balthazar Bakery: Dakota Fanning took her coffee and snack to go at the Soho spot. [Page Six/NYP]


Double Seven: Derek Jeter and Ralph Lauren model Hannah Davis flirted on the D.L. at the meatpacking club for the last Avenue A Soundcheck bash of the summer. Jeter left first, but Davis quickly followed. [a href="http://www.nypost.com/p/pagesix/jeter_out_with_new_beauty_mSPzq9Ux6xiEWEAmpQGjwJ">Page Six/NYP]

The Highliner: A day after her No. 8 romp, Demi Moore had a late lunch with some pals and a Red Bull. [Page Six/NYP]


Hurricane Club: Mike "The Situation" Sorrentino partied with one male friend and five ladies Friday night, where he drank only virgin coconut cocktails at dinner. He was allegedly rehabbed this spring for a pill addiction. [Gatecrasher/NYDN]


Indochine: Singer Miguel's late-night dinner at the restaurant kept fans, Wyclef Jean, Elle Varner, Melanie Fiona, and RCA execs waiting for his secret show at Joe's Pub to promote his new album Kaleidoscope Dream on Tuesday night. [a href="http://www.nypost.com/p/pagesix/singer_dream_laUxcqa4xUmoS0TuNNUADK">Page Six/NYP]

Gallow Green: Evan Rachel Wood attended a performance of Sleep No More on Friday dressed as a nurse, then drank with the cast and members of No Doubt (sans Gwen Stefani) at the McKittrick Hotel's new rooftop bar. [Gatecrasher/NYDN]

Jezebel: The hot spot was hopping last night, with visits from a very pregnant Jemima Kirke (of Girls), who dined with her husband and socialite Esther Silber. Also in the house: Jack Abramoff, and ex-Ranger Aaron Vorros.

Marble Lane: Emily Maynard and Jef Holm of Bachelorette fame continued their love fest (and birthday celebrations) at a hotel party for Holm's 28th. While the pair canoodled, friends sipped Champagne and chowed down on burgers and seafood before making their way to the rooftop. There, they watched a "shocked and embarrassed" Holm receive a birthday cake. [People]


No. 8: After The Bourne Legacy premiere Monday, Demi Moore attended a secret after-party for 100 that included Jeremy Renner, Daniel Craig, Rachel Weisz, and Marisa Tomei. [Page Six/NYP]


STK Midtown: 50 Cent met with Kery Davis — HBO senior VP of sports programming — over dinner Tuesday, amid a series of meetings with professional boxers. [a href="http://www.nypost.com/p/pagesix/fighting_chance_3Ti8anUSsxCHxrajqAVG9L">Page Six/NYP]


Tiny's: Catherine Keener, Philip Seymour Hoffman, and Edward Norton had dinner. Oh, to have been a fly on the wall. [Page Six/NYP]


Top of the Standard: Kelly Rowland was surprised by fireworks on Tuesday night at TW Steel's party in her honor. [NYDN]


Toy: Channing Tatum's was the latest posse to dine at the meatpacking hot spot. The gaggle of guy friends ate a late-night meal Saturday, where Tatum knowingly ordered off the menu filet mignon with sautéed vegetables and a glass of red wine. [People]