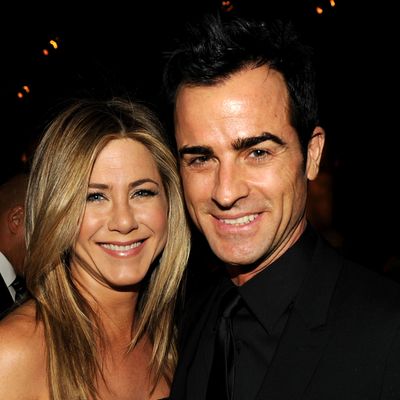 Wedding bells for Jen at last!
Photo: Kevin Winter/2012 Getty Images
This week, Olympic stars made their way back over the pond from the Summer Games, and New York's nightlife scene was decidedly Olympic-tinged. The Fab Five showed up at the Yard, Cullen Jones went on a bender that included Goldbar, and King Lebron James & Co. partied at Del Posto and Avenue in a New York romp fit for champions. In other news, Robert Pattinson held back tears of grief during a whirlwind New York tour that included a mo(u)rning TV appearance, a screening, and an after-party for his new film Cosmopolis at PH-D. Oh, and Jennifer Aniston and Justin Theroux got engaged at Blue Hill. All this and more hard-hitting news in our weekly roundup of celebrity dining, straight ahead.
40/40: Jordin Sparks, her mother, and friends watched the Olympics closing ceremonies from the stadium seating inside Jay-Z's Flatiron club, where they drank some Olympic-themed cocktails and snacked on catfish and chicken fingers. [Grub Street]
Blue Hill: Justin Theroux celebrated his 41st birthday at the restaurant, but it was girlfriend Jennifer Aniston who got the surprise — an engagement ring. Theroux reportedly produced an eight-carat emerald-cut diamond later that easily ran six figures. [Page Six/NYP]
Brother Jimmy's BBQ: Rod Stewart and a party of eight lunched on marbled brisket and ginger ale Monday. [Page Six/NYP]
Del Posto: Gold medalists LeBron James, Carmelo Anthony, Kevin Durant, and James Harden partied American-style fresh off the plane from celebratory shenanigans in London with a New York marathon celebration thrown by Steve Stoute. The basketball stars feasted on a five-course meal at Mario Batali's hot spot before heading to a packed bash at Avenue. The velvet rope venue was draped in USA colors and full of beautiful women. In a true picture of legends, LeBron danced in a booth, Melo swung around a bottle of Don Julio 1942, and the Durantula took his shirt off. … And a good time was had by all until 3 a.m. [Page Six/NYP]
Gallow Green: Actor Ezra Miller — who this month came out as gay and more recently was in a taxi accident with a fire truck — limped into a party at the McKittrick Hotel bar using a cane Monday night; Shia LaBeouf was also in attendance. [Page Six/NYP]
Goldbar: New Jersey-born swimmer Cullen Jones celebrated his own Olympic medals (two silver) on Sunday night at the Soho spot. Jones, Ice-T, and his wife Coco hung out near the D.J. booth until 2 a.m. The night before, Ice-T partied at a Busta Rhymes show at 1Oak, and Jones partied at RdV the night before that. [Gatecrasher/NYDN]
PH-D at Dream Downtown: R Patz put his grief aside Monday night, sipping a beer and smoking an electronic cigarette at the after-party for his new film, Cosmopolis. Judah Friedlander, Shia LaBeouf, Paul Giamatti, and Felicity Blunt were also there. [People]
The Yard at SoHo Grand: Jordin Sparks, along with Aly Raisman, Kyla Ross, McKayla Maroney, and Jordyn Wieber (a.k.a. four of the Fab Five), joined many others at the party following a tear-jerking screening of Sparkle — Whitney Houston's film swan song. [Page Six/NYP]