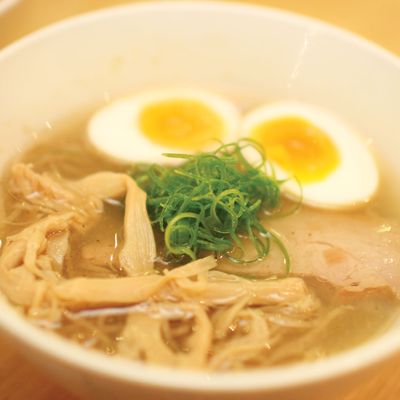 Photo: Melissa Hom/New York Magazine
Long Island native Ivan Orkin taught English in and ate his way through Japan in the eighties before returning home to cook at Mesa Grill and Lutèce. Missing soulful bowls of ramen, and serious about his dashi, Orkin immersed himself in lore and technique. In 2007, he defied the odds by opening Ivan Ramen in Tokyo, where deeply ingrained noodle-shop culture is ruled by pork whisperers, and critics can dash a young cook's dreams with a mere mention of soggy bamboo shoots or noodles that lack kink. Orkin prevailed, spawning a second shop and even a line of instant soups. Last month, his guest appearance at Momofuku Noodle Bar was met with a queue that snaked down First Avenue. Consider that pop-up a preview: This fall, Orkin plans to unveil Ivan Ramen New York, a 50-seat ramen-ya, his first outside Japan, somewhere below 14th Street. A rice bowl with pulled pork, shredded leeks, and roasted tomato will appear on its menu, joining the "triple garlic" mazemen, thick noodles laced with bacon and pork fat, a dish created expressly for New York.
In other ramen news…
Ramen Yebisu
Akira Hiratsuka's menu features five kinds of ramen, including the seafood-based house specialty, plus abura soba, a dish of brothless noodles dressed with roast pork, soy, and lobster-infused oil. 126 N. 6th St., nr. Berry St., Williamsburg; 718-782-1444; Aug. 28.
Ganso
Harris Salat was writing a cookbook with Matsuri chef Tadashi Ono five years ago when he met Ryuji Irie, the restaurant's chef de cuisine, who cooked ramen for staff meals. Matsuri has since closed, but Salat and Irie have teamed up to open Ganso, showcasing the chef's shoyu ramen plus Japanese-style comfort food. 25 Bond St., nr. Livingston St., Downtown Brooklyn; no phone yet; Sept.
Ippudo (Midtown location)
Smaller than the East Village outpost, with a different look and a new menu (not to mention its own custom-made noodle machine). Even the signature tonkotsu-based akamaru modern ramen will be entirely reconfigured. 321 W. 51st St., nr. Eighth Ave.; no phone yet; Dec.
This story appeared in the August 27, 2012 issue of New York Magazine.