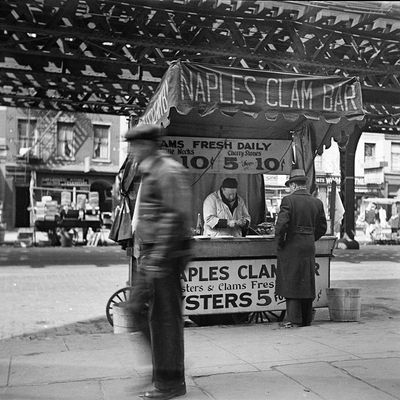 Clams for sale, circa 1936.
Photo: Courtesy of the Collections of the Museum of the City of New York
New York is an oyster town: European colonists ate them raw on the sidewalks. Pearl Street was named after the four-foot shell piles that were once a common sight in lower Manhattan. And, of course, every new restaurant these days has an oyster bar. We consider the oyster so much because we can't get past the myths that also tether to our benthic dreams, which are only as true as we make them. But hey, what about clams? After all, clam bars are as much a part of New York's food history as delis, pizzerias, and bagel shops. They just haven't gotten as much love lately. Luckily, it looks like that's changing.
In the 1800s, Italian and Chinese immigrants opened spots specializing in clams, which were cheaper than oysters. In 1889, the Evening Sun reported on a ten-seat restaurant on Fulton Street called the Clam, "devoted exclusively to the sale of clams and clam products" — perhaps New York's first-ever single-serving restaurant, the way-ahead-of-its-time spot served more than 50 kinds of clam dishes.
In the sixties, Sweets had fried cherrystones, and Whyte's on Fulton Street served soft clams sauté on toast; going into the mid-twentieth century, Vincent's and Paddy's Clam House reinvented the raw bar. And after becoming chef at Gage & Tollner in 1988, Edna Lewis noted that the restaurant once "served clam bellies in fifty different ways," before knocking the soft-shell clam menu down to a mere sixteen selections.
Around that time, supply dropped: The clamming industry on the Great South Bay, which had supplied the vast majority of New York City's clams, lost millions of clams and thousands of jobs starting in 1976. In 1985, whatever extant shellfish beds remained under the murky surface became untenable; the haul in 1976 was 750,000 bushels. By 1986, it plummeted to 104,000.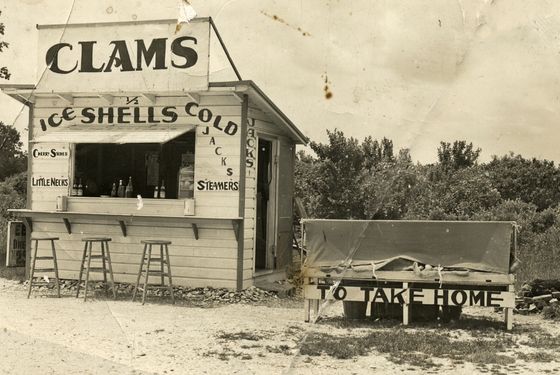 A clam shack that belonged to the author's family in the mid-thirties.Photo: Courtesy of Hugh Merwin

But around the same time, up in Boston, Jasper White opened Jasper's restaurant in 1983, which renewed interested in a particular kind of late-modern, seriously New England–inspired fish shack. In turn, that aesthetic eventually informed the opening of places like Pearl Oyster Bar and Mary's Fish Camp in New York. New York's grand clam palaces have given way to the smaller New England–style clam shacks that now line New York's streets.
There is, of course, the aptly named Littleneck in Brooklyn, which, at this time last year, was raising money on Kickstarter in order to finish its build-out. It's such a hit that now co-owner Aaron Lefkove is working on his second restaurant.
Smorgasburg and DeKalb Market have raw-bar stands that sling clams; a semipermanent fish shack opened on a Roosevelt Island pier; the Nantucket-inspired Grey Lady replaced a burger joint on Delancey Street; and with its assortment of house-made bitters and cherrystones grilled in seaweed butter, Extra Fancy mixes deluxe cocktails and a menu that invokes what co-owner Mark Rancourt — who put once put in time at Thompson Bros. Clam Bar in Cape Cod — calls the "New England Culinary Diaspora."
There's lots more: The $35 per-person Friday night clambake at Court Street Grocers features lobster, clams, sausage, corn, potatoes, Parker House rolls, and a dessert brownie. At Potlikker, Liza Queen drew from her mother and grandmother's stories when she put the restaurant's Sunday night clambake menu together. The $16 option is necks, a giant link of house-made chorizo, corn, and potatoes steamed in a spicy broth made with Queen's version of Old Bay.
The clam revival is even in effect at the very highest-end of Manhattan dining: Torrisi Italian Specialties features a version of clams casino on its New York–homage tasting menu. At Eleven Madison Park in the fall, Daniel Humm will riff on a clambake. It will be put together table-side, a flask of seawater poured over an arrangement of superheated rocks and seaweed.
The good news is there are more on the horizon: In 2002, Bluepoints Oyster Company donated around 12,000 acres of their old bay bottom lease — about 30 percent of the bay — to the Nature Conservancy. Three million adult clams were added to the water. In 2008, the number of baby clams in that same spot was 250 million. It will be some time before these clams are dinner, but it's reason enough to start considering the clam.
For anyone who wants even more clam-culture-talk, Hugh will be on a panel tonight discussing exactly that at the South Street Seaport Museum at 7 p.m. Tickets are $12, but can be purchased for $6 by using the code GrubSt801 at checkout here.