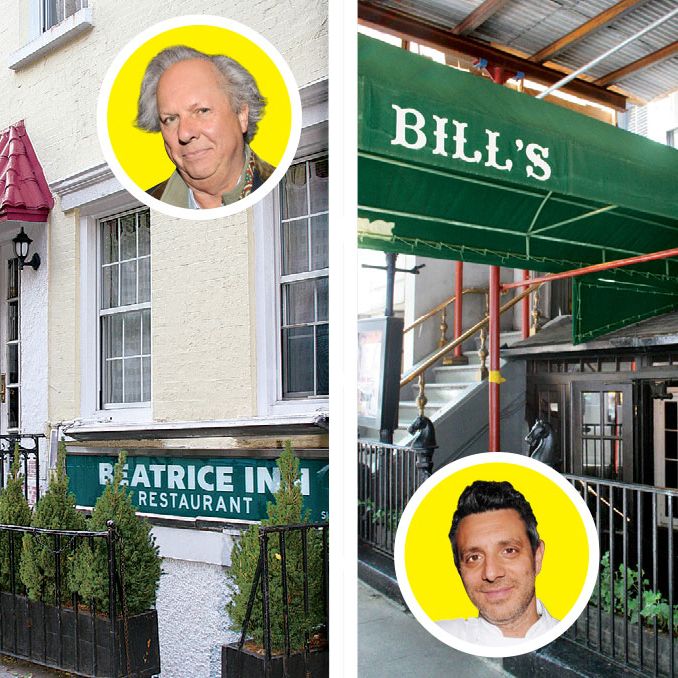 Photo: Shanna Ravindra (Bill's); Yun Cee Ng (Beatrice); Patrick McMullan
Vanity Fair's Graydon Carter and his onetime Waverly Inn chef John DeLucie seem to be in a race to acquire New York's oldest, most storied properties. Here's what they're planning this fall.
The Beatrice Inn
285 W. 12th St., nr. W. 4th St.; 646-896-1804; late Aug.
Then: A twenties speakeasy that evolved into an Italian neighborhood joint, with bow-tied waiters, an old-school red-sauce menu, and regulars like Charles Kuralt; reopened in 2006 as a notoriously sceney nightclub that the city shut down in 2009.
Now: The newest pet project of Graydon Carter (and partners Emil Varda and Brett Rasinski), who never met a low-ceilinged, fireplace-equipped fixer-upper he didn't like.
On the Menu: Classic chophouse dishes, as well as a few nods to the restaurant's Italian-American past, courtesy of former Per Se sous-chef Brian Nasworthy. Carter has also promised a formidable martini, which the Inn used to be famous for.
Sister Spots: The Waverly Inn, just around the block, and the Monkey Bar in midtown.
Bill's
57 E. 54th St., nr. Madison Ave.; no phone yet; Sept. 15.
Then: Bill's Gay Nineties opened as a speakeasy in 1924 and operated as a lively bar-cum-New York history museum until the last owner, Barbara Bart Olmsted, lost the lease in March.
Now: When chef-restaurateur John DeLucie took the space, he kept part of the prior tenant's name, but was less successful hanging on to all the furnishings and artifacts that gave the place its character. As previously, the bar will be downstairs, the dining room above it.
On the Menu: DeLucie and his executive chef, Jason Hall, will feature "American grill" fare like steaks, salads, and a raw bar.
Sister Spots: The Lion in Greenwich Village and Crown on the Upper East Side. (As fate would have it, Carter's Monkey Bar is right across the street.)
This story appeared in the August 27, 2012 issue of New York Magazine.