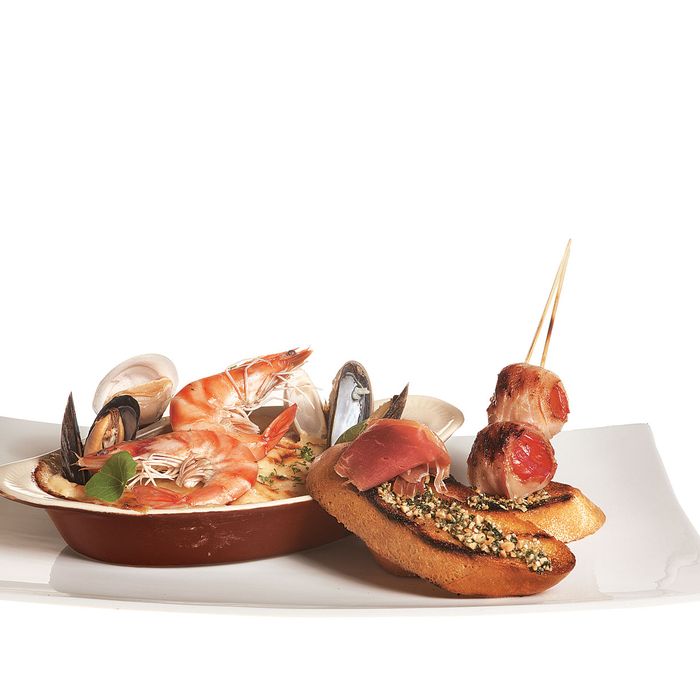 Rice with shellfish and pan con tomate at Tribeca Canvas.
Photo: Mete Ozeren/New York Magazine
Porsena Extra Bar
Because when Sara Jenkins' pasta-focused restaurant, Porsena, is closed during the day, we'll be able to duck into this wine-bar addition for pane e companatico, the Italian phrase for bread and things with bread. By night, it's all small plates: vegetables, oysters, cured meats, raw milk cheeses, and seafood. 21 E. 7th St., nr. Third Ave.; no phone yet; late August.
Fair Folks
Because the idea of a membership café has a certain allure, especially when it's operated by a couple whose prior Carnegie Hill and New Orleans locations gracefully melded art, commerce, and hospitality. Also, they claim they will serve some of the best cold-brewed iced coffee in town. 96 W. Houston St., nr. LaGuardia Pl.; fairfolks.us; Sept.
Rustic L.E.S.
Because Yassir Raouli's Bistro Truck is the latest movable feast to go brick-and-mortar, and the Moroccan-inspired menu goes beyond the familiar chicken bastillas and lamb burgers to exotica like deep-fried sweetbreads and grilled lamb-liver crépinette. 124 Ridge St., nr. Stanton St.; 212-677-6450; Sept.
Han Joo
Because until you've cooked steaklike slabs of Korean-style pork belly on a tabletop grill, rolled them into crisp lettuce leaves with zingy condiments, and popped them into your mouth like bonbons until you lost count, you haven't really lived. 12 St. Marks Pl, nr. Third Ave.; no phone yet; Sept.
The Butterfly
Because how many other Wisconsin native megachefs besides Mike White are opening Tribeca supper clubs this fall? 225 W. Broadway, at Franklin St.; no phone yet; Sept.
Still-untitled spot from the Traif crew
Because the new one from the Traif team will offer up more signature shared plates from Jason Marcus, plus an expansive wine list, in a feminine, loungelike setting. 241 S. 4th St., nr. Havemeyer St., Williamsburg; no phone yet; Sept.
L'Apicio
Because if the weather holds, fans of Gabe Thompson's urban Italian cooking and Joe Campanale's terrific cocktails can enjoy both on the expansive terrace—something the partners lack at dell'anima, Anfora, and L'Artusi. 13 E. 1st St., nr. Second Ave.; 212-533-7400; Sept.
Krescendo
Because pastry pioneer Elizabeth Falkner, of San Francisco's late Citizen Cake (and Food Network fame), might be the last person we'd expect to open a Brooklyn pizzeria. But baking's baking, and a recent first-place finish in the World Pizza Championship in Naples proves she's serious. 364 Atlantic Ave., nr. Hoyt St., Boerum Hill; no phone yet; Sept.
Jeepney
Because the Maharlika team's Filipino gastropub will focus on family-style "barrio-fiesta" fare, from fish-head soup to braised-and-fried "Loser's rooster." The joint's name refers to the Philippines' most emblematic form of public transport: colorfully refurbished WWII-era U.S. military jeeps. 201 First Ave., nr. 12th St.; 212-318-0152; Sept.
Brinkley's Station
Because it will be interesting to see how the Martignetti brothers' pubby concept plays in the staid surroundings of the 1890s-era former bank building last occupied by Desmond's. There's a fireplace on the mezzanine and Chanterelle alum Keith Harry in the kitchen, assembling lobster clubs and grass-fed burgers.153 E. 60th St., nr. Lexington Ave.; no phone yet; Sept.
La Maison du Croque Monsieur
Because Jones Wood Foundry's Jason Hicks has concocted multiple enticing versions of the béchamel-sauced sandwich. And think of the spinoff possibilities: Le Château du Croque Madame, Casa de Monte Cristo, The House of Ham & Cheese…17 E. 13th St., nr. Fifth Ave.; no phone yet; Sept.
83 & 1/2
Because despite Ryan Skeen's much-blogged-about setbacks, even his detractors admit he can cook like a man possessed. To wit: Greenmarket-meathead dishes like pig's-head-and-lobster terrine with violet mustard, pea tendrils, and pecans. With 30 seats, a six-seat tasting bar, and a Jean-Luc Le Du wine list, it sounds downright intimate. 345 E. 83rd St., nr. First Ave.; 212-737-8312; Sept.
Proletariat
Because the expansion into what once was Jane's Sweet Buns means twelve new seats, an inventive food menu (pickle-back pâté, a whiskey-and-pickle aspic; beer-poached shrimp), and rare-and-unusual-beer tastings. 102 St. Marks Pl., nr. First Ave.; no phone; Sept.
LT Burger
Because this is Laurent Tourondel's first city opening since splitting from the BLT group, and his menu couldn't be more crowd-pleasing: burgers, plus casual bites like Mucho Nachos with brisket, Kobe hot dogs, and boozy milkshakes. 8 W. 40th St., nr. Fifth Ave.; 212-582-8200; Sept.
Salumeria Rosi Parmacotto Il Ristorante
Because who doesn't love Cesare Casella's Tuscan grandma cooking? And with roughly twice the amount of space as the tiny West Side branch, you lessen the risk of pulling a hamstring or spraining an elbow while maneuvering into your seat. 903 Madison Ave., nr. 73rd St.; no phone yet; Sept.
Heavy Woods
Because you already love the nearby Bodega, from the same team. Coffee shop by day; wings, po'boys, and cocktails by night. Spirits will "major in whiskey and minor in tequila and mezcal," says co-owner Ben Warren. 50 Wyckoff Ave., at Willoughby Ave., Bushwick; 929-234-3500. Bar Aug. 21; kitchen Sept.
The Wayland
Because the already excellent cocktail bar's expansion will add ten bar seats, two tables, and, most crucially, a full kitchen. Look for new dishes like whole brook trout and chicken under a brick. 700 E. 9th St., at Ave. C; 212-777-7022; Sept.
Root Hill Burger
Because this Root Hill Café spinoff has nine burgers on the menu, a chef who's worked at Gramercy Tavern and Prune, a 30-seat backyard, and kombucha on tap. 256 Fourth Ave., nr. Carroll St., Park Slope; no phone yet; Sept.
Sirio Ristorante New York
Because this sister restaurant to Sirio in Vegas takes design inspiration from Fellini's La Dolce Vita and culinary cues from owner Sirio Maccioni's Tuscan childhood. 795 Fifth Ave., at 61st St.; no phone yet; Sept.
Runner & Stone
Because ex-Per Se baker Peter Endriss has already garnered a weekend-market following for his flaky croissants and whole-grain loaves, and now he's teaming up with Blue Ribbon alum Chris Pizzulli on a bakery, bar, and restaurant. 285 Third Ave., nr. Carroll St., Gowanus; no phone yet; Sept.
Angolo
Because Michael Berardino's refined Italian menu will bring some diversity to a SoHo corner already anchored by a French bistro and a sushi bar. 53 Grand St., at W. Broadway; 212-203-1722; Sept.
Fletcher's Brooklyn Barbecue
Because Gowanus seems ripe for a barbecue joint, and pitmaster Matt Fisher comes by way of RUB BBQ. All regional styles will be represented, along with bar snacks like sliders and BBQ tacos. 433 Third Ave., nr. 7th St., Gowanus; no phone yet; Sept.
Pig & Khao
Because for former Top-Cheftestant Leah Cohen's collaboration with the Fatty Crew, she's delving deep into Filipino and Thai flavors with dishes like crispy pata and pickled mango salad. Seating is communal, and beer comes in cans or as self-serve, all-you-can-drink specials on tap. 68 Clinton St., nr. Rivington St.; no phone yet; Sept.
GRK
Because this fast-casual Financial District spot is keeping things simple by focusing on yogurt imported daily from Greece (fresh and frozen, savory and sweet), and "yeeros" (aka gyros), that pressed, marinated meat carved from a spit. 111 Fulton St., nr. William St.; 212-385-2010; Sept.
Harvist
Because after dining on head-on shrimp and Anson Mills grits with chicken-fried bacon, you can catch a show or watch a film at Harlem's newest arts and cultural center, which houses the restaurant. 40 W. 116th St., nr. Fifth Ave.; 646-688-5886; Sept.
Desnuda Cevicheria
Because the spot will have a similar seafood menu to the East Village original, but with an added "island-y" cocktail program from Frank Cisneros (Bourgeois Pig Brooklyn) and Tom Chadwick (Dram) and double the space—including a backyard bar. 221 S. 1st St., at Roebling St., Williamsburg; no phone yet; Oct.
Tribeca Canvas
Because if anyone can bring something new and delicious to the American comfort-food table, it's Masaharu Morimoto. His take: French-onion-soup dumplings, tripe in a bread bowl, and, yes, of course, mac n' cheese. 313 Church St., nr. Lispenard St.; 917-720-2845; Oct.
The Library at the Public Theater
Because as the icing on the cake of a $40 million renovation, Andrew Carmellini is doing all the food, from the lobby concession to the 50-seat mezzanine restaurant. 425 Lafayette St., nr. 8th St.; 212-539-8777; Oct.
Arlington Club
Because while he's not flipping patties in midtown, Laurent Tourondel will be teaming up with the owners of Tao on a 200-seat steakhouse and sushi bar. 1032 Lexington Ave., nr. 74th St.; 212-249-5700; Oct.
The Lobster Club
Because if you've had the Saratoga at Parm, you know that Rich Torrisi and Mario Carbone are to the club sandwich what Pat and Geno are to cheesesteaks. And because a shop dedicated to triple deckers, including a nod to Jersey's Town Hall Deli's "sloppy joe," is an idea whose time has finally come. 169 Thompson St., nr. Houston St.; no phone yet; October.
Daheen Wang Mandoo
Because they don't call these super-colossal kimchi-and-pork-stuffed dough balls wang mandoo (or king dumplings) for nothing. One could practically feed a family of four, and costs less than a ride on the subway. 2 W. 32nd St., nr. Fifth Ave.; no phone yet; Oct.
The Skylight Shoppe
Because New York nostalgists might find it quaint to ascend to the third floor of Maloney & Porcelli to lunch at a retro soda shop, where dishes will include an oysters Rockefeller po'boy, five kinds of wedge salad, and housemade ice cream. 37 E. 50th St., nr. Madison Ave.; no phone; Oct.
MP Taverna
Because Michael Psilakis seems constitutionally incapable of stopping spreading his Greek-cuisine gospel through Manhattan, the suburbs, and, with this latest nouvelle taverna, the most Hellenic of New York neighborhoods. 31-29 Ditmars Blvd., Astoria; no phone yet; Oct.
Lady Mai
Because you can trust the Bond St. team to open a sushi spot that's serious about food but still dark and sexy—especially around eleven when it will morph into a lounge. 355 W. 16th St., nr. Ninth Ave.; no phone yet; Oct.
China Latina
Because Crema's Julieta Ballesteros, a partner in this new hotel restaurant, has some interesting notions about Chino-Latino fusion: scallion pancakes with foie gras and lobster, for one. 127 W. 28th St., nr. Sixth Ave.; no phone yet; Oct.
Brooklyn Central
Because the Neapolitan-pizza craze shows no signs of stopping, and the Sottocasa alumni behind this place aspire to focus on Brooklyn-sourced ingredients and make their mozzarealla and charcuterie in-house. 289 Fifth Ave., nr. 1st St., Park Slope; no phone yet; Oct.
Manzanilla
Because two Spanish-food powerhouses (Boqueria owner Yann de Rochefort and Michelin-starred chef Dani Garcia) will partner on the first Stateside branch of Garcia's restaurant (the original's in Málaga). 345 Park Ave. S., nr. 25th St.; no phone yet; Nov.
The Marrow
Because after a Brooklyn-hotel location didn't pan out, Perilla and Kin Shop's Harold Dieterle and Alicia Nosenzo expand their mini West Village empire with this meat-centric destination for ostrich schnitzel, braised-brisket braciole, and a wine list heavy on Italian reds and German and Austrian whites. 99 Bank St., at Greenwich St.; no phone yet; Nov.
Nightingale 9
Because even if you couldn't tell from all that country ham and fried chicken, Seersucker's Robert Newton has always had a thing for Vietnamese food. 345 Smith St., at Carroll St., Carroll Gardens; no phone yet; Nov.
Mighty Quinn's BBQ
Because Hugh Mangum's brisket is a Smorgasburg sensation and the reason Smorgasburgers wait in line, Shake Shack-style, in the noonday sun. A spinoff into the former Vandaag space and a humongous new smoker increase the chances of getting your mitts on some. 103 Second Ave., at 6th St.; no phone yet; Nov.
Hanjan
Because Hooni Kim (Danji) is a brilliant Korean-American chef whose name still flies slightly under the radar, and this, his sophomore effort, promises to change all that. He's calling Hanjan a joo mak, which is not unlike the Japanese izakaya; think braised trotters Korean-style and scallion pancakes with Long Island squid. 36 W. 26th St., nr. Sixth Ave.; no phone yet; Nov.
Breads Bakery
Because Uri Scheft is a loaf legend in Tel Aviv, where he opened Lehamim Bakery ten years ago. Pastry whiz and blogger David Lebovitz has rhapsodized over his chocolate rugelach, Joan Nathan has heralded his hamantaschen, and we hear his whole-grain rye isn't too shabby either. 18 E. 16th St., nr. Union Sq. W.; no phone yet; December.
This story appeared in the August 27, 2012 issue of New York Magazine.