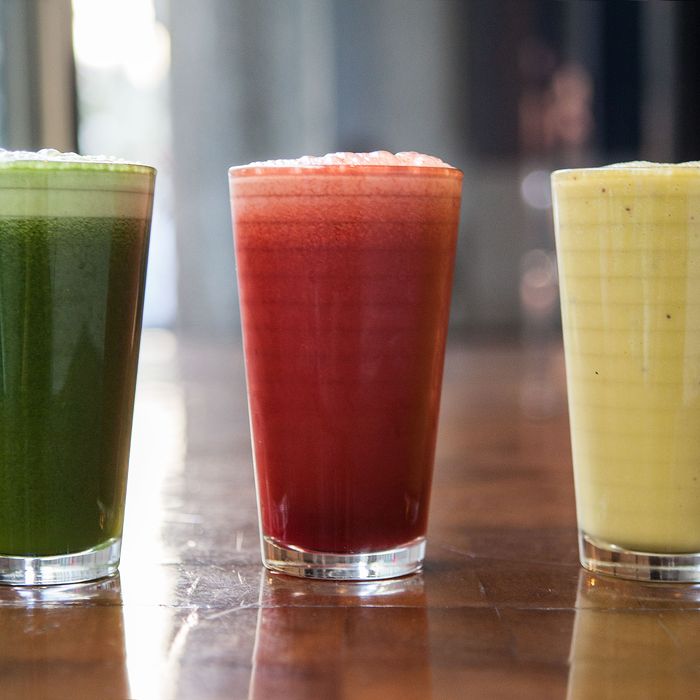 New juices at City Bakery.
Photo: Jed Egan
It's the start of another week, which means it's also time for the latest edition of Eat Well, Grub Street's guide to satisfying, wholesome food around town. This week brings us some newfangled juice concoctions, seitan that actually tastes good, plenty of reasons to eat cheese, and more. Here's where to find it all:
Monday, August 20: Monk's Meatless Monday
You know fake meat has to be good to get people talking about it — and lo and behold, the seitan from Monk's Meat has accomplished just such a feat. It's sold by the half-pound, in flavors such as ginger kombu and chipotle adobo — and, provided you don't live in Staten Island, they'll deliver right to you for cheap.
Tuesday, August 21: Peruvian Happy Hour
It's happy hour all night tonight at Chelsea's new Peruvian joint Raymi, giving you the perfect opportunity to try artery-sustaining eats such as quinoa soup and ceviche while you make your way through the restaurant's roster of 30 house-made pisco infusions.
Wednesday, August 22: Designer Juice at City Bakery
While City Bakery's fantasic chocolate-chip cookies certainly have their place, a more unimpeachably awesome treat is now to be found at the spot's juice counter, which offers Greenmarket combinations like the ones pictured above: (from left to right) kale, cucumber, apple, orange, and extra virgin olive oil; carrots, apples, beets, and cranberry; and grapefruit, orange, avocado, and vanilla.
Thursday, August 23: Antioxidant-Packed "Steak"
Despite that whole "it's-all-water" rumor, watermelon is actually packed with vitamins and antioxidants called anthocyanins. Get your fill with a watermelon "steak" au poivre at Highpoint Bistro & Bar, or re-create it at home with this recipe.
Friday, August 24: Cheese, Please
The nutrition gods were so smiling on us this month: A study discovered a link between eating cheese and a lower risk of diabetes. Celebrate with a trip to the cheese counter at Brooklyn Larder, where one inquiry gets you a mini-education on curds and aging from knowledgeable (yet unpretentious) staff. Better yet, get info on the shop's upcoming cheese courses here.
Kate Lowenstein is the senior features editor at Health Magazine.