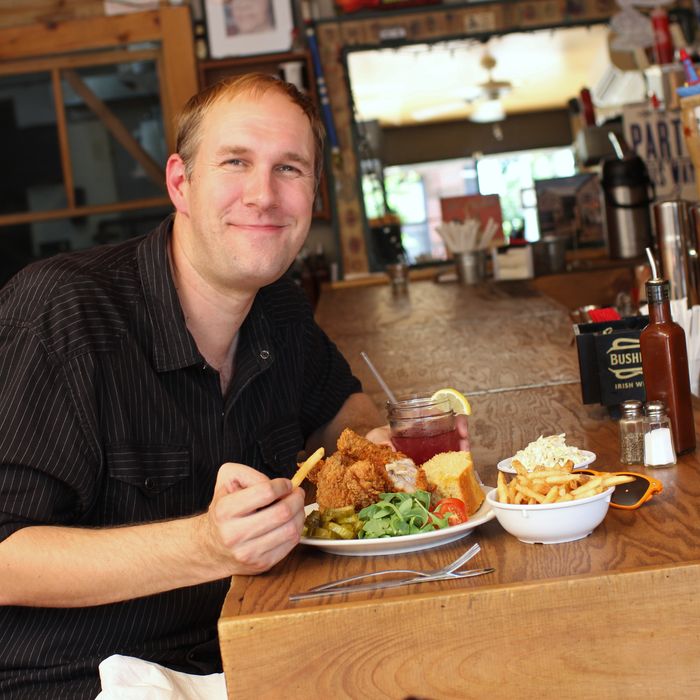 Zobel, at Peaches Hothouse.
Photo: Melissa Hom
Anybody who's seen Compliance probably focused on the thriller's themes of abuse and control. Grub Street is more interested in the film's setting, a fictitious regional fast-food restaurant called Chickwich that bears more than a passing resemblance to a certain other fast-food chicken chain. "So many times in films, fast-food restaurants have a big red logo with a yellow 'M' on it and they name it something different," says writer-director Craig Zobel, who is much more upbeat than his film might make you think. "I didn't want to go that direction." So he settled on a smaller restaurant, and picked a chicken-sandwich chain — the choice was made long before the marriage-equality controversy blew up — because of his Atlanta upbringing. "Waffle House wouldn't work for this because it's more of a diner," Zobel says of his choice. "I just sort of leaned into the Chick-fil-A thing." And, he adds, "You go to, like, three fast-food restaurants and you look up at the menus, and there's repetitive things. They always use these certain types of phrases. So it was fun to make up all the menu items, to sit down and decide what would be on, like, the Healthy Choice menu." To see what Zobel ate in his real life, during the first week of his film's wide release, check out this week's fast-food-light, travel-heavy New York Diet.
Friday, August 17
I came back on the train from D.C. Friday morning, so all I had was coffee. And a PR person gave me a fancy food-bar that looked a little like birdseed. It was really fancy. That was kind of my breakfast.
I had a meeting for this new film I'm trying to get going. We went to this place in my neighborhood called Saraghina. I had a prosciutto-and-funghi pizza and one beer before I went and did a Q&A; for my movie.
After the Q&A; I had a lot of beer. My girlfriend took me to that place the Taco Box, the taco stand outside B Bar off Bowery, where I ate a chorizo taco really, really late at night. Sometimes that's what you have to do.
Saturday, August 18
Saturday I was struggling from the combined lack of sleep and beer from the night before. I ended up really only eating one thing that day because I woke up late-ish and immediately had phone interviews. So I stayed in my house doing phone interviews until about three in the afternoon. We went to another restaurant in my neighborhood called Peaches , where I had the spinach-artichoke dip, a spicy peanut salad, and an eight-hour roast chicken.
Then I went and did another little Q&A; for the movie. I tried to just go home after, but there were more people there and I ended up drinking more beer.
Sunday, August 19
Too much beer the night before. I woke up and went to a tiny taqueria down the street. I ate a spinach-and-mushroom quesadilla, then I flew to Chicago in the middle of the day.
In Chicago I kind of wandered around until I ended up at my friend's — Joe Swanberg, who is also a filmmaker. I went over to Joe and his wife Kris's house and Kris made what they call Swanberg Sliders, which are chicken patties with blue cheese and buffalo sauce in the slider bun. So I had that for dinner, and now I'm realizing reading this that I don't eat three meals a day, which is probably unhealthy.
But yeah, I hung out with them, ate the sliders, and had more beer. I realized I had to kind of become a beer snob because I drink it enough that really cheap beer was definitely making my next days feel bad. So I feel like I am kind of picky about beer. I drink IPAs, really hoppy stuff. But I can fall back on Brooklyn Lager.
Monday, August 20
Monday was a press day in Chicago. I ate at the restaurant in the James hotel. I had a cheese omelet and sourdough bread. Then I wandered into a bunch of different interviews.
I was with a group of publicists, so after the interviews we all got to go eat somewhere more fun. We ended up at a sushi place across the street from the hotel, where I had a rainbow roll for lunch, which was cool.
And then, because our attitude was kind of, yay, we're going to Chicago, they'd figured out how to get reservations at a place called Perennial Virant. It's all farm-to-table, but the specific twist is that whatever they don't use or have a lot of, they do a lot of pickling. So everything has a pickle component. I never eat at restaurants like that, but it was super fun.
I had a salad of local tomatoes and melon, like cantaloupe with jalapeños, onions, and basil.
Then there was a cavatelli pasta appetizer with pepper sauce, and I shared a rainbow trout dish with broccoli and eggplant which were marinated and tasted … pickled. And these little tiny fancy-restaurant versions of hush puppies that were actually killer. I actually just had tea to drink. I was trying to dry out as much as I could.
Tuesday, August 21
At like 7 a.m. I was downstairs to go to the airport to fly to L.A. At the airport in Chicago I knew I could get one more meal on Magnolia Pictures, so we went to … who's that pizza guy that's big in California? Wolfgang Puck, yeah. We went to the Wolfgang Puck place in the airport and they had breakfast pizzas.
I know you're not supposed to eat things just because they're funny, but I totally ordered a breakfast pizza just because I found it amusing. It was this sad microwave egg thing. It was clearly pre-made, but shaped to look like it was kind of accidentally made. Then there was this layer of ranch dressing on the bottom, then the egg. I was very excited about it for this diary, but then realized, What am I eating? It doesn't even resemble food. So I didn't eat all of that, but I have been known to order hilarious-looking things. Multiple times.
I landed in L.A. and immediately went into meetings. I did drive by Chick-fil-A and paused because they don't have it in New York, you know? But you can't go there anymore, so I didn't eat lunch again, which is apparently my new habit.
After all the meetings, I went out with my agents who wanted to celebrate the film. So they took me out. They'd made the schedule not knowing what I did the day before, so I ended up eating sushi for the second day in a row, but it was interesting sushi. We were at Sushiya on Sunset. It's this tiny place next to another restaurant, and we were outside. It's so small we kept accidentally putting shit on the tables of another restaurant.
Really unique dishes. Yellowtail with crispy onions, really good. And instead of the whole edamame thing, they have these cooked shishito peppers with sesame on top. I had never had those before. And then the shrimp tempura. It was basically just sweet-and-sour shrimp, but, you know, the fancy version.
And there was a tuna roll, but instead of there being any rice involved, it was in rolled in cucumbers. This was so L.A. It made you feel like you could eat it without soy sauce. It felt fresh. I mostly just drank water, but one of our agents got an unfiltered sake, so I had a couple of — can you call those little things glasses? I had a couple thimbles of sake.
I was staying with Calvin Reeder and Lindsay Pulsipher. I was at their place and I was yawning so much. Calvin is a big fan of instant coffee, like shitty instant coffee. So he microwaved some water and gave me some instant coffee so I could at least hang out with them and talk before I passed out.
Wednesday, August 22
I immediately had an 8 a.m. meeting with the casting director for this new movie I'm doing at Le Pain Quotidien. They have them out here, too. I guess I kind of knew that? I had their giant cups of coffee and then two points of whatever their multigrain bread was.
Then I was running around but I actually did eat lunch. I had gone past the point in the day where I was actually hungry because I was trying to prepare myself for all the casting work, but I met an old friend, and she insisted we go to this place Huckleberry, which was awesome.
I had an iced coffee and they do a maple-bacon biscuit, where they put cooked bacon bits in the biscuit dough, which was really weird and good. And I had a carrot-ginger soup.
I drove the two hours across town — I'm not exaggerating — and ended up watching a rough cut of my buddy Calvin's new film. When I drank two Tecates, which were perfect for his film, which is going to be great. Afterward, I was excited about it and insisted we all go out with Lindsay, who's also an actress in his film, and his editor. We went to this place El Compadre where I had three chicken tacos, rice and beans, and a margarita. They put pieces of lime in the margarita and light them on fire, which seems like a lot of fanfare for just a normal margarita.
Aside from when I was researching Compliance, which was a horrible, embarrassing time when I was going to tons and tons of fast-food restaurants, I don't eat like that very much unless I'm in L.A. running around. Because I need to grab something fast, I do end up at In-n-Out and places like that more often when I'm here, but so far I've been able to hold off on this trip.