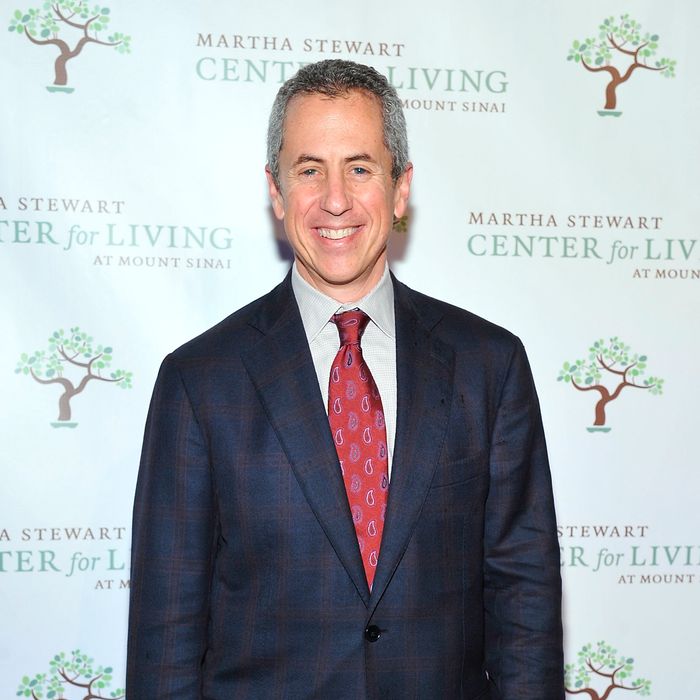 His staff knows everything about you.
Photo: Mike Coppola/Getty Images
Last weekend, the Times ran a great piece rounding up some of the "private languages" of the restaurant world: Le Cirque refers to a big spender as "pesce grosso," the staff at Torrisi Italian Specialities will send a table some extra food and Champagne when told to "smoke 'em," etc. Of course some of Danny Meyer's restaurants are included, but we had the feeling that the terms that are listed in the Times story — a bald guest is referred to as an "eagle"; an "f.t.d." in the reservation book means a guest is a first-time diner — were just the tip of the iceberg for a company that is so savvy about its guests. A mole deep within Meyer's Union Square Hospitality Group let us know there were some codes that had been left out. Well, of course there were — and they're the best ones.
Like lots of other restaurant companies, USHG uses OpenTable to manage its reservations (Meyer is on the board, after all), and the customer database is accessible across all of his restaurants. That means everyone who reserves a table at any of USHG's spots is in the computer system, with various codes and notes on what kind of customer they really are. (Our source tells us USHG's system is far more thorough than anywhere else they've worked.) The Times touched on a few of these, most notably N.L. and L.O.L. for customers that "need love" or need "lots of love." But Hospitality Mole says those abbreviations really indicate customers that are annoying: Someone who needs love "is very difficult" — and you have to treat them carefully.
Those two are just the beginning. A customer with an S.O.E. note means they have a "sense of entitlement"; WILL SPEND is obvious; and BIG SIGN refers to a customer who may as well be wearing a sign that says pay attention to how important I am.
"He goes above and beyond for his guests," says our source of Meyer. But all that hospitality can have unintended consequences: "There aren't many of them, but he's created these Über-crazy people" — customers who take advantage of just how accommodating the staffs can be. Depending on who those people are, they might not be able to get a table at all.
When a name is flagged with a NO FLY ZONE note, it means that person will most likely find all of Meyer's restaurants mysteriously booked up whenever he or she tries to make a reservation. (Hospitality Mole says the designation is often used for fake names used by companies that make, then resell, reservations.) The flip side of that is MUST DO. If a MUST DO calls at, say, 10 a.m. on a Friday and wants a six-person reservation that night at 8 p.m., it has to happen, and a manager doesn't need to approve those sorts of last-minute measures. Our source says most people classified as MUST DOs are investors, or "president of whatever" company, but "if you're just someone that a manager doesn't want to deal with, you're a MUST DO."
 
Not all the designations are for problem customers, of course, and in addition to the codes, USHG's reservation system has copious notes on just about every person that eats in one of the restaurants — and they're surprisingly exhaustive. For example, one customer's note instructs the staff to always set her table with extra napkins because she's known to chew her food, then spit it out into a napkin before swallowing. (It really makes you wonder just what the system has to say about you, right?) But customers who tip well, celebrate special occasions at restaurants, or are even just genuinely nice to deal with all get noted and tracked. In fact, customers known for good behavior have a (slightly) easier time getting a table later: "If it comes up that a person is super-nice, of course we're going to do everything we can."
As with everything in Danny Meyer's empire of niceness, it all comes back to the customer. The system isn't in place to flag or mark problem guests; it's there to help the staff do their best to accommodate every person in the best possible way. But, adds our source, "If you're an asshole to us, it gets written down and you're treated accordingly."
Earlier: Secret Restaurant Lingo Equal Parts Offensive and Amazing