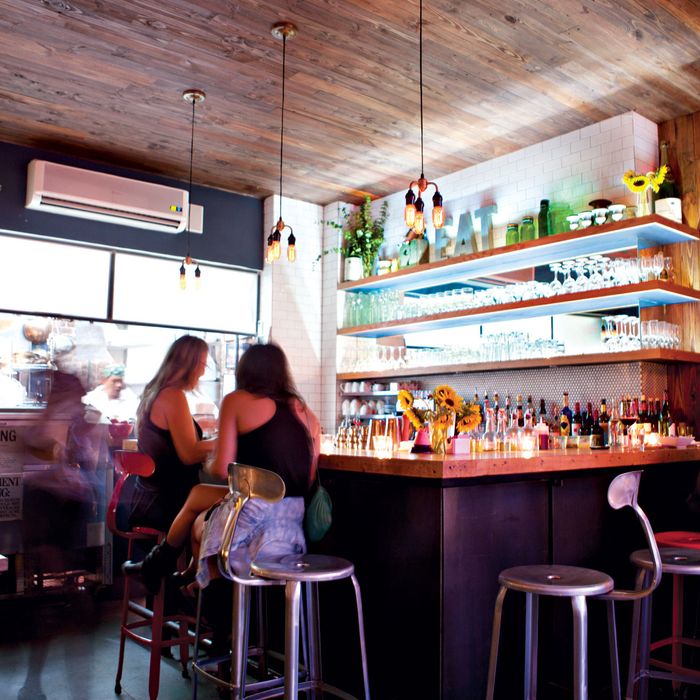 Lulu & Po.
Photo: Mete Ozeren/New York Magazine
This week, Rob Patronite and Robin Raisfeld ventured to Matthew Hamilton's Lulu & Po, awarding three stars. So, what did their gastronome peers think of the city's restaurants this go-round? What they ate and what they thought, straight ahead.
At Biang! in Flushing, the noodles are bruised, abused, and finally infused (with chile oil) for an altogether painful — and fun — dining experience. And although the dining brother of Xi'an Famous Foods is "more downtown Manhattan than downtown Flushing," Pete Wells awards one star.
Michael Kaminer serves up two-and-a-half stars to Ken & Cook, where Richard Diamonte's thoughtful cuisine (tartare, pappardelle, New York strip) doesn't match the bistro's overcrowded, unappealing interior. A one point, he was even bumped by a server's booty.
Emma Hearst's Sorella on the LES is a "house of pleasure," says Tejal Rao. Anchovies come on a bed of softened butter, with salsa verde, hazelnuts, and wafers. Even broccoli is made sexy with tempura and Grana Padano. Missteps are minor, the classics are always good, but the daily specials are where Hearst's food gets exciting.
One of the only disappointments at Ootoya — a Japanese chain with more than 100 outposts in Tokyo — was the "skanky sea urchin." Robert Sietsema & Co. sampled the first outpost in the U.S., and while there's no sushi master, the New York spot offers a compendium of quality Japanese cuisine in large quantities.
Ryan Sutton says the ten-minute wait to talk to a hostess and the ensuing 90-minute wait for a table isn't worth it at Rosemary's in the West Village. Sutton likens the spot to an NYU sorority house, says the roof-grown mint makes cavatelli taste like toothpaste, and laments the $80 strip steak. And the "pastas taste of boredom." And also: "Skip dessert." He (begrudgingly) offers one star.
He couldn't be swayed by Michael White's Nicoletta, but new East Village bistro Calliope got three of five stars out of Jay Cheshes. There's no line out the door, people aren't tweeting every bite — it's just a neighborhood restaurant that reminds of Paris's bistros.
And the "modern old-fashioned bistro" earned two stars from Steve Cuozzo, who called it a respite from the "farm-to-table, nose-to-tail overkill."