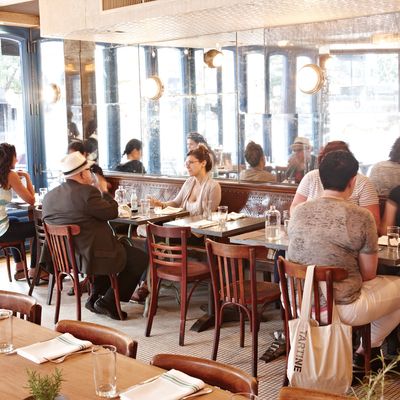 Calliope.
Photo: Jonathan Nesteruk/New York Magazine
This week, Adam Platt ventured to the East Village to sample Calliope. What did his peers think of the city's restaurants? What they ate and what they thought, straight ahead.
Pete Wells says Reynards in Williamsburg "can get a little Portlandia at times." And while the smoky flavors are often expertly applied, the menu suffers often from changing every day. Reynards earns one star.
At Hillside — the quiet next-door neighbor of Vinegar Hill House — simple dishes like braised tongue with spicy radishes, or crackers caked with butter, mackerel, cucumbers, and lime zest hold their own. Tejal Rao suggests skipping cola-braised pork ribs and going for the bone full of marrow, topped with salty bottarga.
At Rosemary's, fresh herbs, lots of roasting, and other updated elements of Italian cooking in the West Village make the ten-section menu worthwhile. "Especially dope" are the lamb leg with rare smoked meat, porchettina (tenderloin) with mustard, and minestra di stagione (vegetable casserole), says Robert Sietsema. Rooftop dining tops it all off.
Jay Cheshes gives Blanca (the tasting-menu counter in the Roberta's garden in Bushwick) four of five stars. "The finest ingredients are brought to life with just a few complementary notes" — everything graceful, nothing overdone for constant, low-key pleasure. Must-eats include soft-shell crab with yogurt, geoduck with melon, tofu with sea urchin, and Wagyu carpaccio with summer truffles. All for $180 (and a six-month wait).
Michael Kaminer gives Asian megachain Ootoya three stars for its Japanese comfort food Stateside — but the kitchen and the service can be inconsistent, and the restaurant has adopted Manhattan pricing.
Don't go to Super Linda unless "you like humiliation and habañeros." The staff can be "truly cruel," and some of the entrées (like $40 rib eye or prawns with smoked tomato) aren't worth the time, says The New Yorker. Go for the innovative drink names, the bar snacks, and to "watch rich men flirt with young women."