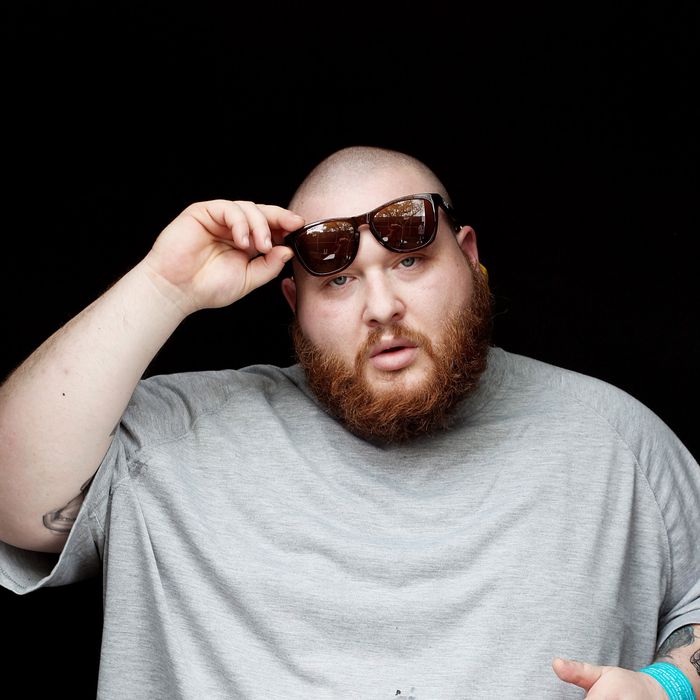 "I've been experimenting a lot with cooking weed."
Photo: Roger Kisby/Getty Images
Rick Ross might be the most profilic food rapper right now, but Action Bronson is close. In fact, the Queens rapper started out in the food biz, as the son of a restaurateur and with an education from the New York City Art Institute's culinary program. Now, with his album Dr. Lecter earning him comparisons to Ghostface Killah and news this week that Bronson signed with Warner Brothers imprint VICE Records, the music business is treating him well, but Bronson still sees himself opening up a restaurant of his own, "a small exclusive joint with ten seats or so, where people can enjoy what I give them and that's that." Until then, you can check him out next Thursday when he headlines a free Converse Rubber Tracks show at the Music Hall of Williamsburg. But first, read about pit-roasted goat, weed-infused vinaigrette, and a weekend trip to Chuck E. Cheese's in this week's New York Diet.
Friday, August 10
I don't really eat breakfast because I'm always on the run. My breakfast is usually weed, seriously, until like, lunchtime. I wake up, go out, take a little walk, smoke a little weed until around twelve, then go hit the feasts.
Friday was one of the rare times I had breakfast, though. A turkey, onion, and provolone sandwich on wheat from Bagel Oasis. They make the best bagels in New York to me. I grew up on these bagels, and people come from all over the place to get to these bagels. That sandwich is me trying to trick myself into thinking that I'm being healthy. Although I mean, listen: I can lose weight at the drop of a dime, but right now I'm just having too much fun.
Later my cousin Big Body Bes and I went to this Turkish restaurant called Sahara, in Brooklyn. Growing up, my huge Albanian immigrant family all lived out in Brooklyn, so all our gatherings would be at Sahara. I remember they had this Turkish bread with sesame seeds on it that's just out of control. That stuck with me, so I started to go back as I got older.
After that we just drove around the city and kicked it. That's my favorite pastime. You have to experience things in order to be able to rap about them. We just drove around all over the place. And after that I went to the studio.
Saturday, August 11
On the weekend I'm with my babies, my 5-year-old boy and my 7-year-old girl. We went to Chuck E. Cheese's in Flushing around noon, and ate lunch there. My game is the basketball shooting one. I grew up on Street Fighter and Mortal Kombat, but they don't have those games any more.
At around 4 I dropped the kids off and went straight to TaiPan Restaurant in Fresh Meadows, one of my favorites in America. It's Indo-Chinese halal and it's ridiculous. I had chile fried lamb and Drums of Heaven: thighs where the meat is pushed up to the top, like lollipops, then fried in rice flour and served with this scallion, ginger, and chile sauce. I went by myself. My boy Nam, this Tibetan guy, is the chef.
Sunday, August 12
Sunday morning I went to go watch my friend's softball game at 8:30 a.m. in Jamaica. They play in a league for money. And pride. I used to play every Sunday but I haven't played in a minute. I just smoke and wait and sideline-coach.
After that, my cousin and I went to get some pizza from Joe's. I get the regular slice, the fresh mozzarella. It's an amazing slice. Then we literally stood outside of the car in front of Joe's for like two hours and people-watched. We make jokes, try to talk to girls, and people come up to me and wanna take pictures.
We went to Grom because I love that place. I got the pistachio and Mexican chocolate which has a little cinnamon, and clove. Sometimes I add a little concord grape to the situation, for a palate cleanser. Any type of fruit and the pistachio go really well together, actually, like raspberry. Anything tart.
After that I just went home and just went to bed, starving. I wanted to punish myself. Just 'cause. I'm a weird guy.
Monday, August 13
Weed for breakfast, and strictly weed: I don't smoke cigarettes and I don't drink coffee.
At around 2 p.m. I went over to my buddy's house to hang out and cook some wild goat in this pit that I built over there. The goat was imported from Northern Ireland; I bought it from an Irish butcher on Queens Boulevard. I rubbed it down with a nice barbecue spice that I make, that's not too overpowering so you can taste the flavor of the flesh. I mix some salt, pepper, garlic, and a little bit of a special last ingredient that I add to everything called Vegeta, a spice blend from the Balkans. My grandmother used to use it in every single dish and it's delicious.
That evening I went bowling in Jib Lanes in Queens. I'm "eh" at bowling, I'm better at shooting pool. I was with four people and came in last. I had a ginger ale there because I'm addicted to it.
Tuesday, August 14
In the morning I drove out to Robert Moses beach and packed bagel sandwiches with turkey, roast beef, and American cheese. I stayed there like five hours. I like Robert Moses: it's about twenty minutes away from Jones Beach, not many people know about it, and it's the shortest walk to the ocean. The weather was overcast for a minute but the waves were stupid, so I had a good time boogie boarding.
I came home and got a phone call from my cousin and he was like, "Yo, let's go eat something lavish." We don't celebrate things in particular, we celebrate life every day. Like I'll go to Peter Luger right now. There's no rhyme or reason to why we do things.
So we went to Morimoto. It was my first time there. I don't really eat fish but I tried everything: I had the blowfish and it was amazing. It's like not eating anything. It had no flavor, just clean. My cousin had jumbo prawns in some crazy chile oil and sushi that came out looking like a dragon, that's how they presented it. I would go back just for the fuck of it, but it's not really my favorite. It's just not my thing. He felt good afterwards, though. It was lavish enough for him.
Wednesday, August 15
I tried to meet your photographer at my favorite halal truck, Sammy's, on 73rd and Broadway in Queens, but we got rained out by a crazy storm. I ate while I was waiting, though. I had my lamb, extra crispy, over rice, salad, and white sauce, hot sauce, green sauce. It's the best.
Then I went home and fucked around in the kitchen. I've been experimenting a lot with cooking weed. Everybody always gives me cookies and brownies. I'm fucking sick of it already. I'm just gonna get fat and stoned. One day I was like "there's gotta be a way to make savory dishes with this weed." So I started making savory dishes and doing different types of things, and it's been working. I grilled branzino, made a vinaigrette infusing olive oil with the weed, lemon, capers, a little bit of basil, a little bit of parsley, and some red onions. I laid it over the fish after it was cooked, and it had the same effect as if I smoked twenty blunts. The infusing part is my trick. I'm working on a book, and you'll have to buy it to find out how I did it.
That night I made pasta for my kids, because they love it. I make homemade sauce, with carmelized onions and garlic, thyme, a little sugar, cracked black pepper, and salt, and some little pan-fried chicken cutlets, healthier versions of chicken nuggets. This was after we bowled at the same place, Jib's — they both beat me.