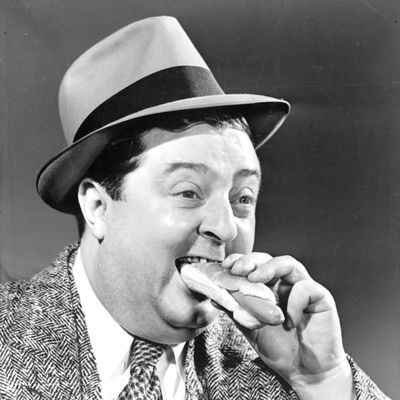 Hot dogs taste better when they're free.
Photo: General Photographic Agency/Getty Images
Drinking on an empty stomach is never a great idea. Luckily, lots of New York bars haven't forgotten the fine tradition of offering free food to their patrons. We scoured the city's watering holes looking for some of the most interesting options, so you won't be forced to choose between paying for food or booze. Plan carefully, and you've just about got every meal covered.

What: Tater tots
Where to get it: Trash Bar
Those looking for a nostalgia fix (or just something to cut the whiskey) should stop by this come-as-you-are Brooklyn venue where the tots are greasy and free and the music is loud.
What: Pastries
Where to get it: Blaue Gans
On Saturdays and Sundays during brunch, sit at the bar at this Kurt Gutenbrunner wursthaus and have your way with a smattering of pastries — dealer's choice.
What: Cheese and baguettes
Where to get it: Blind Tiger Ale House
Feel like a French person during Wednesday's happy hour (6 p.m. 'til it's gone), when the pub serves baguettes and a rotating selection of cheese from Murray's, next door.
What: Panini
Where to get it: Vero Wine Bar (midtown)
The week will have barely started, but if you stop by for a glass of wine or cocktail on Monday nights, you'll get a free panino to pad your stomach. Which should make for an easier Tuesday morning.
What: Truffled deviled eggs
Where to get it: Centro Vinoteca
From 4 p.m. to 7 p.m. daily at the bar, buy a cocktail and get a virtual meal, with a selection of truffled deviled eggs, cheese-stuffed dates, and zucchini fritters.
What: Mussels marinara
Where to get it: Cucina di Pesce
This homey, unpretentious seafood spot is already one of the best places in town to get a good deal, but patrons can get even more value from 4 to 8 p.m., with free mussels marinara in the bar area. Pro tip: Soak it up with the free bread, located in a basket on the counter.
What: Regular mussels
Where to get it: Dive Bar
During the school year, Dive Bar (think scuba gear, not grime) serves free mussels on Friday afternoons beginning at 5 p.m., to both students and those of us surviving the school of hard knocks. First come, first served.
What: Tapas
Where to get it: Spain Restaurant
This quaint, cash-only paella joint keeps the tapas — meatballs, tortilla de patata, potatoes — coming with a cocktail, beer, or sangria purchase. Charm the waiters and there's usually no need for dinner after.
What: Parmesan crackers
Where to get it: Balthazar
While the gargantuan size of Balthazar's dining room may leave you feeling a bit chilly, its bar area offers a more intimate setting, where you can nosh on gratis Parmesan crackers and olives daily from 5 to 6 p.m.
What: Buffet
Where to get it: The Watering Hole
Only the early will indulge in the mother of all bounties: the Watering Hole's (formerly Tracy J's) buffet. Specials change daily, but show up for happy hour and feast on anything from egg rolls to hot wings to pizza.
What: Brunch
Where to get it: d.b.a.
Every Sunday, d.b.a. Manhattan helps you regulate your boozing with free bagels and lox from 1 to 4 p.m.
What: Junk Food
Where to get it: Levee
We all have a little Cartman inside of us, which is why we would all enjoy the Levee's counter-side cheese balls and Twizzlers, offered with a side of southern hospitality.
What: Hot dogs
Where to get it: Rudy's Bar and Grill
New Yorkers in the know pretty much have this deal etched into their brain, but it's worth repeating for newcomers: Rudy's serves free Hebrew National hot dogs, all day, every day, along with insanely low-priced drinks. We've heard Rod Stewart is a fan.
What: Pommes frites
Where to get it: Both The Belgian Room and Burp Castle provide crispy Pommes Frites with a drink purchase. Score them at the Belgian Room Tuesdays and Thursdays from 8 p.m. to 11 p.m., and in Burp Castle's quaint monastery setting Sunday, Monday, and Wednesday from 5 p.m. to 6:30 p.m. Add these together and it's almost a daily special!
What: Pizza and more
Where to get it:
When it comes to getting a personal pan with a drink purchase, Crocodile Lounge in the East Village and Alligator Lounge in Williamsburg are the old standbys. But there are some other options:
Every day at 6 p.m. The Mark Bar in Greenpoint lays on the dairy with both complimentary cheese pies and a selection of fancy cheeses. Show up on Saturday and Sunday at noon and score free bagels and coffee, also known as: brunch.
Standings has your free pizza every Friday at 8:30. Show up for Monday Night Football and get your hands sticky at no cost with their Atomic Wings.
Or you can hit up Emporio in Soho from 5 to 6:30 daily, when the bar serves a rotating selection of appetizers including pizza and croquettes.
What: Wings and things
Where to get it: Head to the Cupping Room Café weekdays from 5:30 to 7:30 p.m. for a selection of hot wings, nachos, and fries.
Or The Brazen Head in Cobble Hill on Mondays at 5 p.m. for free wings with any purchase. On Sundays bagels are complimentary and pair nicely with $5 Bloody Marys.