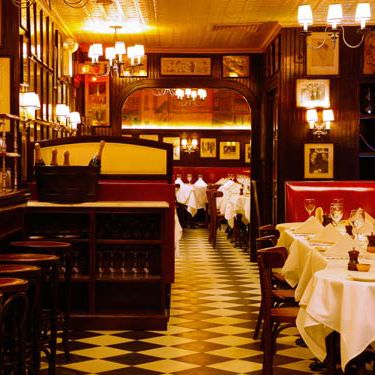 Minetta Tavern might not be this empty, but it will be close.
Photo: Hannah Whitaker/New York Magazine
Ah, the complicated dance that is dining out in New York: Either you lock in your plans months in advance, decide last-minute and brace for waits, or take your chances at one of the increasing ranks of reservation-less restaurants. Yet in August's unbearable stickiness, each corner of the floor gets a little less crowded as everyone who can decamps to wait out summer's end in less sultry climes. In fact, it's surprisingly easy to walk into spots that are normally booked solid. That means there might just be a table for two at Babbo for 8:15 tonight (as Twitter indicated), or maybe a Friday-night opening at Marea, or even a queue at RedFarm that doesn't inspire you to stab a chopstick in your eye socket. All are reasons to take a much more casual approach to late-summer dining. Check out our list of hot spots to pounce on this month, straight ahead.
Acme
The fashion- and art-world hot spot ought to be emptier this month as that crowd hits the Hamptons. Go early to find out, and you can always fall back on a walk-in spot at the bar.
Babbo
Getting a table at Mario Batali's most famous restaurant is rarely as difficult as its reputation would have you believe, especially now that it's open for lunch most days, it's worth calling (or better yet, checking Twitter) a few days ahead to see about cancellations — more likely to happen as people skip town. If that doesn't work, the bar area is always a great place to get your pasta fix.
Barbuto
Jonathan Waxman's beloved far–West Village eatery usually brings in the dating hordes. As they split for beachier venues this month, make your own move on the rosé and roast chicken for two. Bonus: The restaurant's garage-door walls are open on summer nights that aren't unbearably hot, which is always welcome.
Il Buco
Some of Donna Lennard's Italophile clientele are no doubt enjoying villa-side dining right about now, making this an ideal time to try walking in — even if this is the closest you'll get to Italy anytime soon.
The Dutch
Andrew Carmellini's day-into-night hang is usually mobbed with a fashionable set. We'd bet a slice of the spot's killer pie that the best tables will be easier to come by as summer winds down.
Marea
Now's the perfect time of year to hit the jewel of Michael White's restaurant group, whose well-heeled crowd is no doubt enjoying their seafood somewhere closer to an actual beach right about now. The bar will most likely be a little emptier, should you decide to walk-in and grab a bite there.
Minetta Tavern
Even the hallowed haven that is Minetta will be slightly more accessible to the hoi polloi general public as its boldface clientele flees the sweltering end of summer. Don't waste your time dealing with the various reservation lines — just walk in. If you're turned down for a table, sidle up to the bar, where the full menu is served.
The Modern
Whether you're angling for the bar room or the dining room, Danny Meyer's MoMA restaurant should be an easier prospect for a spontaneous bite — no matter what the situation is, we bet the spot's famously hospitable staff will find a place for you. And since the dining room no longer requires jackets for guys, it makes a sudden walk-in option much more palatable.
NoMad
Yes, the Obama favorite landed at the top of our Power Rankings this week, but it's so sprawling we suspect table-seekers might have luck all the same. In case of long waits, the burnished Library Bar may be NoMad's best asset anyway. And don't forget about the same-day rooftop reservations: A check at 3:30 revealed plenty of tables available tonight.
RedFarm
Two- to three-hour queues are the norm at Ed Schoenfeld and Joe Ng's Chinese smash. As neighborhood types wind down the summer elsewhere, who knows: You could get lucky and only wait an hour.
Spotted Pig
We only ever dare hit April Bloomfield's hot spot very early or very late, but this time of year, we sometimes get audacious and try to go at a normal dinner hour — with a very high success rate.
wd~50
If you find yourself in the hood and curious about Wylie Dufresne's new tasting menus, it's worth trying for a walk-in table this time of year. Even if the dining room is full, the restaurant can almost always squeeze people in to the bar, or the tables up front. The added upside is that diners there can order individual dishes off the restaurant's two tasting menus, meaning you can build your meal as you see fit.
Related: Eleven Cool Noodle Dishes Perfect for Summer
Fifteen Great New York Thai Dishes That Aren't From Pok Pok Ny