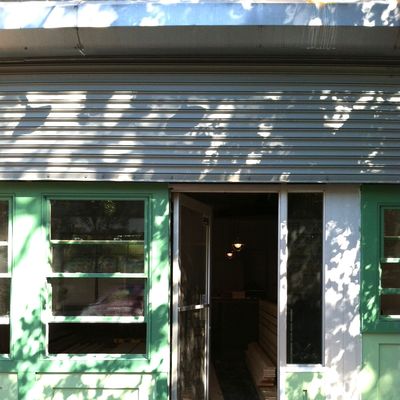 An exotic September opening.
Photo: Patrick Coffee
This won't be your bubbe's baba ghannouj! Three Israeli veterans of the international food scene plan to open Zizi Limona, a restaurant serving their own eclectic take on Mediterranean cuisine, in Williamsburg next month. Partners Yigal Ashkenazy and Sharon Hoota worked together for several years building and expanding upon the Hummus Place and Hummus Kitchen mini-chains, which now boast a combined eight branches across Manhattan. Last year, they hatched a plan to branch off from that chickpea empire and cross the East River to create a younger, fresher version of a gastronomic trend that has, in Ashkenazy's words, grown "a little boring."
Together with head chef Nir Mesika, who honed his craft in the kitchens of Tel Aviv and Milan, they plan to transcend the influence of any single nation by combining the flavors of Israel, Italy, Algeria, and Greece in a "modern Mediterranean cuisine" characterized by entrees like Algerian meatballs, Moroccan-style beet-and-lentil salads, and Westernized versions of meaty shawarma fare. The space will also double as a retail spot, its shelves stocked with unique "pickles, cheeses, and produce" for curious locals. An August 28 preview paves the way for a grand opening on Wednesday, September 5.
Zizi Limona, 129 Havemeyer St. at South 1st St., Williamsburg