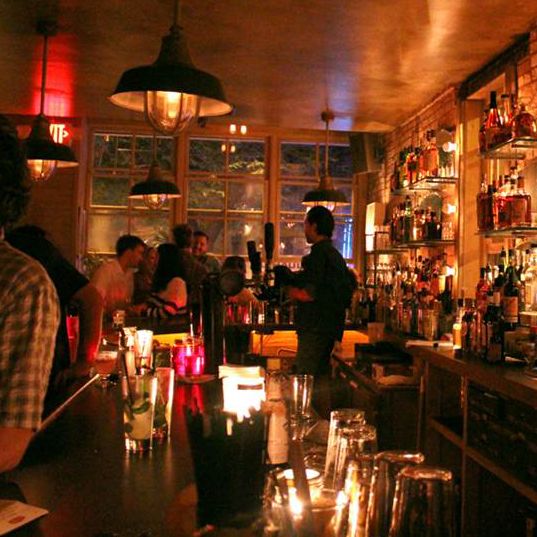 Less fancy now.
Photo: Brian Quinn
The two-month-old restaurant in Williamsburg, which pays tribute to both classic clam bars and serious cocktails, has lost its opening chef, Ross Florance, who worked at Le Bernardin, and also put time in at Noma in Copenhagen and Le Chateaubriand in Paris. Florance tells us he was fired last Thursday. Extra Fancy had been building buzz for its menu of updated clam-bar fare, consisting of grilled cherrystones, salt cod and pickled pepper "poppers," and a Maine fisherman's take on a smörgåsbord.
An early rave filed at Mouthfuls called Extra Fancy a "Stealth Restaurant," adding, "[t]he presentation gives no clue that there's sophisticated food here. They don't try to force you to recognize how sophisticated and adult the food is." Last week, the restaurant placed on our very first Power Rankings list.
Florance says that out of solidarity, some of the other cooks also left when he was given notice, and the kitchen is being restructured. Extra Fancy's co-owner Mark Rancourt has not returned a request for comment, but Florance relates that management was unhappy with the technical nature of his food. Expect the restaurant's next menu to be less interesting, he says, more "burgers and fries." In the meantime, Florance says he may head to Per Se or Manresa next, and is planning on opening a 50-seat restaurant a little more down the road, perhaps in Astoria, where he intends to serve a similar menu with "casual, unfussy" service, of items made with incognito elements of fine dining. "I've got a few notebooks completely filled with ideas," he says.
Earlier: First Look at Extra Fancy, Bringing More Seafood and Cocktails to Williamsburg
Related: Introducing Grub Street's Restaurant Power Rankings