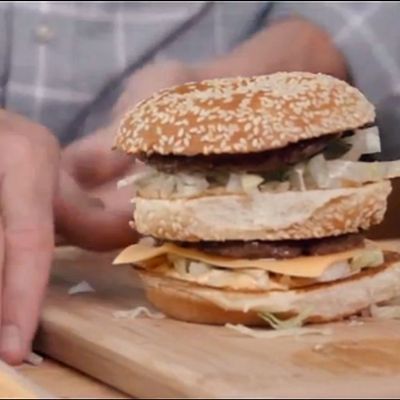 McDonald's rolled out a promotional video that features the company's executive chef Dan Coudreaut making a Big Mac at home, and you know it's casual because he makes a point of removing his chef's jacket. You can watch it below, if you're interested, but the interesting thing about the video is that it's less instructional — only an idiot needs to be told how to layer burger fixings on a bun — and way more about making McDonald's signature agro-burger look like a wholesome, unprocessed product.
Watch Coudreaut as he seasons and cooks the patties by hand, as he freshly slices onions and a sesame bun, and as he puts together the burger's special sauce — nothing more than a mix of mayo, relish, vinegar, mustard, and some spices. However, a quick glimpse at the Big Mac ingredient list reveals a few items missing from Coudreaut's sauce: things such as propylene glycol alginate and vegetable protein. But we can chalk that up to the fact that he's using store-bought mayo, which is basically just eggs and oil and a shitload of chemicals.
Even still, we'd rather have a hamburger cooked at home.