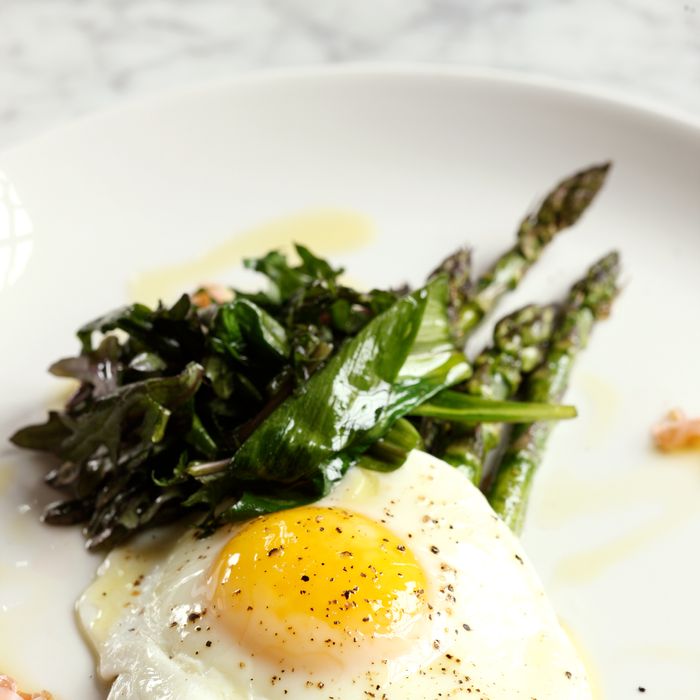 Photo: Reynards also reviewed.
This week, Adam Platt dines at Pok Pok Ny and Mission Chinese. What did everybody else feast on this week? Their thoughts on the city's newest restaurants, straight ahead.
"Mr. Bowien does to Chinese food what Led Zeppelin did to the blues," says Pete Wells of Mission Chinese. Bowien respects tradition while going a little crazy with the details. The housemade pastrami in his kung pao pastrami makes you laugh — because it's so good. But a few stumbles earn the loud cheap-eats spot two stars.
Ryan Sutton traverses the East River to Reynards (and complains, again, about the cab fare) giving the restaurant one-and-a-half stars for inconsistency and touristy safeness.
The Daily News' Stan Sagner tells — no, urges — you to make the trip to Flushing for Hahm Ji Bach's shareable Korean portions. Go for the Pajeon (rice flour pancake), steamed blowfish stew, and grill-at-your-table BBQ. Sagner awards three of five stars.
At Perla, housemade pastas and potato chips, and 24-hour steak (with bone-marrow agrodolce) are good enough to quiet even the most scrutinizing Italian-American palate, says The New Yorker.
Bushwick's El Mio Cid is a celebration of the famous poem about retaking Spanish territory from the Moors and a commemoration of real Iberian tapas restaurants. Robert Sietsema laments that while hipsters may not be beaten back from the neighborhood anytime soon, whole sautéed sardines, chicken croquettes, and a variety of veggie dishes come in surprisingly large small plates. Skip the unsatisfactory mains — he says they're aimed at warding off hipsters.
The usually kind Tejal Rao enjoys the duck-fat popcorn that came with her butterscotch budino and vanilla ice cream at Arthur on Smith in Carroll Gardens. But the chicken-liver mousse, tough gnocchi, and overcooked shrimp in tagliatelle leave a bad taste. All in all, a Bronx-Italian spot in Brooklyn that's good when it's good.