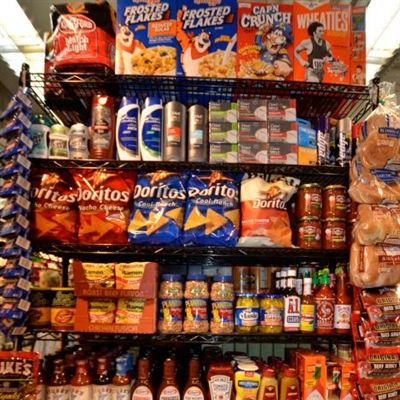 Photo: Courtesy Westside Market
It's the dawning of the testosteroni: The U.K.-based megagrocer Sainsbury's today christens the portmanteau manapé, a "heartier canapé" marketed to men, who are apparently spending more on food these days. Keeping it appropriately British, the chain is launching a full line of bite-sized dude food, like Mini Beef Wellingtons and Mini Aberdeen Angus Burgers. Meanwhile, the people at Men's Health would like to remind you there are only a few days left to vote your picks for America's Manliest Restaurants, whatever that means, and also, the hive minds of marketers at Procter & Gamble, Kraft Foods, PepsiCo, and others will undoubtedly be psyched to see their inventory stocked along the shelves of the "man aisle," a special place in the Westside Market where men can easily locate all their favorite unhealthy food and nondescript beer in one spot.
"Thirty-one percent of men are doing the shopping for their families," the Post says, up from 14 percent just thirty years ago. But really, other demographics have money to spend, too! Who'd like to see the cat lady aisle, with economy-sized kitty litter, spare knitting needles, non-working cell phones, and Nora Roberts novels? Next year! We'd prefer to shop in a conspiracy theorist's corner, which would offer a wide selection of lizard-people masks, tamper-proof bottled water, and pre-creased tinfoil hats. It's your move, Fairway.
The rise of the manly mouthful: Partygoers pick treats with more bite [Sainsbury's]
Manliest Restaurants 2012 [Men's Health]
Store launches 'man aisle' for shopping-challenged dudes [NYP]