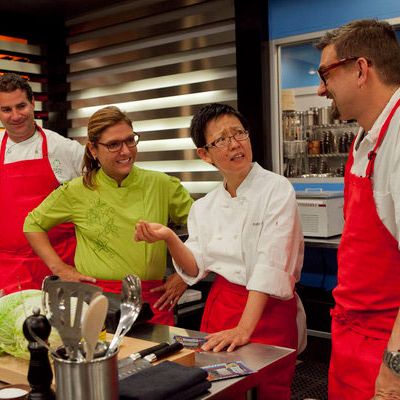 Art hates when Chris gets all the attention.
Photo: Isabella Vosmikova/Bravo
Are you ready to try your luck with another season of Top Chef Masters? Ready to gamble away your precious time on this "clash of the titans?" Willing to make a bet that this season will be better than its predecessors? Prepared to tolerate tons of challenges involving card games, casino references, and other Vegas-y things? Awesome, great news, good to hear it, because season four kicked off last night in Sin City and we'll all be okay if we go through this together. So what's new this year? The location switch and a handful of new faces. It's still a dozen established chefs casually competing for a grand prize of $100,000 for the charity of their choice (oh, and the title of Top Chef Master, of course). And if the premiere was any indication of what's in store, season four might not be so bad and could even … hit the jackpot! (Okay, got that out of my system. No more gratuitous gambling metaphors. Promise.)
First, meet your cheftestants: Chris Cosentino (offal-lover, kinda bossy), Clark Frasier (giving off Rocky Horror vibes), Mark Gaier (Clark's lover!), Lorena Garcia (of Taco Bell fame), Debbie Gold (sort of a nonentity so far, but she's from Kansas City), Kerry Heffernan ("NYC chef"), Thierry Rautureau (playing the role of kooky Frenchman), Missy Robbins (used to cook dinner for the Obamas at Spiaggia), Art Smith (former personal chef to Oprah, now James Beard Award–winning chef/co-owner of five restaurants), Sue Torres (really likes cooking Mexican food), Takashi Yagihashi (a Chicago legend), and Patricia Yeo (the kitchen's resident tough cookie). All things considered, a solid improvement over last season's crew. One thing to note: Art and Thierry (both wearing ridiculous hats) have been on the show before and lost, so Art is here to "whup asses" and Thierry says he's not going to be nice this time around. Also, Art lost 120 pounds, so he is excited about that.
Curtis emerges from the styling closet, and the chefs laugh and applaud as he enters the kitchen. His hair has lost its former spiky exuberance and looks flatter, more somber and mature, perhaps the first sign we can take this season seriously. The chefs partner up for the Quickfire and because they're in Vegas, it's time for a card game. "There are no numbers on these cards, only ingredients," explains Curtis, which defeats the purpose of using playing cards. But, you know, gotta stick with those gambling themes.
The teams are dealt two ingredients that are supposedly challenging to cook together: duck breast/peaches, langoustine/quinoa, black garlic/flank steak, brandy/honeycomb, prime rib/catfish, and pork tenderloin/bologna. They all manage to throw together something edible in fifteen minutes, but no one looks that happy about it. "Three world-famous card dealers" judge the dishes, though it's unlikely they have world-famous taste in food. "I might actually order this" is the strongest compliment uttered. Chris and Patricia win with their prime rib/catfish concoction, and Art is annoyed.
Faster than you can say "Whole Foods," it's already time for the main challenge: Cook two world-class Vegas buffets for 200 of the city's entertainers. They split into two teams and Art and Chris are already fighting about size and portion control. Off they go to the store, where nothing exciting happens.
Back in the kitchen, aprons go on and the music turns serious, and then smiley Curtis shows up to ruin everyone's day by giving them lotto scratch tickets. Some chefs lose money, some lose cooking time, while Art and Debbie win immunity. "Honey Bear is here to stay!" he crows. The shocker is that the red team now has to cook a Mexican buffet and the blue team has to do Indian food. All Sue cooks is Mexican food so she tries to switch teams but is cruelly denied and will never mentally recover from this blow. She says she's learned a lesson: "Don't gamble in Vegas." Even though she didn't gamble.
Red team sends Art back to the store because they're going to need some cilantro, while blue team decides to keep everyone there and pretend they have the right ingredients. (Can you guess who's going to win?) Missy cuts her finger open while chopping zucchini, and the situation quickly devolves from "Oops!" to "Ow!" to "You need to go to the hospital." Meanwhile, Art is talking to strangers at Whole Foods and can't find the much-needed cilantro. Chris regrets sending him to the store since they've lost Missy to the pushy paramedic. Art comes back with lots of bags after being gone forever and is all "Honey, please" about the situation. Five hours of prep time comes to an end and it looks like nothing has been cooked. Good luck to all!
Over at the hospital, Dr. Downer says Missy needs a skin graft!
The chefs have one hour to get their buffets together, which they manage to do without any drama. Buffets are admittedly one of the hardest things to execute in terms of quality and consistency, so this is impressive. And it's nice that they're just letting the chefs cook in a normal kitchen instead of a trailer or some such nonsense like we've seen in the past.
It's feeding time, and the performers arrive: pirates, showgirls, and mimes galore! These are apparently the biggest names on the strip, but they don't bother to introduce anyone, which is a shame because Jabbawockeez (America's Best Dance Crew, anyone?) was there. The judges arrive: James Oseland and Ruth Reichl are back with newbie and friend of Grub Street Krista Simmons. (Now is also a good time to warn you note that Grub editor Alan Sytsma will be popping up at some point this season, too.)
The Mexican buffet has mushy ceviche and Krista is the harshest critic of many of the dishes, but Chris's pork and beans and Art's tres leches save the day. Meanwhile, the Indian buffet is not Indian at all (beef is a big no-no) because it lacks all the right spices. James and Ruth go to war over the sweetness of Debbie's lemon-curd dessert. "I am the queen of lemons!" cries Ruth. Back in the kitchen, Art is making jokes about pirates and booty (typical) and then Lorena's Taco Bell commercial airs.
Missy's back with bad news: She needs three to six months to heal, so she's out. "This isn't the way it's supposed to happen," says Chris, apparently mourning the fact that he couldn't eliminate her from the competition himself. Red team faces the judges and Missy excuses herself. Curtis "personally guarantees" her a spot in the next season, which is a joke because it's not like he has any authority. Anyway, red team is best and Chris wins again. He's already earned $16,000 for his charity, so he's only going to get cockier from now on.
Blue team's appearance in front of the judges is embarrassing: Takashi admits he knows nothing about Indian food, Debbie's dessert "didn't take anyone to India," and Sue is shamed for not marinating her chicken in yogurt. "One of the glories of the Indian kitchen is how they manage to turn chicken into something that is succulent and tender," muses Ruth. Since Debbie has immunity, Sue's sent home to her beloved Mexican cuisine, never to attempt cooking Indian food again.
This season on Top Chef Masters: Sugar Ray Leonard! Dita Von Teese! The Indigo Girls! The B-52's! Too much smoke for Curtis! A sauce that Ruth could drink alone! Cooking in canyons! A possibly ruined wedding! Lorena loses her mind!
Odds of Winning
Since this season takes place in Vegas, we'll be determining the likelihood of each chef making it to the finale based on their performance each week. Place your bets below.
Chris - 1/1
He's unstoppable so far.
Patricia - 4/5
Second-best in the kitchen.
Art - 3/4
If only for entertainment value.
Takashi - 2/3
He's got skill but a limited comfort zone.
Lorena - 2/3
She's got some fire in her.
Clark - 3/5
He had the best dish on the losing team.
Thierry - 1/2
He's lost before, so he will again.
Mark - 1/6
Easily flustered, not cut out for this.

Kerry - 1/15
His steak was good, but what else can he do?
Debbie - 1/50
Her dessert was a disaster.