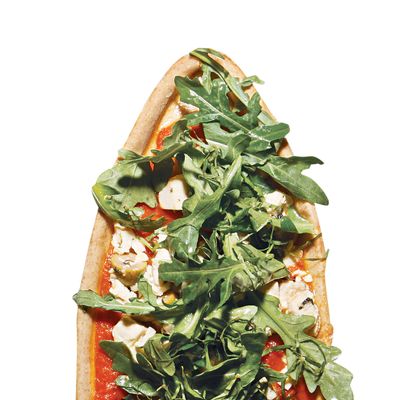 The neapolitan pizza craze was just the beginning. This year, New York has seen the intriguing debuts of the square-cut St. Louis-style pizza, a defiantly non-droopy Wisconsin-
New York hybrid, avant-garde vegan pizza with a French pedigree, and, most happily for cheap eaters, a new and improved dollar slice. Contrary to what you might expect, some of the weirdest developments have come from the unlikeliest quarter: the highly codified ranks of our top Neapolitan pizzaioli, who wantonly tossed their precious dough into the Fryolator, stuffed it with porchetta, and even sculpted it into the shape of a tennis racquet. Here, a few of the current pizza moment's not-so-regular slices.
This story appeared in the July 16, 2012 issue of New York Magazine.
Plus:
• The Cheap List
• The Bun Explosion
• The Fish Sandwich Craze
• Asian Hipster Cuisine
• Platt Ranks Dirt-Cheap Meals