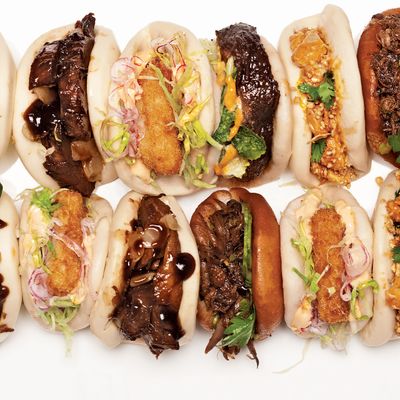 Photo: Danny Kim. Food Styling by Jamie Kimm.
Momofuku's David Chang never claimed to have invented the steamed pork bun. That honor goes to Zhuge Liang, the Chinese military strategist who, legend has it, created the mantou (one of many steamed breads found throughout Asia) to appease the angry river gods who blocked his army's passage almost two millennia ago. Still, Chang's contributions to our modern bun-scarfing age cannot be overstated: Since he served his first little pork-belly package at the original Noodle Bar in 2004 (the flat, sandwich-style version, not the pleat-sealed char siu bao), the cheap-eats staple has taken on a life of its own, making daytime-­television appearances, starring in breathless blog posts, and inspiring countless clones all over the country.
This year, though, the soft and spongy snack has reached critical mass, crossing over from the Asian market into the mainstream. Not only will you find a version at most every ramen shop; you'll also encounter five-spice chicken buns on Oceana's bar menu; a jerk-veal-tongue bun at Ginny's Supper Club in Harlem; and a quartet of mini-buns at Smorgasburg's Bite Size Kitchen (curry-coconut-chicken is best). Although Chang has thus far resisted spinning off his signature into a stand-alone concept, at least two contenders have sprung up near Momofuku HQ. Eddie Huang's Baohaus traffics in "authentic Taiwanese steamed buns," a.k.a. gua bao, stuffed with everything from tempura broccoli to Creekstone Farms beef cheek. And on St. Marks Place, the owners of Spot Dessert Bar have recently opened pan-Asian bunnery Jum Mum. Over the last few months on bun patrol, we have come across soy-and-honey-glazed roast-pork and chicken versions at Brooklyn Wok Shop in Williamsburg; DIY pork-belly buns at the East Village Sichuan spot Hot Kitchen; short-rib buns at Zutto in Tribeca; and braised duck buns at Wong in the Village. There's even a Momofuku tribute bun at ABV, the East Harlem wine bar where Momofuku alum Corey Cova has concocted the General Chang's Chicken, a bun replete with miso mayo, cucumbers, and hoisin sauce. The General himself isn't resting on his laurels, either. At any moment, a devotee might find upwards of ten iterations on offer throughout the Momofuku empire, ranging from brisket buns with horseradish at Noodle Bar to a lobster bun at Má Pêche, mingled, in characteristic high-low fashion, with maitake mushrooms and fried pork rinds.
This story appeared in the July 16, 2012 issue of New York Magazine.

Plus:
• The Cheap List
• A Survey of Pizzaiolo Innovation
• The Fish Sandwich Craze
• Asian Hipster Cuisine
• Platt Ranks Dirt-Cheap Meals