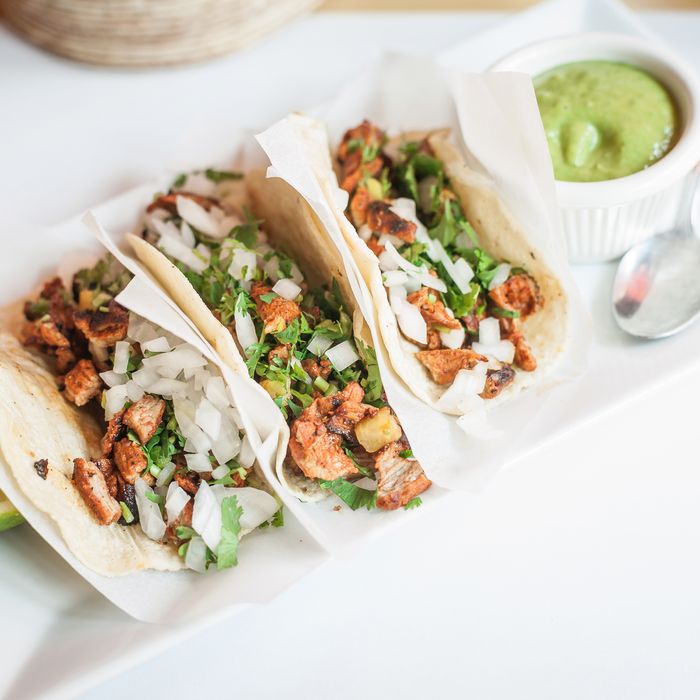 The taquitos al pastor at Fonda.
By now, it's a commonly heard refrain: New York's Mexican food can't hold a radish to the stuff in cities like Los Angeles and Chicago. But the people who have been saying that for ages haven't looked around lately: New York is bubbling over with luscious carnitas, mouthwatering lengua, and exceptional al pastor, all stuffed inside first-rate corn and flour tortillas … and maybe a wonton wrapper or two.
In fact, when it comes to tacos, New York does what it's always done best with traditional foods from other places: offer authentic versions right alongside new-look concoctions that meld all the flavors of the city's enormous cultural mix (hence the wonton wrappers), from elemental versions like the standout $3 classics served in Sunset Park, all the way up to high-end renditions filled with lobster or sweetbreads.
And now, tacos are as ingrained in the city's food fabric as burgers, pizza, and bagels — okay, maybe not bagels. But while New York may not rival a city like Los Angeles in taco quantity (seriously, that city has a truck on like every corner), it makes up for it with its breadth of quality. In fact, even with all of the picks on this list, some great places were no doubt missed — that's why the comments are there. Read through, then let everyone know what else needs to be on here.
And when you're done with all that, check out the most noteworthy tacos in Boston, Chicago, Los Angeles, Philadelphia, and San Francisco.