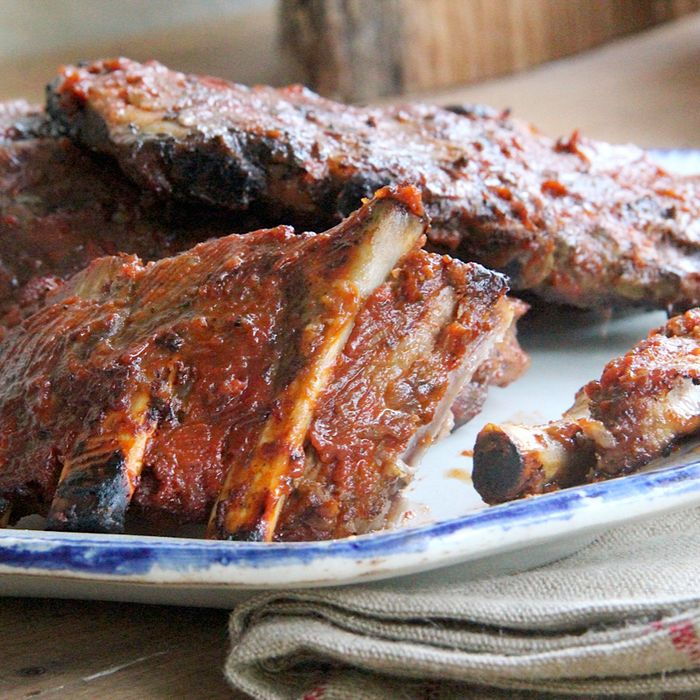 Ribs, sauced awesomely.
Photo: Ian Knauer
Americans know the Fourth of July, and summer in general, is the time for barbecue. But depending on where you live in this country, you probably have very strong feelings about barbecue sauce. If you're from eastern North Carolina, you will vehemently defend the region's sharp mixture of vinegar, chiles, and salt. Alabamians will stand behind their mayonnaise-based sauce. The list goes on and on, but the plain fact is that the best barbecue sauces all start with ketchup.
Most Texas-style sauces get close (Chef Tim Love makes a good one), and of course Kansas City sauce is all ketchup-based. But you don't have to take my word for the transformative power of ketchup. Here's Malcolm Gladwell, in The New Yorker:
What Heinz had done was come up with a condiment that pushed all five [taste receptors]. The taste of Heinz's ketchup began at the tip of the tongue, where our receptors for sweet and salty first appear, moved along the sides, where sour notes seem the strongest, then hit the back of the tongue, for umami and bitter, in one long crescendo.  How many things in the supermarket run the sensory spectrum like this?
Gladwell isn't alone. Thomas Keller — basically the master of making delicious things in this country — has a line of BBQ sauce. It's $16 for a thirteen-ounce jar, and the first ingredient is ketchup.
In a savvy move, he also adds onions, maple syrup, brown sugar, bacon fat, garlic, and smoked paprika — flavor-boosters all. If I were lazy I might shell out the cash for Keller's BBQ. It's really quite excellent.
But, honestly, I can do better. So can you. Here's how: Take every ingredient you might typically put in a barbecue sauce (a ketchup-based sauce, mind you), and amp up the flavor as far as you can. Instead of regular brown sugar, use Muscavado or palm sugar for deeper flavor. Use grade B maple syrup for the same reason. Caramelize your onions and roast your garlic before adding them. Make sure that apple cider vinegar is unfiltered. You get the idea. Oh, and make sure the ketchup is Heinz: an ingredient that just might be the most scientifically delicious food around. This isn't just barbecue sauce; it's Awesome Sauce.
What you'll end up with is an all-American mop sauce that makes every kind of grilled or smoked or slow-cooked meat taste better. Below, I've put together a recipe for ribs, but you can put the Awesome Sauce on anything: chicken, burgers, steaks. Baste the sauce on as you grill, and serve a little on the side when dinner's on, and you'll be good to go, all summer long.
BBQ Awesome Sauce
Makes about 3 1/2 cups
1 cup ketchup
1 cup caramelized onions
1 cup veal demi glace
1/4 cup unfiltered apple cider vinegar
1 head garlic, roasted and peeled
2 tablespoons grade B maple syrup
11/2 tablespoons soy sauce
1 tablespoon Muscavado or palm sugar
1 tablespoon smoked paprika
1 teaspoon fine sea salt
1/2 teaspoon freshly ground black pepper
Combine all ingredients together in a blender and puree until smooth. Sauce will keep in the refrigerator, covered, for a couple weeks.
Awesome Sauce Baby Back Ribs
Serves 6
3 lbs baby back ribs
2 teaspoons fine sea salt
1 teaspoon freshly ground black pepper
about 1 cup BBQ Powersauce
Preheat oven or grill to 400°F.
Sprinkle ribs with salt and pepper then wrap in aluminum foil. Roast ribs 1 hour. Unwrap foil and mop ribs with some of BBQ sauce. Rewrap ribs and continue to cook until meat is very tender, about 1 hour more.
Preheat broiler or increase grill temperature to high.
Mop ribs with some of remaining sauce and broil or grill, unwrapped, until browned in places, about 5 minutes. Serve ribs with additional sauce.
Related: Big-City Barbecue: 101 Places to Satisfy Your Urban 'Cue Craving